SteemAlive Official Application for Community of the Month Support Program - October 2021.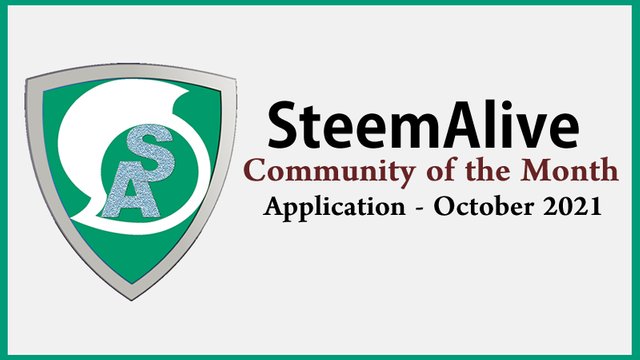 Introduction
I wish to start by saying a big thank you to the STeemit team for seeing SteemAlive worthy of support since this community support program was started in August. We have enjoyed the support in August and September. Now I make this application on behalf of SteemAlive community for support in the coming month of October 2021. Here is our official application.

SteemAlive Community - Our Purpose
The purpose of Steemalive community has always been 100% Steem Promotion in Nigeria. Over the course of our 1 year existence, we have lived up to and exceeded expectations as probably the most active Steem promotion community in Nigeria. Little wonder we have recruited and mentored individuals that became so valuable to the Steem blockchain. We have not deviated an inch from our mission to take Steem to every doorstep in Nigeria. We continue to work along this goal and record successes as we do so. So basically, this community was set up to recruit, mentor and support users from our country Nigeria - and beyond.

SteemAlive Community Team
We understand the power of leverage. That was why we have brought a lot of hands into the leadership team so as to be able to duplicate efforts easily across the nation. This is the make up of our leadership team:
@focusnow - admin and founder
@Steemalive - admin (Community account)
Moderators
@ngoenyi
@samuel20
@ninapenda
City Coordinators
@talktofaith (Lagos)
@ngoenyi (uyo)
@prolee (Port Harcourt)
@ceendy20 (Owerri)
@samuel20 (Aba)
@peachyladiva (Abuja)
@charis20 (Nasarawa)
@godsbest (Enugu)
@tenguhatanga (Bamenda)
@pricelesspresh (Asaba)
@fredquantum (Osogbo)
@kadosh2340 (Umuahia)
Aside from @tenguhatanga who is from Cameroon, all the team members are Nigerians. Our official language is English. We also have local dialects across the ethic groups. So each member of the team writes, speaks and understands at least 2 major languages - English and a local dialect.
The team members are rewarded by having at least one of their posts submitted to booming. For most, its to per week. @samuel20 and @ninapenda are paid full-time staff at the Aba training center. Aside from these, all others are volunteers. The community key has been properly backed up. @samuel20 and @ninapenda are in possession of the posting key as they help to publish articles for the community.

Community Curation account
We understand the importance of building community Steem power and that is why we have Power2Soar, a contest that happens every two weeks to encourage and reward powering up steem. We power up the account at least once every two weeks by swapping some SBD to Steem. Our Steem power currently stands at 13,100 Sp. We do not have any delegations as our community economy was never built on delegations.
Plans for building community voting power



@steem-alive voting CSi

@steemalive voting CSi
We do not power up all the posts. We earn SBD and swap then power up. We also pay contest winners from the community wallet. We also finance our promotion projects from the community wallet. Because of the way curation trails work, @focusnow has continued to manage the community voting, ensuring that up to 10 posts maximum are voted. Sometimes, its not up to 10. But at least 5 posts are voted per day as we manage our growing curation account.

Plagiarism and Abuse
We believe that giving people the proper orientation not to get involved in crime is better than solving crimes. So our weekly mentorship classes educate our members on the importance of making original posts. We explain what plagiarism is - stealing - and the consequences. Beyond the education, we take action too. We mute without warning any posts found to have plagiarized. We also restrict the user from participating in community activities.
Our admins @samuel20 and @ninapenda checks posts with plagiarism tools to ensure they are original. All these measures have ensured that plagiarism is very rare among our members. Unless someone decided deliberately to do wrong. We make sure all images, texts and videos are plagiarism free.

Engagement and commenting
Engagement is important for us. So one of the top jobs of our admins @samuel20 and @ninapenda is to make comments on most posts. They are doing this job very well. Additionally, we also design our programs towards encouraging good engagement among members. For example, one of the criteria for awarding contest results is the amount of quality comments participants make on other participants posts. Our post promotion channel also has a strict rule that one has to comment on 2 posts before dropping their link on the channel. Additionally, members of our Promoters Club are required to comment on achievement 1 posts as part of the condition for winning SteProMA, our monthly awards.

Plans and Update
We publish updates through @steemalive weekly, although the last update was a little delayed due to engagement. We also have an update channel on Telegram where links of our update posts are dropped. The City Coordinators also have their own city groups where updates from the community are relayed. Through these means, we get our members informed.
As regards plans, we have many of them. Some are long term and others are short term. Here are a few:
We have plans to increase our curation trail to at least 1000 followers before the end of the year. We also have a plan to expand the City Coordinator project because of the important role they play in the community. Other plans we have are all geared toward making our community strong and formidable long term.

Promotion
This is our area of strength because that is the main purpose of the community - Steem Promotion. We utilize all avenues to create awareness. We promote steem outside the Steem platform. Here are some of the things we do:

Why Choose Us/Conclusion
Because we produce results. We currently have 5865 subscribers and 175 active posters. SteemAlive is the home of Nigerians on Steemit. We make it easy for new people fromour country to make friends, receive the support and mentorship needed to excel on Steemit. Is it surprising then that we have produced country CR's, Professors, exceptional cryptoacademy students and city leaders. The most valuble crop of Steemians from Nigeria came in through SteemAlive. This explains why we need all the support we can get from the Steemit team.
Although not more than 1 month old, the Steem Road Show which we started recently is spreading like wildfire. More than 45 volunteers across 5 cities make reports of their promotion activity weekly. The number will grow exponentially in the next few weeks. Those volunteers want to do Steem Promotion as life career. They need all the support available, to do this work more. We hope that our application will receive a favorable consideration from the Steemit team.
Thank you everyone @steemitblog, @stephenkendal, our City coordinators, Promoters, members and well-wishers.
Thank you so much.
@focusnow, For SteemAlive Community.



Subscribe:::Discord.
:::Whatsapp :::join trail