My top five steemit bucket list; what I plan to achieve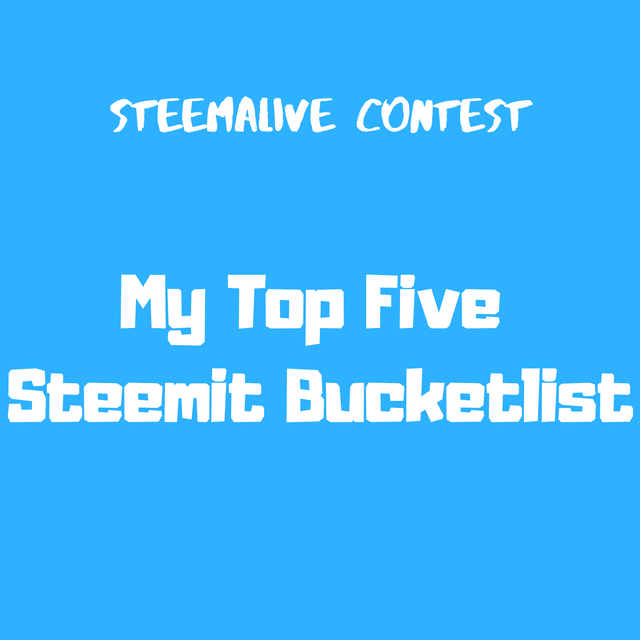 A big kudos to
@steemalive
community for hosting this contest. To also take part in this contest, kindly read about how to make a post on the
@steemalive
community.
Joining the steemit platform, there were a lot of goals in my mind and over time some have been added and some of have been let's go. Highlighted below are my top 5 (five) steemit bucket list; 1. Improving my writing skills; 2. Making connections and friends; 3. Attain 300 steem power; 4. To Earn; 5.Host a contest of my own.
The following highlighted goals are explained broadly under the following headings;
1. Improving my writing skills
As a person who had a knack for writing, I have always searched for a very interesting way of improving my writing skills. The reason for this goal is so as to launch my freelancing career in writing.
I hope to achieve this goal by entering lots of writing contest because through that, I will always be motivated and inspired to write. Also, through consistency, I will file-tune and perfect my writing skills.
2. Making connections and friends
This also tops my bucket list and because steemit is filled with highly talented and skilled people, I find it an achievable. The reason for this goal is because, in this current age, your network is your net worth and connecting with people here will help open my eyes to varieties of opportunities.
In order to achieve this goal, I plan to engage more with people by commenting on their posts and also attract and keep like minds as contacts.
3. Attain 300 steem power (sp)
This has been my target and goal for a while on the steemit platform and the reason for this is because 300 steem power gives me the luxury of making more posts in a day, interacting and engaging more with users of the steemit platform while also curating more posts.
To achieve this aim, I set most of the post payout to 100% steem power reward and also making sure that of at least one post is written on a daily basis.
4. To Earn
My first intention of joining the platform was to earn and although over time, it has slipped to become fourth on my list. The reason for the goal is because money is needed for upkeep and feeding and steemit provides an avenue to earn.
To achieve this goal, I plan to make quality posts that help tackles and resolve a problem, enter as much contest as I can and also engage in giveaways on the steemit platform.
5. Host a weekly contest of my own
Its good to own something and this remains a top priority target for me. The inspiration behind the goal is to give back to the steemit community and also encourage other users to keep steeming
To achieve this, all I have to do is first gathered as much steem as I can so as to incentify and run the contest and attract a lot of steemians to partake. The contest will be a writing contest which will centre around poetry. I will also be calling for more Re-steem on the contest announcement post so as to reach a much wider audience
---
Their you have my steemit bucket lists, I hope you enjoy reading it. Thanks for reading and the support.
---
---
A big shout out also to @steemcurator01 @steemcurator02 @yohan2 @steemalive @stephenkendal @cryptokannon for also playing big part marking this contest possible
---