Spotlight on Huobi: How to Register and Get Started on Huobi (100% Powered-up)
Hey guys, I am excited to write again. It's been like what, over a week now since I wrote anything on here. After my 2-year hiatus from this platform for personal reasons, I am slowly relearning and trying to build that habit of writing every day. Sure, it can be rusty for the first few tries, I don't mind at all. Will get there.
This post is about the ongoing Steemit Spotlight on Huobi Challenge. Here's the link to the original article posted on @steemitblog containing the rules and instructions of this week's contest. There are absolutely no losers with Steemit on this one, so you should definitely give it a try.
Although the crypto space has existed for just over a decade now, we are still in the very early stages of Blockchain and cryptocurrencies. I have come to realize that we're still far away from the kind of mainstream adoption this space really needs. However, one thing that has continued to stand out in the crypto industry is Cryptocurrency trading.
Cryptocurrency trading is basically the speculation on the price of a crypto asset. Users try to make profits by predicting the future price of these assets and by either buying or selling them when it gets to their targets. Trading still remains the lifeblood of cryptocurrencies and blockchain assets.
Crypto trading is carried out on platforms known as Crypto Exchanges. In this article, I will be talking about one of my favourite crypto exchanges since last year, Huobi.
According to Wiki; Huobi is a Seychelles-based cryptocurrency exchange. Founded in 2013 in China, the company now has offices in Hong Kong, South Korea, Japan and the United States and has services spanning over 150 countries currently. Over the years, the company has grown in valuation and exchange volume and as of March 2018, Huobi processed around US $1 billion in daily trades on its exchange.
As a leading global digital asset financial service provider, Huobi is more than just a crypto exchange, with expansions into several public chains, digital assets trading and wallet, mining pool, proprietary investment, incubation, Digital Asset Research etc.
---
We'll go through how one can create an account with the platform and I will be sharing screenshots to serve as a visual aid for that. I will be doing this with my Desktop. For the best experience on mobile, you can head over to Google Playstore or The Appstore to download the latest version of the mobile app for your Android and iPhone devices respectively. Let's proceed.
How To Create A Trading Account On Huobi.com
The first step is to click on this link provided by @steemitblog, (which puts you on the path to earn a one-time $170 sign up bonus when you complete the tasks). Clicking on that link takes you to this well-designed landing page for the event: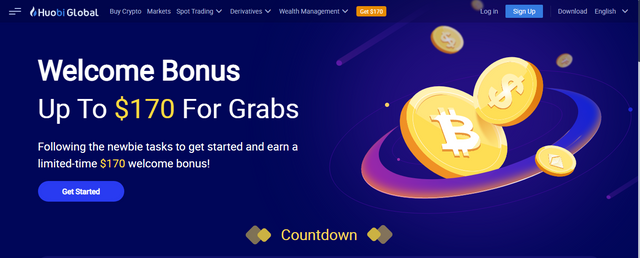 All you have to do here is to click on the large "Get Started" button to get started or you simply click on the Signup button over at the navigation bar at the top. This loads a sign-up form that you should fill with the relevant and correct details. You can choose to signup either by email address or by phone number, whichever one is convenient for you. Signup only requires your nationality, email/phone number and a preferred password.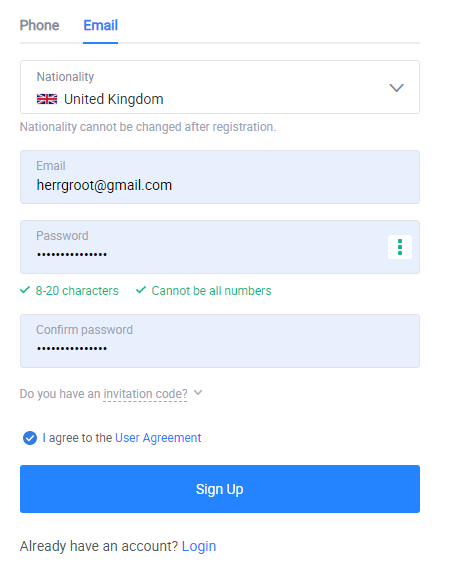 Once you have completely provided all required details, click on the blue signup button at the bottom of the form and solve a simple captcha slider to get past that point.
You get a 6-digit email verification code sent to your inbox to confirm that this registration is being done by you. So check your inbox and copy-paste the verification code on the input box provided by Huobi on the website. With the correct code inputted, you get a success feedback/welcome message and you are automatically signed into the exchange.
What you see, basically is the same landing page as before, but you don't see a signup or login button because you have been logged in already. The options at the top of the screen, however, become accessible now.

Huobi is home to hundreds of cryptocurrencies you can trade. You can click on "Buy Crypto" to quickly buy, sell or swap various cryotocurrencies with fiat using your Visa card, or by using your Huobi wallet balance. This saves you the time of having to go to the exchange interface to buy/sell your currencies.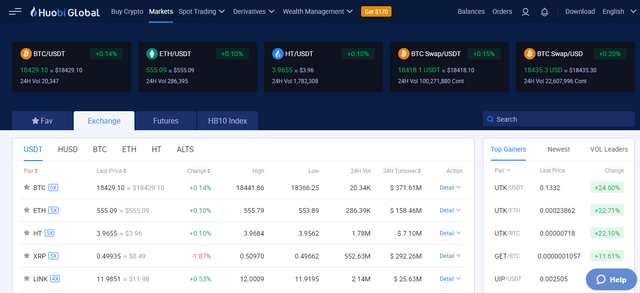 Clicking on Markets shows you all of the cryptocurrencies that are available on Huobi as well as a few popular trade pairs at the top. Since this is a new account and we haven't made any deposits on it yet, we cannot buy or sell any cryptocurrencies from our wallets at the moment. We can only do that by first depositing some coins into the exchange.
Making Your First Deposit.
Hover on the "Balances" button and click on the first option to get to the Balances section of the app. Here, you can easily deposit and withdraw cryptocurrencies on Huobi with a few clicks of the mouse.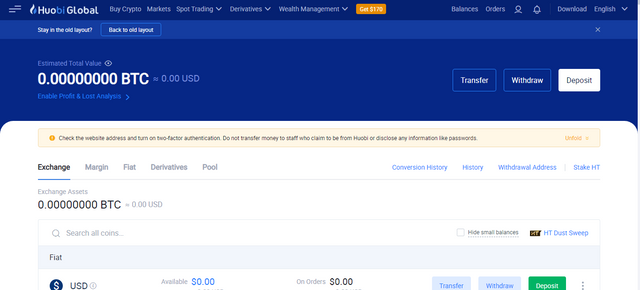 To deposit your first cryptocurrency, say, Bitcoin, locate Bitcoin from the list and you should find the options to Deposit, Withdraw or transfer when your mouse hovers over it. Select deposit and you get a page that looks like the image: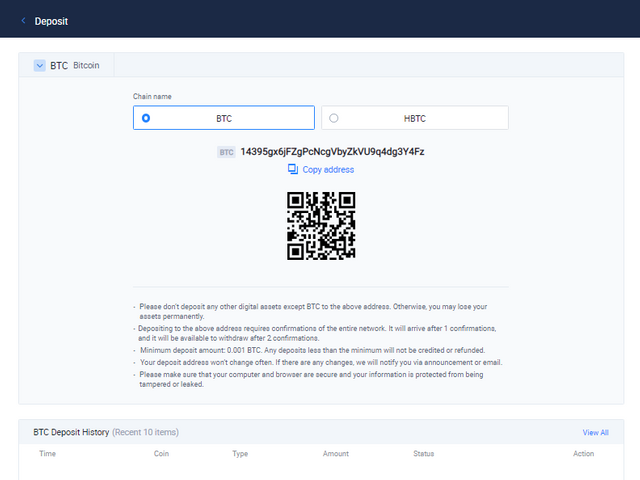 14395gx6jFZgPcNcgVbyZkVU9q4dg3Y4Fz
You'll be given a wallet address that you should send your bitcoin to. Sending Bitcoin to this wallet address from any other place credits your exchange balance with bitcoin. There is also a caveat you should take note of. Sending any other cryptocurrency apart from bitcoin to this wallet address will not be deposited to your account and they will be completely lost.
For extra security, the wallet address is also sent to your email address used on the exchange account. So you can check that as double proof to be sure you are depositing your bitcoin in the right address.
Click on the "Copy Address" button to copy the address. and then send this address to whomever you ar expecting bitcoin from (say your friend, Alice). With this address, Alice can send you bitcoin and they will reflect in your exchange balance after some confirmation on the blockchain.
PS: Sending/receiving other cryptocurrencies on Huobi often require extra tags/memo/phrases that go along with them. Be sure to read all the instructions on the deposit page of a particular currency so as to not make any mistakes.
---
Moving on now, Huobi has a lot of features that make for a nice crypto trading experience, even for first-timers. On the mobile app, you get the option to choose if you're a newbie trader or an experienced trader. This helps you install some preset settings that will be suitable for your knowledge level. I think this feature is super exciting because exchanges can have really busy interfaces and preferences like this could really help a newbie understand how to get from just signing up to executing their first trade. It also removes unnecessary prompts and distractions from a veteran trader's interface.
Huobi also has sections for different types of trading such as Margins, Futures, and OTC desks. There are also lending and savings features on the platform as well, designed to suit a wide range of users from different backgrounds and different parts of the world.
I will be exploring some of these features in my next few articles about Huobi. However, I hope this article helps you understand how to create an account and make your first deposit on Huobi. Thanks.
Disclaimer: This post isn't intended to be financial advice. DYOR.
Groot*