STEEM ROAD SHOW DAY 11 ABA :BY @peterabagi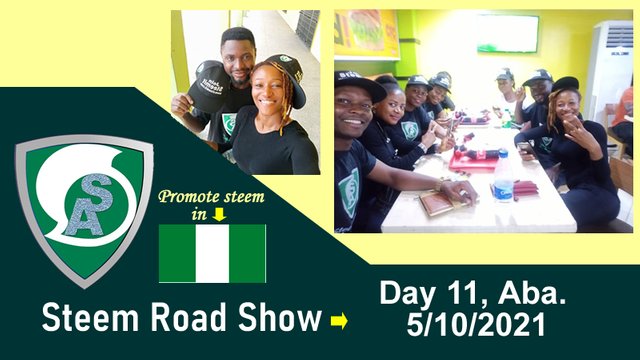 INTRODUCTION
Good day everyone my name is @abagipeter, I am a verified member of steem promoters club under the umbrella of the steemalive community.
Steem promotion has really been an awesome experience for me and my fellow promoters. For every road show we go for we register people and we are also refreshed by our leader @focusnow, the admin @steemalive. He has been our Major motivation as he is always in the field with us promoting steem and coordinating the whole process for not less than four hours for every roadshow .
I must compliment his zeal and passion to see us become good on this platform and at the same time be the reason why most people finally register. I am sure I will be making a wonderful post soonest on the gaint strides made by @focusnow and his team in promoting steem. I also want to say a big shout out to all the steem promoters who participated in this road show day eleven.
@ruggedangel,
@alexanderpeace
@jokkystar
@ready247
And others you all made the movement worth while please keep the fire of promotion booming.
A wise man ones said what you don't promote you don't have value for. Hence we keep promoting steem because of the value it has to give to humanity.
HOW THE ROAD SHOW WENT TODAY.
I stepped out at about 8:33am headed straight to the steemalive community office here in Aba at number 208 azikiwe road. Aba Abia State. What3words
I arrived the office at about 9am and waited for the others to come so we could move to our supposed destination to Kick start the road show. When we gathered we got calls from other promoters telling us that they will instead move to the venue.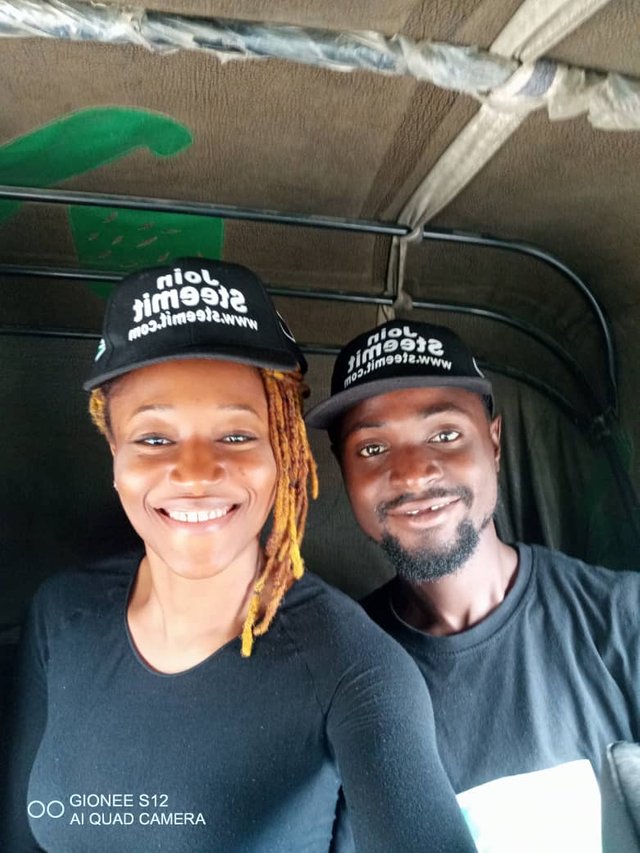 Here was me in a keke heading to the venue.
VENUE FOR THE ROAD SHOW
The proposed venue for the road show was BATA JUNCTION BUS STOP BEFORE MARKET SQUARE ABA OWERRI ROAD. ABIA STATE. What3words
We arrived the venue and I was asked to set up the promotion banner which I was guided by @focusnow. When I was done we took some great pictures by the banner in the admiration of those who passed.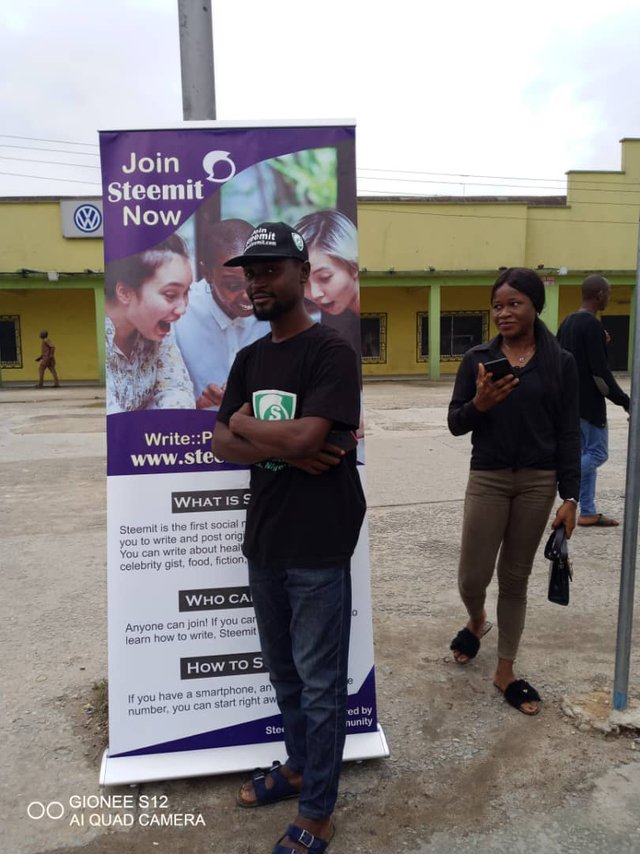 Am sure they wondered why we were so happy doing what we did. It was obvious some had to even come and ask us questions about who we are and what we did, this gave me an idea on how to win people to steemit.
ABOUT OUR OUTFIT.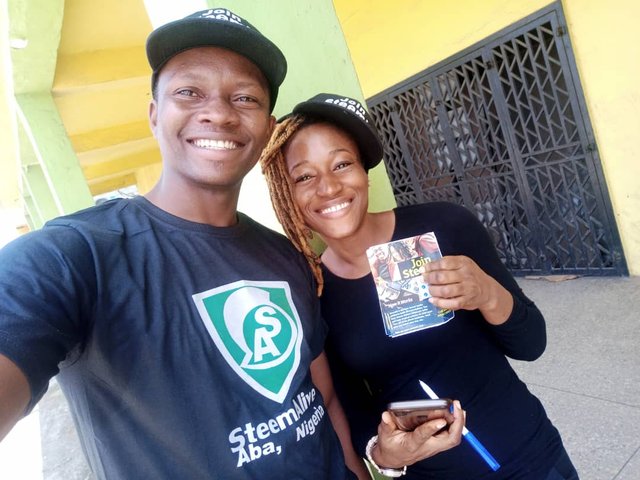 The admin @steemalive @focusnow in a photo with our guest by name @alexanderpeace
Our outfit was really fine, we wore the steemalive T shirt which had the steemalive logo as a badge in front and with three words written boldly behind which read:
WRITE
POST
EARN
We also wore a jeans to complement they T shirt. With a face cap that really went a long way shading us from the Sun.
PROMOTIONAL MATERIALS
So far so good for every road show we take on we usually are given some materials to use to facilitate our communication process which include.
The flex banner and
The printed flyer.
This publicity materials gives one the most important information about steemit which include :
WHAT IS STEEMIT
WHO CAN JOIN STEEMIT
HOW TO START.
Our publicity materials also contained the number of most steemal Officers which include @ninapenda, @beauty @Charles.
Some of the folks we gave flyers were happy we gave them flyers while others behave like we wasted our time.
In the photo you see me talking to people and giving them flyers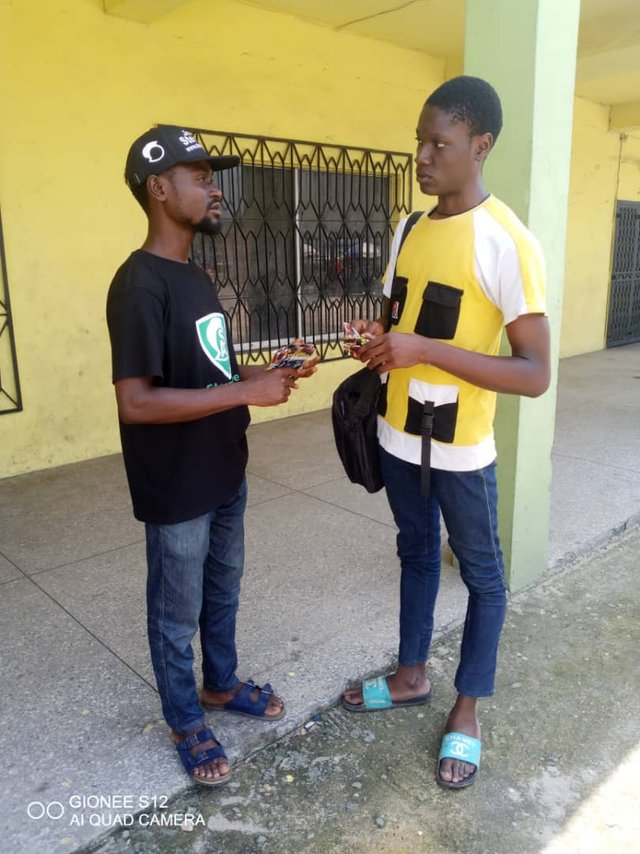 MAJOR SURPRISE FOR ME
The major surprise for me was that some people at this age and time still believe only in making physical cash by working hard under the sun. Not knowing that the world has completely gone digital and one can actually use his or her smart phone to make a lot of money on line.
Yes another surprise for today was the way the Sun took on us. At about 11am we could no longer any the sun but look for a shade to hid from the sun and talk to prospect by calling them to the shade. Those who came registered some were given office address and asked to visit the office.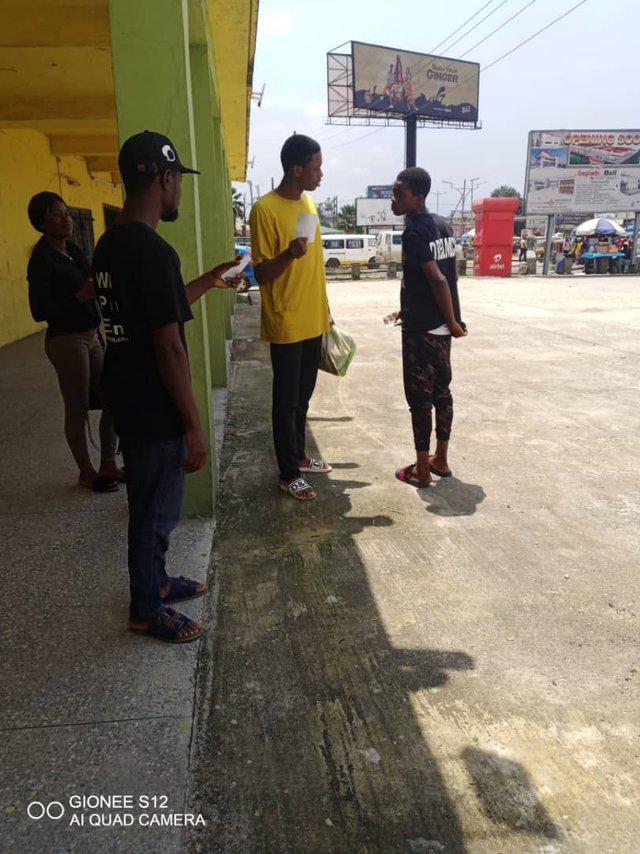 Us running from the sun
More so some surprised by telling me they have not been using smart phones for a long period of time. That really got to me but I pray they all have smart phones soon.
WHAT I DID FOR PROSPECT WHO HAD LAPTOPS BUT DIDN'T HAVE PHONES.
When I met this category I collected their numbers added to a WhatsApp group where I keep guiding them from.
HOW WE ENDED
We ended by collecting the user names of registered prospect and handing it to our leader. While we did that I went to fold the banner, when I was back I saw a man who we immediately registered by name @postiveken is his name. He was interested in our outfit and asked what we stood for which I told him and made sure he registered.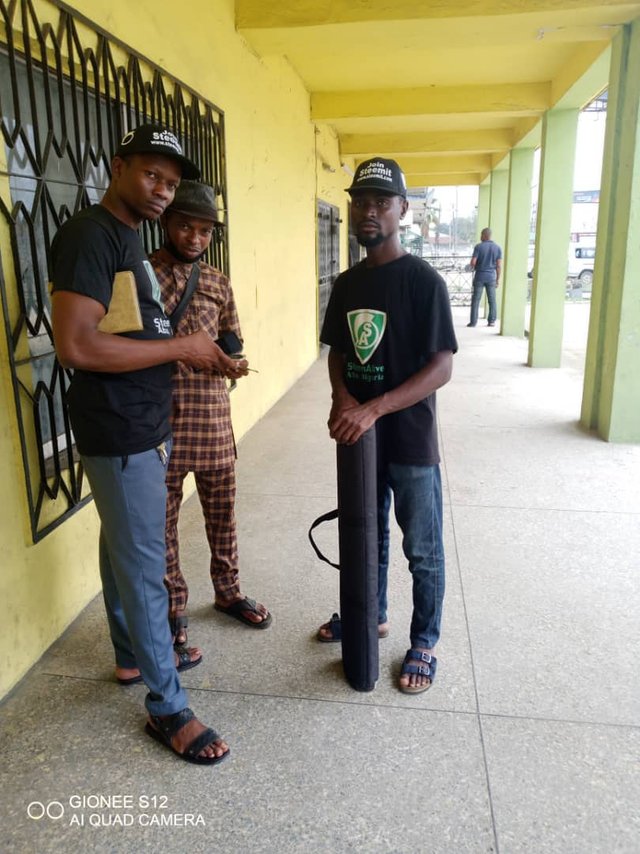 here i introduced him to my leader
REFRESHMENT TIME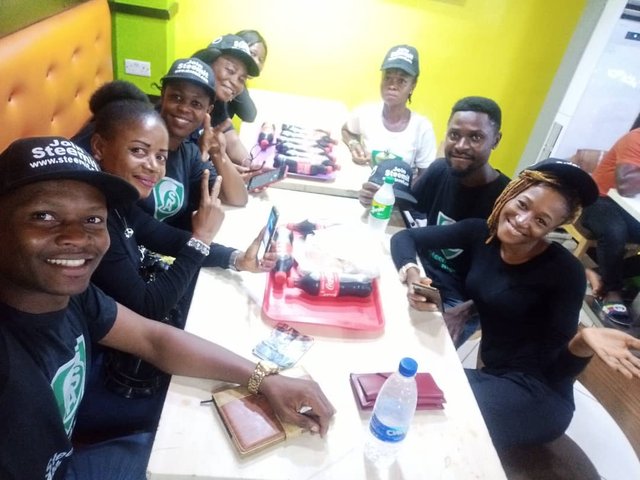 We had to move Crunches in Ana What3words
where we where given some very hot nice sweet wonderful snacks by @ focusnow. I appreciated him after then and asked him to permit me to go back to my work. Which he did and I ran to change my outfit. I laft at about 1:29pm back to PPA.
THANKS FOR READING SEE YOU SOON