STEEM ROAD SHOW DAY 13 ABA CITY BY STEEM PROMOTERS VOLUNTEER GROUP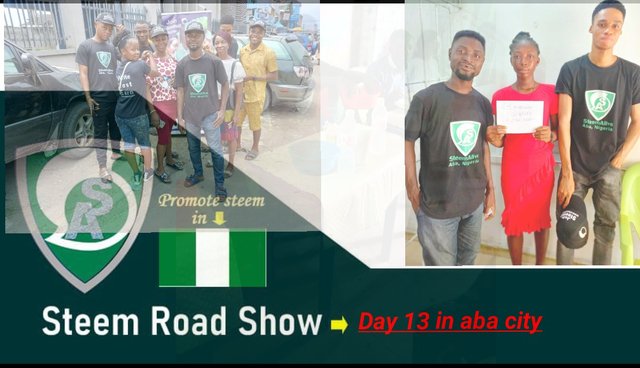 INTRODUCTION
Hi steemians, today was another road show and I must say the vibes have been and such a high key. As we the members of the steemit alive promoters group ABA have been on our toes to make sure proper awareness for steemit is created and with a hug turn out of registered members.
A wise Man ones said, " what you don't promote you have not seen the value". Basically we all have tasked our selves this much to promote steemit in our immediate society beginning with ABA.
Our leaders @focusnow @samuel20 have really been really great mentors. They have made us enjoy the promotion weather in the rain or in the sun they have always been with us.
HOW THE ROAD SHOW WENT TODAY. STARTING FROM WHEN I WOKEUP.
I wokeup very early and I prayed in the spirit commanding my day to be blessed and fruitful after which I took my breakfast around 7:57 am. Then had a little discussion with my room mates in the lodge. At 8:38 I was already on my way to the steemit office in Aba considering that I didn't want to come late and be left behind.
ARRIVAL TIME
I was able to arrive the office at 9:13am where I met @jokkystar and the aba coordinator @samuel20.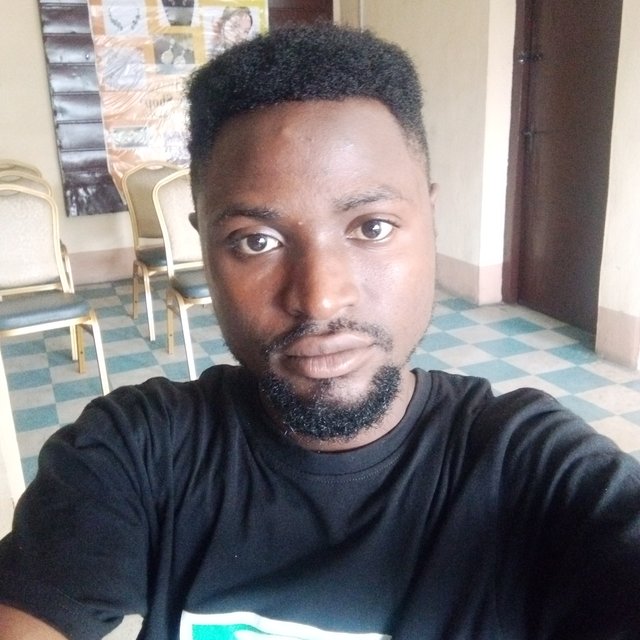 Though in my heart I was wondering why the rest did not come out to join us but we met them at the main spot where the road show took place.Which was at st. Michaels road Aba.
We left the office joined a keke to St. Michaels road Aba where the road show took place .
What3words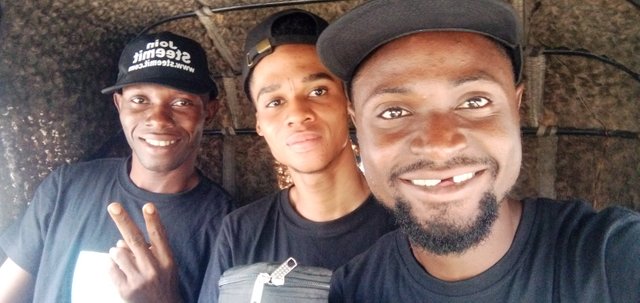 MY EFFORT AND STRATEGY (DIVISION OF LABOUR)
On arrival considering the population we saw decided to set up our road show banner by the roadside and it was so beautiful and visible.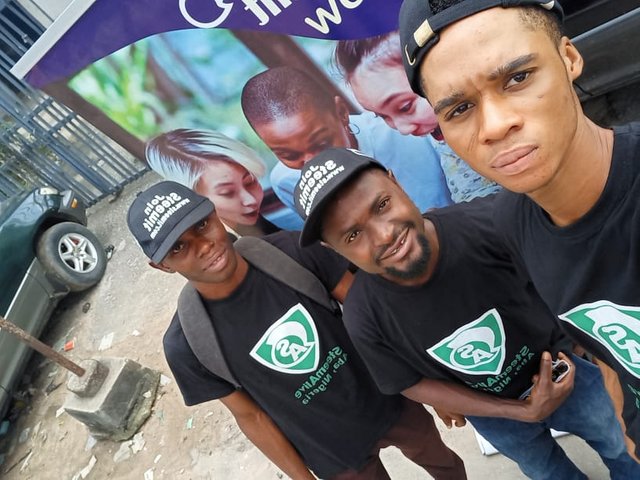 Instead of gathering in one place we decided to split into groups so that we can cover the whole environment. I went to the left side with @Jokkystar and few other steemians and immediately we started doing our promotion.
We had a mixed reaction some people who knew us before gave us a listen ear and some practically ignored us. The area was filled up with more young people than old people. Some of the people we met recognized our uniform. And some were surprise to see us handsome young men trying to talk to individuals to join steemit.
Some of the young ladies we went to talk to gave us deaf ears while some of them gave us listening ears . Although they didn't have the chance and time to sign up we explained the process to them and they collected our contact promising to signup and send us their links on whatapp.
More so some prospect where able to signup there and then. I played a raw which was going to bring them to the team for signup. They people I brought were sign up and so we told them to always tell us whenever they encounter a challenge.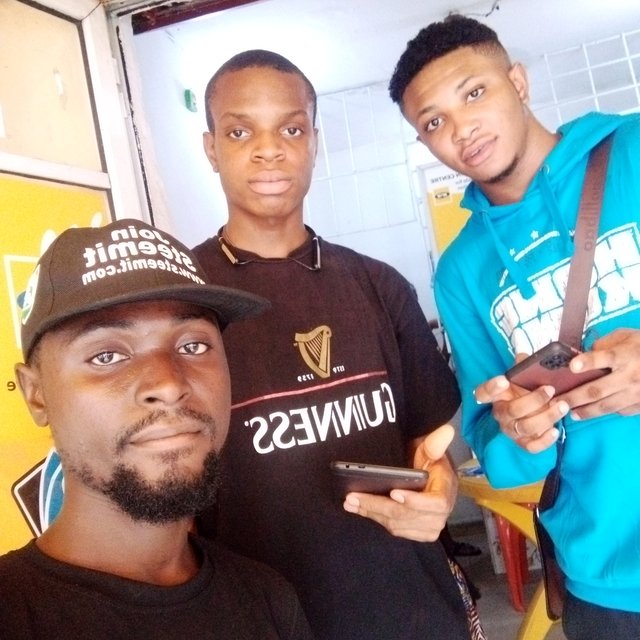 When we were done we gathered at the entrance of st. Micheal and packed our banner after which we were addressed by our leader the steemalive Aba Coordinator. He expressed joy at the level of commitment displayed by us and questioned those who came late. He made sure we all understood his message. After his formal address he took us out for refreshment.
HEAVY REFRESHMENT
Today we had the unusual food we had always had. Our leader took us out to a wonderful eatery that sales local food. When we got there i knew i was in for an enjoyable moment so i washed my had and started waiting for fufu and oha soup.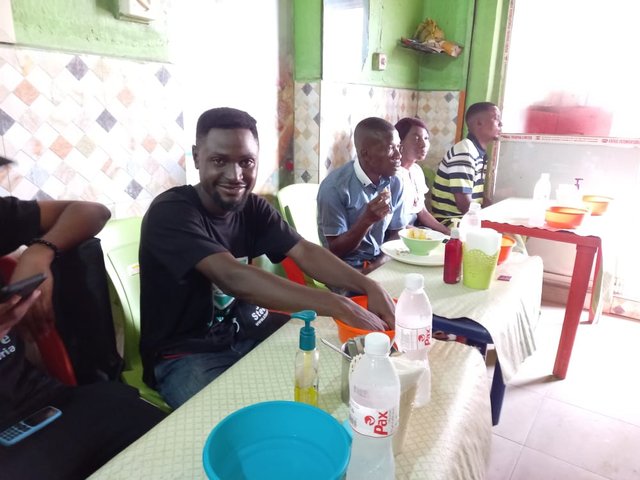 When i started eating i really loved the soup and i wished i could always have it at my finger tips whenever i want. But i must say that we all enjoyed the food as none of us left food in the plate both the guys and the ladies. As you can see every one was eating with such a great passion.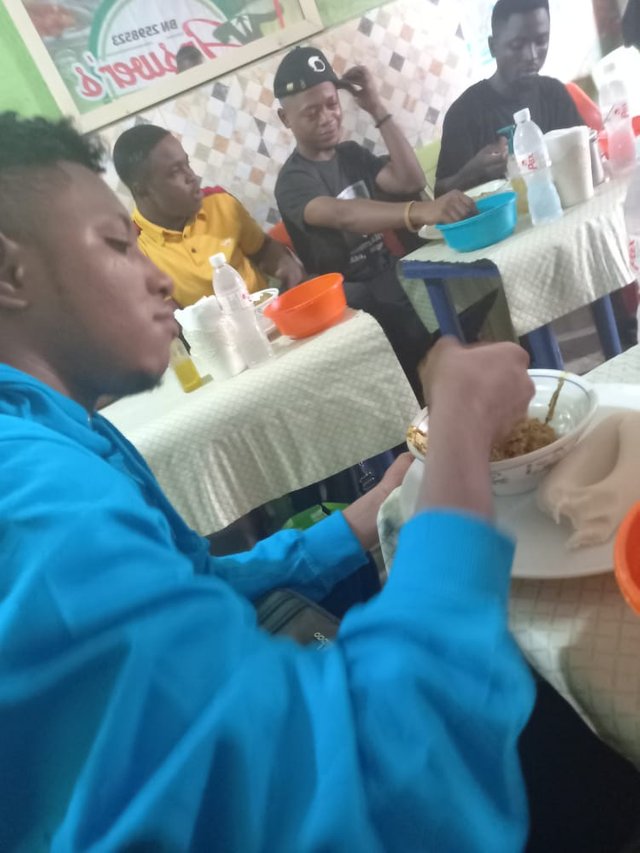 WHAT I HAVE LEARNT SO FAR
One basic thing I have learnt during this road show is the ability to work with people and talk with people.
I have learnt how to approach people with respect and present my business of steemit to them in a way that makes them feel good and not harassed. I have learnt to be more friendly with people and smile at people when presenting my business steemit. To be a great promoter I intend to keep learning and developing myself.
Thanks for reading see you soon again.