ABA CITY STEEMALIVE CITY COORDINATOR'S (SCC) WEEKLY REPORT FOR THE PERIOD 2ND MAY-8TH MAY,2021||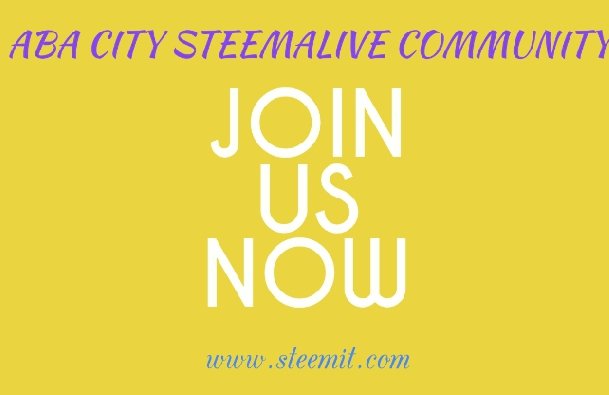 INTRODUCTION
Steemit is social media cum blogging platform that allows users to post original contents on its platform and in turn earn rewards for doing so.
Here in Aba city,we have a lot of people that subscribe to Steemit.We are still expecting more members to join us.
At this point,permit me to present the weekly report for Aba city for last week.Aba People have a soft spot for Steemit.This is evident considering the number of new members that join us each passing week.I commend all the Aba city steemians for helping to promote,invite and recruit their friends to join steemit.
HOW ARE WE DOING HERE
•New Members
Within the period of last week,we had the entrance of two new members.They are @estysam and @abiayiikechukwu
We are very proud of them.The new entrants have since made their Achievement 1 posts.
•Weekly Meeting:
Within the period under review.We had an online meeting via WhatsApp to discuss ways to promote Steemit in Aba city.
•Active level
The number of active members is growing by the day.Almost all the members are active and have active posts on steemit.Without being active,Steemit won't make any sense.I am glad the awareness and sensitization as regards to being active is yielding fruit.
•Shun Plagiarism:
The need for writing original contents has always been a song in our Aba WhatsApp group and the impact is evident.
HOW DO WE MAINTAIN THE ACTIVE STATUS OF OUR MEMBERS
•Regular meets ups and online meeting via our WhatsApp group and also through direct call and chats to to inactive member.
One of our dear member @ninapenda has returned to active ways after a long period of inactivity.Same goes to @iamdanny we are proud to have them back for good.
•Helping members to continue posting by encouraging them and also by delegating SP to enable new members that run out of SP resource to continue posting.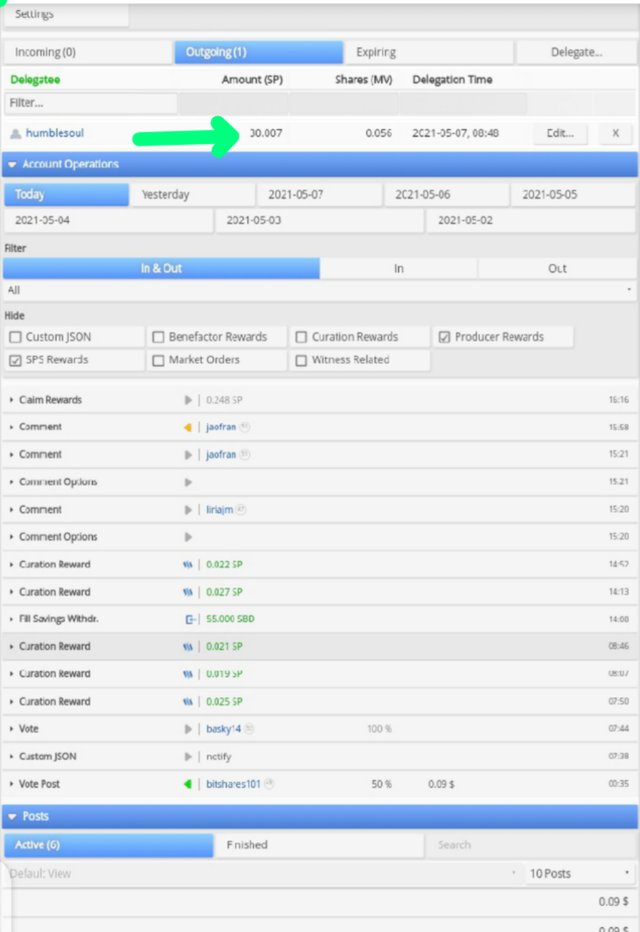 Just delegated 30 SP to @humblesoul
•We maintain the ACTIVENESS of our new and old members in Aba by discussing how to promote Steemit through our Aba Steemalive WhatsApp group.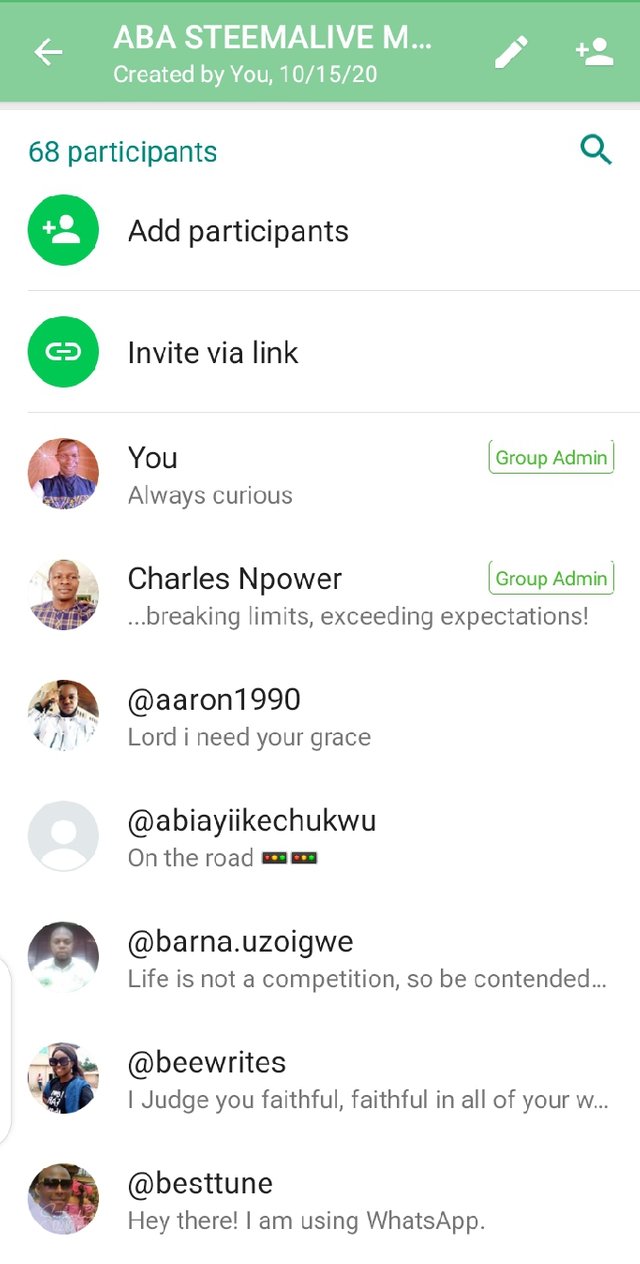 •A member is always appointed to drop links to #LID REPORTS and/or other important links that will help to foster engagement and activeness on Steemit for each week.
@henryug is doing it for this week.I have also sent (1 steem) reward to @aaron1990 for dropping the LID REPORT LINKS in our group chat last week.

•Mentorship as regards to helping newbies on how to post and format their posts is also achieved via our WhatsApp group or through my personal WhatsApp line.
These above mentioned methods have been utilised to make our members active on Steemit.In the course of this new week,efforts are on ground to create more ways of keeping steemalive members in Aba more active and productive on Steemit.
PLANS FOR THIS NEW WEEK👇
•Weekly live seminar will start up in our Aba training centre.
•Contests backed up with rewards will start this week too.
•Whatsapp seminar will also continue as usual in our Aba Steemalive WhatsApp group.
This is a list of steemalive members in Aba city, Nigeria.
Summary of Steemit users in (ABA CITY)
| Category | Total |
| --- | --- |
| Total Users in the city | 79 |
| Active | 59 |
| Inactive | 20 |
| New users recruited this week | 2 |
•We are looking forward to recruiting new members for this week.I expect the old members to be very active by posting and commenting daily.
Let me lay emphasis on this:Being active is very important to sustain our city,community and Steemit at large.So every member should post and comment as often as possible.
HOW CAN I BE ACTIVE??
•Participate in the daily LID REPORT,in the #diarygame(it's unending),lots of contests on steemit and by commenting on other steemains posts on a daily basis.
•Make your Achievement posts up to the Achievement six (6) post for a better understanding of the steemit platform.
•Participate in the weekly steemit crypto academy homework series.
CONCLUSION
I am glad that the number of Aba steemians is always increasing and the level of compliance and activeness on the Aba Steemalive WhatsApp group is encouraging.
Special thanks to @focusnow for his tireless efforts to promote and grow @steemalive and Steemit in Aba and Nigeria at large.
Written by:@samuel20
For:Aba city @steemalive