Hurray!!!! SteemAlive would Soon be 1: This is a fundraiser for our 1 Year Anniversary July 2020 - July 2021.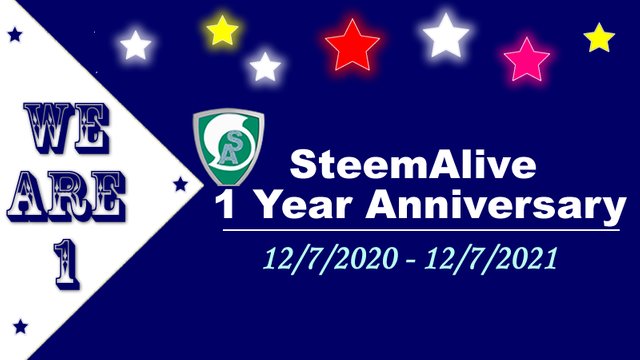 Introduction
How time flies!!!! Friends, we are delighted to announce to @steemitblog and the entire Steemit platform that SteemAlive would hit the 1 year mark by Monday, 12th July 2021!!! The journey has never been easy, but its nothing short of amazing. In 1 year, we have done much more than we really envisioned at the beginning. So it just occurred to the community admin that our 1 year anniversary date is just few days away.

From Steemworld
So we have decided to celebrate our story - our success story, by hosting an event that will bring together all Steemians that have benefited from the work done by SteemAlive community. That is the essence of this post.

We need Funds + Invitation to willing attendees
First of all, we want to inform us that the anniversary celebration has been scheduled for Saturday 17th July, 2021, in Aba, Abia State Nigeria. Unless something really tough happens, we will not change the date.
Events of this magnitude need time and funds to prepare. We have put together some things that we will need in order to successfully host this important event. They are as follows:
Rent an Event center
Print Banners, Branded T-shirts and Guest ID
Food and Drinks
Anniversary cake
Camera men/ Videographers
Event Decorations
Gifts
etc
To take care of all these and more, we will need at least 350,000 Naira or 2,187 Steem (1 Steem is currently 160 naira). This is really massive and we will need everyone that will be part of the event to support us. We hope to raise the funds through the community, and all members that wish to support us.

If you want to attend, we need your Support
To successfully host an event of this magnitude requires proper arrangements and coordination. So for SteemAlive members that want to attend this event, there are two requirements:
1. Financial Donation: Each member that wants to attend must make a donation of at least 3,500 naira or 21 steem (rate varies based on time). This donation would be sent to the City Coordinator before Thursday 15th July, 2021.
2. Indicate interest: All arrangements would be made based strictly on the number of persons that would attend the event. So please, if you will attend, we need you to indicate with the following comment:
Reserve a Seat for Me, I will be there!!!
The city Coordinators will make a list from the comments of all those from their city who would like to attend. That will help us to make every arrangement spot on

Conclusion
This would be the first ever meetup of all members of SteemAlive since the founding of this great community. We hope that all support this event, especially everyone that would be there as a guest.
On behalf of the Coordinators and admin, we thank you all our members and the Steemit team for making our vision a reality.
Written by: @focusnow
For: @steemalive



Subscribe:::Discord.
:::Telegram :::join trail