LID Traffic update for today Friday 11/6/2021 (Spotlight:: Sachet Water Truck)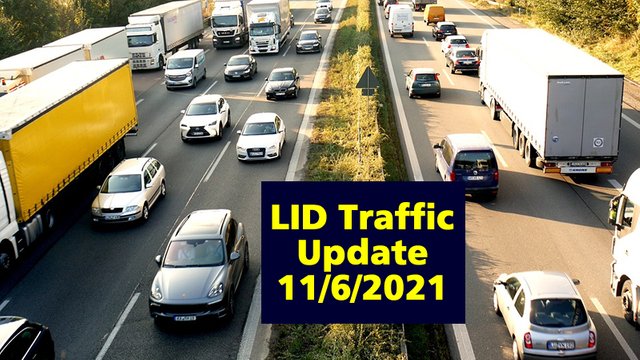 Introduction
Thank God its Friday!!! Welcome to another opportunity to report LID traffic. The traffic situation varies from city to city. Some areas experience more traffic congestion than other places. Through your traffic updates, we get to see what it is like in your area. So as you leave the house, capture the roads you pass through and tell us what is happening with the traffic. Use the comment section of this post to report to us your traffic updates.

You can Improve your traffic reports
Here are 3 ways to Improve your traffic reports.
1..Capture Traffic from top:If you can climb to a higher elevation, you will capture great traffic images. So climb a high story building around the place you wish to capture and then take your images from the top.
2.. Image Quality: If we struggle to see your images, it would be difficult to make sense of the report. So make sure your images are great. If your camera quality is poor, you can save to change it. A great camera makes amazing images. So work hard on your traffic images and make them look very fine/.
3.. Engagement: The engagement rule is 1:1. Each time you drop one LID report, also reply another person's report. IF you make 5 LID reports, we will naturally expect 5 replies from you.

Spotlight for Today
Our spotlight for today is Sachet Water truck. Capture any articulated vehicle used to transport and distribute sachet water. We will pay extra 0.1 steem if you capture a great spotlight.

Support LID
Make a donation to @steemalive to help us reward our LID reporters. Send steem, tron, or SBD to us. You can also curate the LID post for each day and even resteem it.
Written by: @focusnow
For: @steemalive



Subscribe:::Discord.
:::Whatsapp :::join trail