SteemAlive Community Members arranged in teams!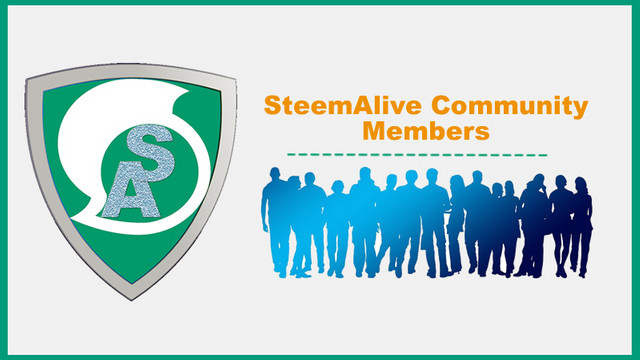 Introduction
We are eager to continue supporting each other and encouraging engagement among our members. To that end, it will be difficult to adequately coordinate a large group and make sure everyone is active if we remain as a single crowd. When @steemitblog announced the arrangement of teams to compete in the diary posts as a team, we saw the potential for organization that a smaller unit could have in a larger one. The team members were able to support each other with comments and votes. Because of that, we decided to extend the original diary teams in SteemALive and even add new ones as needed.


SteemAlive community arranged in teams
When we started for the diary games, there 3 teams of 5 members each. But when we discovered that teams where really effective, we decided to extend the number of persons in each team to up to 10, and even create new teams. Once we have a little above 10, we will split the team and form a new one. This is for our internal community activity and to have some efficiency and order. We also are able to get reasonable amount of engagement for each team member's post and other forms of support.
Apart from presenting an orderly record of our members, this document will also help new recruits of SteemAlive to get to know old members and teams, and be able to identify with our growing community.
Note: If your name is not in the list or that of your team member is not in this list, kindly indicate in the comment section.


Team Demographics
Team SteemAlive
SteemAlive 2
SteemAlive 3
SteemAlive 4

Your Role as a Team Member
The main reasons we have the teams are engagement and organization. So to help us achieve these goal, here is your work as a team member:
1. Read the posts of your team members and comment meaningfully.
2. Drop links of your posts in your team Whatsapp chat and reply to comments on your post.
3. Engage with SteemAlive posts such as our contests, announcements and other posts.
4. Always check @steemitblog each morning for updates.
5. Be visibly seen in your team Whatsapp chat, Our community whatsapp chat and on Discord.
6. In terms of relationship with other team members, be respectful and polite. No hash words or derogatory remarks are allowed.
7. Report to your team leader or the community admin if you have any issues or challenges.
Note: The only way to retain your membership in the team and community is to be active and perform your role well. We may have no other option than to remove you if you become inactive for a long time. Thank you so much for choosing SteemAlive

Written by: @focusnow
For: @steemalive community



Subscribe:::Discord.
:::Whatsapp :::join trail