SteemAlive Presents: Announce and Win Contest. We are approaching 5000 Subscribers. Be the first to Announce it, Win 15 Steem!
Introduction
We are happy to present to you our first very "Announce and Win" Contest!!! Each Monday, SteemAlive hosts its weekly contest and today is no different. However, this would be our simplest contest so far. Our community keeps on growing and making progress in various areas. One area we are doing well is the growth in the number of our subscribers. If you check the image below, you will notice we currently have 4,909 subscribers.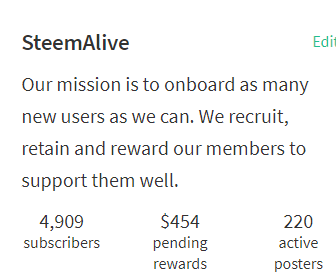 We are very grateful to everyone that made this a reality, especially the city Coordinators that promote Steemit and SteemAlive in the cities where they live.

The contest - Announce and Win!
So this contest is very simple. We want you to monitor our subscribers number and be the first to announce that we have hit 5000 subscribers. The first person to announce that we have gotten to that number win the prize for this contest.
The Contest is a kind of winner takes it all. There is no second position. The first to notice that we reached the 5000 mark will take away the whole contest Prize. So we want you to monitor and be the first to win

How to Join the Contest
Participants would be required to make 2 comments.
Make a comment now on this post and tell us how you discovered SteemAlive Community. In your comment, include at least one way you have benefited by being a member of SteemALive.
The second comment would be when SteemAlive gets to 5000 Subscribers, be the first to announce it under this post.

The rules
You must Subscribe to Steemalive Community
You must upvote and resteem this post to help create awareness.
You must follow SteemAlive Curation Trail
You must follow @steemalive account.

The Contest Prize - 15 Steem
In this contest, the winner takes it all. The first to announce in a comment under this post exactly when we reach 5000 subscribers takes home the ultimate prize of 15 Steem.
This contest is open until SteemAlive community hits 5000 subscribers.

Support this contest.
Send us SBD, Tron or Steem to support this contest. You can also give a valuable vote or resteem the post



Subscribe:::Discord.
:::Whatsapp :::join trail