SteemAlive Presents: Live and Direct Promoters Update - we have rebranded LID!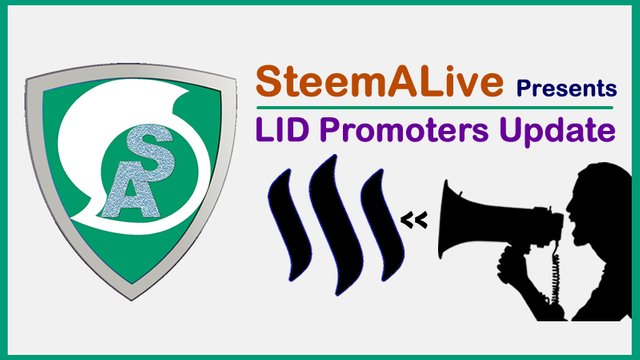 Introduction
With great excitement we wish to announce that effective immediately, Live and Direct (LID) reporting will now be known as Live and Direct (LID) Promoters update. The LID project has been one of our longest running project. LID turns ordinary users into on-the-spot news reporters. Our LID reporters capture moments of interest that happens around them. They are rewarded from bringing in news-worthy activities that happen in their immediate environment live. Inasmuch as we enjoyed this project, we are really optimistic the rebranded LID will be far more exciting and valuable to both participants and our community in General.

Live and Direct Promoters Update - What is it?
LID Promoters Update is a project that will be done by SteemAlive Promoters Club volunteers. As our Promoters engage in creating awareness for Steem, they can give us live update of how the work is going. In this way, we can know what they are doing right on the spot - before they make a report of their promotion activity at the end of the day. LID Promoters Update will give us a rare, updated view of promotional activity as it unfolds.
Promoting Steem comes with lots of stories. Promoters can let us know when they have gathered for promotion activity, transit to the location for promotion, immediate environment of the promotion, and while doing the actual job. Through LID Promoters update, we will be able to follow a team of promoters from the start of the promotion activity to the finish.

LID Promoters Update - Important things to know?
1. How Often: We will make 2 LID promoters Update posts per week. The first one will be made on Monday and will cover promotion activity from Monday to Wednesday. The second one will be made on Thursday morning to cover Thursday to Saturday. So when promoters engage in the Steem Road Show, SmatContrat or other promotional activity, each person can give update of what is happening.
2. What to include in update: We want to see everything happening from the moment a reporter leaves home to when they return back from the promotion. For the sake of order, here are 4 major periods the update can cover:
Take off: The reporter takes a selfie in SteemAlive branded Tshirt while leaving or preparing to leave home. They can tell us they are now leaving for a promotional activity in a planned location. If he/she will meet other promoters in a pre-arranged location such as a training center or other venues, that will also fall under Take off. So he or she updates us with a group picture, explaining that they have arrived, met with other promoters (usernames listed) and are about to leave for the promotion location. It can include images of the promoters inside a bus or other vehicles heading to the location.

Arrival: This update will show promoters arriving at the venue for promotion. They can discreetly take images of the immediate environment, explaining where it is, how much traffic there, and other important gists about the venue.

Work in Progress/Refreshment: The Promoter can post his or her selfies or other pictures of him taken by another promoter when he is making a presentation to someone.

Closed: This can cover events related to when they promotion was ended. It might include the team leaving the site. Transit images and arriving home from promotion.
3. The rules: The general LID reporting rules apply to the rebranded LID Promoters Update. Here are a few changes or additions:
All promotional activity must be done in SteemAlive branded Tshirts
The promoter must engage in some promotional activity at least once in week
Promotion is best done in teams. So we expect at least 2 persons to be involved in the reported activity. They can arrange to do promotional work or be part of a bigger team like those of the Steem Road Show. We will not accept single person promotional activity. Please tell us who is part of your team as you are updating us
Just as in former LID reporting, there should be at least one paragraph description that follows each update with not more than 3 images, including location (coordinates important), date and time.
The rewards: Each week, we will send at least 1 Steem for updating us about your promotional activity. For each person you recruit, we pay you extra 1 Steem after they have made their introduction pos. Each time your recruit makes the next achievement post and it gets verified, we send you 0.5 Steem per recruit. Of course, you need to add them to our curation train. All rewards would be sent on or before Sunday of each week.
The essence of these rewards is to facilitate productivity among our promoters and to encourage following up on the progress of recruits.
Note: To help you remember your recruits and keep track of their progress, we have designed and printed a tracker sheet below which you can use to make your recruitment records. Its a great memory aid. All outstanding LID prizes will be sent tomorrow morning.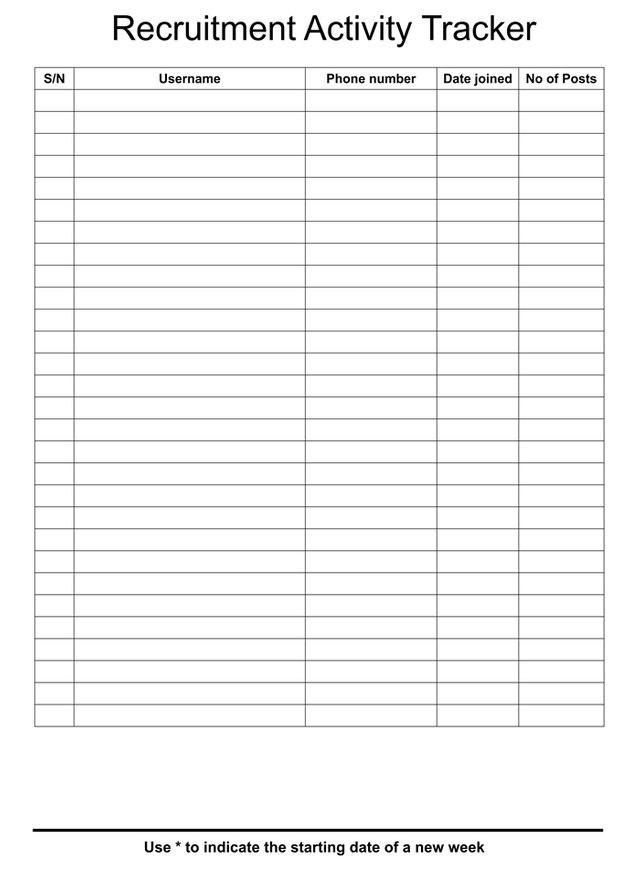 Conclusion
We thank all our LID reporters for all the work they have done for us. We so much appreciate all those spotlights, images and the fun you created. We have lost nothing. We are doing this because we want to put more resources and manpower in Steem promotion. Once you have a flier, your SteemAlive Tshirt and someone to work with, you are good to join LID again.
We call on all SPCV's to take advantage of the rebranded LID Promoter Update to do more and showcase their work. This project does not replace the detailed report post you make at the end of the day. Please continue to do that for more support.
Thank you everyone @steemitblog, @stephenkendal and all our community members for supporting this and other projects. Together we can do more!!!!



Subscribe:::Discord.
:::Telegram :::join trail