SteemAlive presents: Our Roadmap towards achieving 100K SP by January 31st 2021 - also announcing PLUS1kSP Club!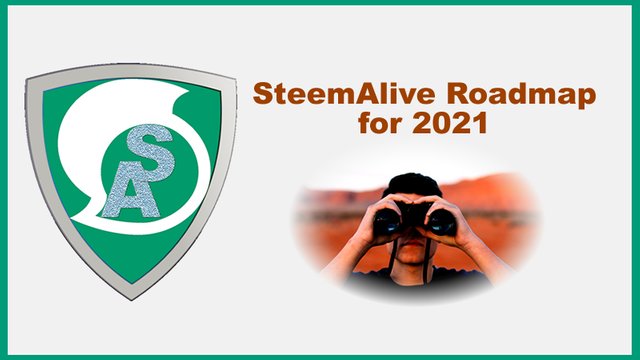 Introduction
As a community, we are fully commited towards promoting the Steem project using the limited resources at our disposal. We have rolled out several projects that are helping us to achieve results in recruiting, rewarding and retaining users. We are really thrilled at the recent announcement of @whitestallion and @bright-obias as country representatives of Nigeria. These and some other great achievements show that we are really making progress. However, we have not really arrived. More work needs to be done.
With this post, we are announcing our ambitious project to you @steemitblog, steemcurator01, and to everyone here on Steemit. We plan to achieve a cummulative 100k SP by January 31st, 2021. We also announce the formation of SteemAlive PLUS1kSP club which is one of the programs to help us achieve and surpass 1000k SP. How are we going to manage this huge project?


Achieving a community high 100k SP in 80days
We have 4 major ways of achieving this feat. They are as follows:
1.. Doubling up on recruitment and retaining users: One easy way to achieve a cummulative high of 100k SP is through recruitment. We already have structures on ground to help us increase the number of people signing up from our region. For example, the training center in Aba, Abia State Nigeria, has been an invaluable tool for recruitment and mentoring. People walk in everyday to ask about Steemit. It also serves as a place to conduct trainings and seminars. When people come to the center, they have this confidence that Steemit is not a scam or something that will not stay long. We will continue to open the center on daily basis and run our trainings.
The announcement of city coordinators have been a great addition to our recruitment efforts. All the city coordinators are working hard to foster local networking and promoting of Steemit in their city. We wish to use this opportunity to thank all the coordiantors - @samuel20(Aba), @ngoenyi(Uyo), @talktofaith (Lagos), @iamlyxie(Abuja), @beckie96830(Abuja), @henryglowz(Asaba). We unfortunately do not have all the resources to reward them for their hardwork, but we believe @steemitblog is taking note of their work. We will continue to support them in whatever way we can to continue their work in each city.
We have other plans to promote recruitment. We are planning to do a road show for Steemit. We will need branded Tshirts, face caps and fliers. As universities and other tertiary institutions are gradually re-opening across Nigeria, we have a solid plan to take Steemit to these institutions of higher learning. If we are able to penetrate the schools, then it would be easy to hit the ground running. We are also planning to raise funds to run weekly Radio shows where we will talk about the opportunities that joining Steemit presents. We are also planning to approach teachers unions, trade unions, friends clubs and other associations to promote Steemit to the large number of people found in these places. With these efforts, we hope to gather as many new people as we could. Recruiting many new people is closely related to our second plan to achieve our vision - Curation trail.


2.. SteemAlive curation trail: We are not planning to have 100k SP on @steemalive account. We are planning to accumulate 100k SP as a community. That is only possible through a curation trail. If you are a new person reading this post, you may want to check an article we wrote about curation trail here. But basically, a curation trail is a way to link an account to another account so that the account which joined the trail automatically votes any posts voted by the main account used to set up the trail.
Shortly after we started this community, we set up a curation trail with the community account. As we speak, the train has 53 followers and ranks 13th in the overall ranking of trail accounts. So we are going to work massively to increase our trail followers. Many of our new members have not joined. So we are going to educate them on the importance of following the trail. We use this opportunity to invite anyone and all members of SteemAlive that have not joined to please join our curation trail. If you do not know how to join, this article will assist you to do so.
So the plan is to have at least 100 users in our trail that has a minimum of 1000 steem power by January 31st, 2021. We hope to achieve this feat using the other plans and programs outlined in this publication. Below are followers of our trail: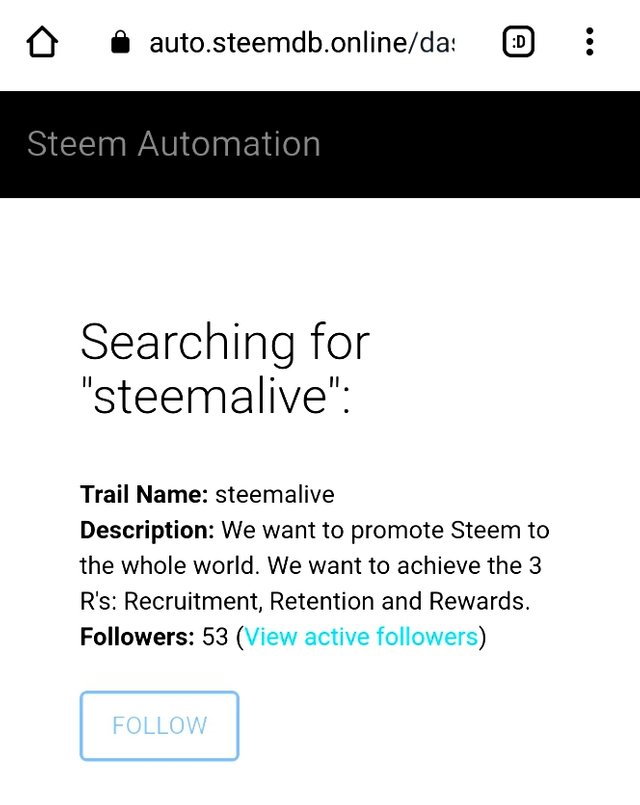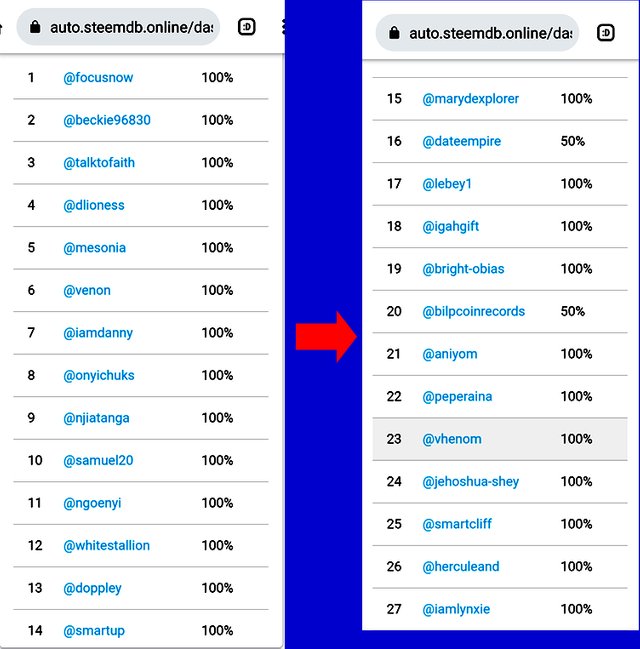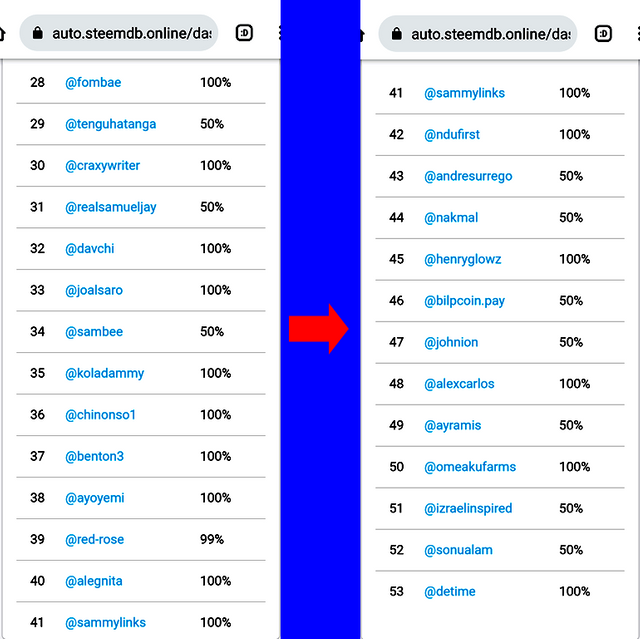 3.. Massively promoting Power ups: We are going to encourage our members to support the Steem project by investing in Steem power. There are many ways we plan to do this. For example, setting post earnings to 100% powerup is a great and easy way to invest in Stemm power. We are going to come up with incentives to motivate our members and other users to power up their post earnings. We may run weekly powerup contests, or do give aways. We may even present gifts to members that powered up for an entire month. These are ways to encourage setting post earnings to 100% power up. There is more
We are going to massively promote #SPUD4STEEM organized by @kiwiscanfly and promoted by @stephenkendal. In fact, we already have an ambitious plan to have SteemAlive members claim all 5 positions in the upcoming December edition. We are going to run massive comapigns for all #SPUD4STEEM contests, beginning from this december edition. We hope it goes as planned. Finally, we are encouraging our members to buy Steem with fiat and powerup. It is based on this that we are planning to have at least 5 persons massively invest in SP using fiat, and contesting for this December edition of #SPUD4STEEM. In these and other ways, we hope to drive the eagerness to want to invest in Steem power.


4.. Announcing a brand new program - PLUS1kSP: We are thrilled to use this opportunity to announce a program within our community called PLUS1kSP. PLUS1kSP stands for PLUS 1000 Steem Power. This is a club of STeemAlive members that have achieved a minimum of 1000 steem power. The main aim of forming this group and encouraging people to join is to help us achieve 100k SP by January 31st 2021. We will also base our other future programs on this club because these people have demonstrated their complete belief in the Steem project by achieving at least 1000 Steem Power. We hope to have 100 members of SteemAlive join and become members of PLUS1kSP by January 2021. Here are a few of the things we hope to accomplish through PLUS1kSP and benefits.
Members support others to get to this level by promoting #SPUD4STEEM
Educate others on how to achieve 1k SP
Members will receive special support from the community
Members are considered first beneficiaries of any future SteemAlive program (For example, we plan start a crowdfunding program in the nearest future)
Support the Steem project in other ways
We are going to make a separate post and explain more details of SteemAlive PLUS1kSP Club

Conclusion
This is really a huge project on our hand and we hope it goes as planned. We are very grateful to @steemitblog for its massive support to our programs. We hope to continue receiving such assistance so as to enable us execute this and other future projects.
We are also massively grateful to our community members and others that have given us assistance in many ways such as @shortsegments, @cryptokannon, @stephenkendal. Together, we hope to achieve our wildest dreams and take Steem to the moon!


Learn about SteemAlive and its Projects
Read about some of our other projects
[SteemAlive PLUS1kSP Club(Details coming soon)]

Written by:
@focusnow
For:
@steemalive



Subscribe:::Discord.
:::Whatsapp :::join trail