SteemAlive Presents: SmatKontrat - Our Second Steem Promotion Project under SIM! Details here.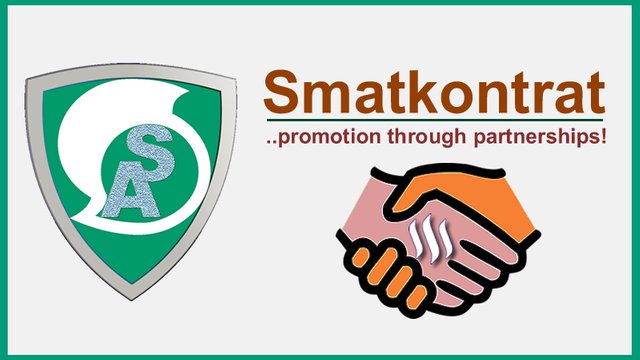 Introduction
We are excited to unveil our second project under SIM!!!! We call it SmatKontract. We hope to take Steem Promotion to yet another level through this project. Our first project under SIM is the Steem Road Show which has gone as planned. through the Roadshow, we create awareness and campaign for Steem on the major roads in our cities. From 2 cities and 12 volunteers, we have grown to 5 cities and 38 volunteers activiely participating in the Steem Road Show. And now SmatKontract is here. Lets see what it is and what promoters need to do.

SmatKontrat - What is it?
SmatKontrat is a special Steem Promotion project targeted to large industry groups. We want to partner with organizations that work with or have a large number of people. The partnerships should be seen as mutually beneficial. These organizations need to see how Steem will benefit them so as to give us access to the crowd they do business with. When we target such organizations controlling a large customerbase or staff, it becomes easier to bring many new users to Steemit in a single move.
We have been thinking about some organizations and bussinesses that have many clients or members. Below are some of them for whom SmatKontrat was designed:
School Staff
Student union
Age grade Associations
Church youth groups
Fastfood Restaurants
Parents-Teachers Associations
Gym club members
Sports Fans
Trade Unions
Women empowerment groups
etc
The above is not an exhaustive list, but represents a sample of the target groups we want to partner with. These groups will guarantee Steemit a steady stream of people connected to their business or organization.

Providing Value through SmatKontrat
We will design attractive and mutually beneficial proposals to our target groups so they will see the sense in partnering with us. We believe that when an organization sees value in partnering with Steem, they will not hesitate to do so. For example, here are some ways we will try to add value to them:
1. Encourage our community members to Patronize their services: Every business need clients or customers. And through Steem, we have built a large community of potential customers for these businesses. So if they agree to partner, our members would be encouraged to buy their goods or use their services.
2. Run a free course for their members: We can offer to train their members for free on some courses or skills. For example, their members can access free IT training courses through the partnership.
3. Offer services at discounted prizes: Our community members are professionals in various fields. We can offer their services to our partners at discounted and attractive rates.
4. Offer free Steem gear and gifts: Our partners can see the real value of our partnership proposal right from start. We will have a humanitarian face. We can offer gifts branded with Steem and other free stuff to emphasize that more will come if they accept our proposals.

How will Promoters be useful to SmatKontract?
Our community members probably belong to one or more groups, organizations or associations. So they can provide vital access for Steem to wherever they belong. So we call on everyone with connections to any large groups to support Smatkontrat. If you are part of a Church youth group for example, you can help us take a team to your group through the SmatKontrat project
We will brainstorm on opportunities, targets, value proposals and other logistics that will make SmatKontrat achieve its aim. Please, our promoters can work in teams. Our City Coordinators that interested to participate can organize various teams and work with them.
Before a team moves to a target organization, they need to get following ready:
Identify the target group
Design a nice proposal (oral or written) to highlight the value of our partnership proposal.
Select the team to work on that project, including who and who will take part in making a presentation
Execute the project

Conclusion
Just like the Steem Road Show, we are really eager to see SmatKontract succeed. We hope to do Steem promotion and create awareness for Steem in Nigeria comprehensively. We really thank our Promoters for the amazing job they do. The City Coordinators and other vital members of our community are very much appreciated. Thank you so much @steemitblog and @stephenkendal for supporting our projects. Lets do more - together!!!!



Subscribe:::Discord.
:::Telegram :::join trail