SteemAlive Presents: Steem2dWorld - a 14 day Recruitment campaign with reward prize in excess of 1000 Steem (100% powered up)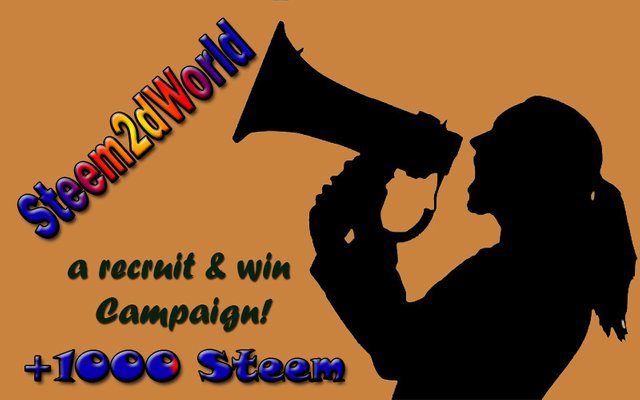 Introduction
We are delighted to roll out yet another big campaign to take Steemit to every corner of the globe!!!! This campaign is called Steem2dWorld. An idea initiated and sponsored by cryptoacademy professor @gbenga, Steem2dWorld will provide an exciting opportunity and incentive for SteemAlive members to go out there and talk about Steemit to every willing, hearing ear. We hope to create awareness about Steemit and drive the masses - users and investors to our steadily growing community. The total reward prize for this project is not a joke at all - 1000 Steem + more.
Here is the project plan.


Steem2dWorld - How we designed it
This campaign will run for two weeks starting from today. We will explore all marketing techniques to get the word out to our target audience - users and investors. Each participant will try to recruit new users to steemit and help them to startup blogging on the platform. At the end of the two weeks period, recruiters would be rewarded from the reward pool. It is left to each one to use any method that works for them to reach out to as many people as possible.
Since this is a proper contest, there must be rules to guide participants accordingly.

Steem2dWorld - The rules
Here are the important contest rules all participants must abide by.
Recruitment is open to all SteemAlive members old or new
The contest is for 2 weeks, starting from today 18-3-2021.
Recruits must make at least 6 posts within the 2 weeks period. (Achievement 1 and 2, plus any other 4 posts) to ensure they stay active.
Recruit must mention the recruiter in the introduction post.
Maximum of 4 recruits per participant - we plan to increase this number if we are able to increase the prize.
Recruits must join SteemAlive curation trail
Recruiter will make a post at the end of the contest to summarize the following (Recruits, date joined, List of 6 posts, and any other interesting details such as their method of recruitment). The post must contain the 2 tags steem2dworld and steemalive

Steem2dWorld - contest Prize
We have 1000 Steem guranteed as reward prize. This amount was donated by Professor @gbenga. We hope to increase it as more donations come for this project.
For each recruit that satisfy the conditions described above, The recruiter is rewarded with 20 Steem. For example, a participant that recruited 4 persons at the end of the contest will receive 20 steem x 4 = 80 steem.


Support Steem2dWorld
@gbenga started this move and SteemAlive community supported him and put arrangements together. He has promised 1000 steem reward prize. We thank him for this. We however call on other generous members to support and help make the prize bigger. So we welcome more steem, SBD, Tron, etc. Just make a comment on this post and indicate interest to contribute to the prize.
We thank @steemcurator01 and @steemcurator02 for Supporting SteemAlive from day 1. We also appreciate the sponsor @gbenga and all hardworking members of SteemAlive community for making this project a success.
Let us Steem2dWorld!!!!!
Written by: @focusnow
For: @steemalive



Subscribe:::Discord.
:::Whatsapp :::join trail