SteemALive Presents: Steemit training facility at No 5 St. michaels Street Aba, Abia State Nigeria!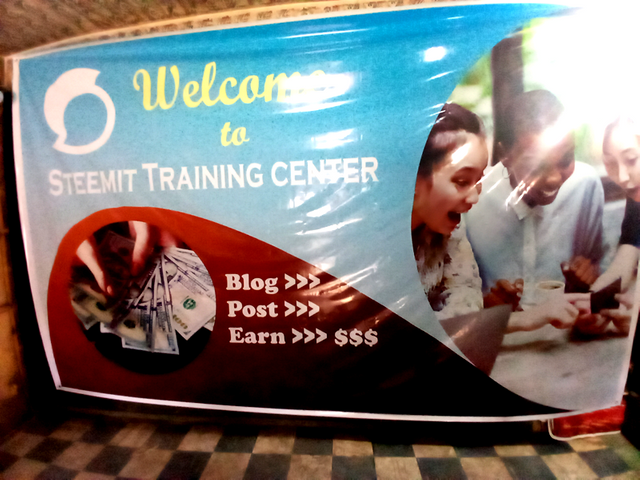 Introduction
Journey of a thousand mile, they say, begins with a step. SteemAlive as a community continues to make progressive steps towards achieving its vision to bring Steemit to every doorstep. While we have been recruiting and mentoring new users, we are usually faced with this difficult question: If you say that steemit is a global brand, where is your office? This has been the first question we face from potential investors and ordinary users. An office or training facility gives people some confidence that what we are talking about is real.
Today Saturday 10/10/2020, is a memorable day that we at SteemAlive cannot easily forget. Today marked the end of a journey that started many months ago to procure a suitable training center/office. The facility is located at No 5 St. Michaels Road Aba, Abia State Nigeria. We had so many challenges that included finance, securing a suitable location and equiping it with the necessary items needed to run Steemit training. We had to wait for a long time, and finally we now have a place to proudy invite people for mentorship.
We went to a popular Radio house to make a 10 minutes presentation yesterday (Friday 9/10/2020). You can read about it in this post. 15 persons responded after the Radio broadcast and 8 made it to our training center. The program started by 11am local time and ended nearly 2 hours later. The invitees were really grateful and happy for the opportunity and some signed up immediately and are now working on their achievement 1 posts. We are really happy for this great progress and look forward to making Nigeria one of the countries with the most active users and investors on Steemit. The much we have accomplished required some financial expenses. Take a look.


Financial Implications of having the Training Center
Here are some of what it cost to set up this Training facility.
Rent: We paid a 1 year rent of 180,000 naira for the facility. This is the equivalent of 2400 Steem ( at the current rate of 75 Naira per steem).

Radio Presentation: We made a Radio presentation for 10 minutes and 10,000 Naira. This is the equivalent of 133 Steem.

Seats: We bought 10 plastic seats for 7,750 Naira at the rate of 1,550 Naira each. This is the equivalent of 103 Steem.

Banner. The 13 feet by 8 feet banner was designed by @focusnow. The printing costs 9,680 Naira. This is the equivalent of 129 Steem.

Refreshment for guests: We bough I crate of 7up soft drink for 1000 Naira. This is the equivalent of 13 Steem. We also bought a packet of biscuits for 300 Naira to entertain our visitors. It is the equivalent of 4 Steem.

Miscellaneous expenses. We also spent on printing of fliers, Electrical installations, moving costs and other things.
We spent a total of: 2400+133+103+129+13 +4 = 2782 Steem.
The above is a huge budget especially in a country like Nigeria with a not so strong economy. We are happy with the achievements, but we have not yet arrived.


What remains to be done
The training facility can still accommodate more than the 20 seats we have now, so we will need more seats. We also need to buy a projector machine so that we can mentor and show our trainees what to do on the screen. We hope to make weekly Radio presentations to create more awareness
Branding: In the coming days, we are planning to do Steemit-branded Tshirts and face caps. These would be used during meetups and a future street campaign.


Take a look at our images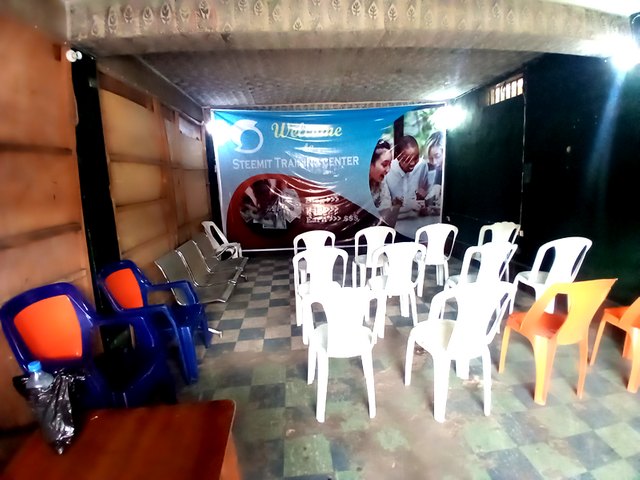 The training facility ready for guests arrival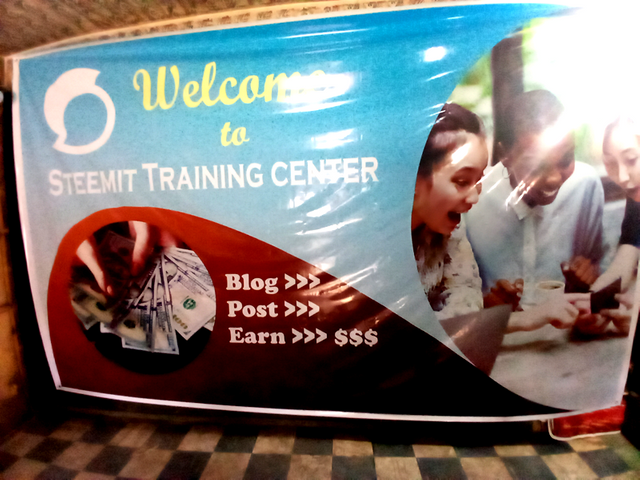 Our giant 13 feet by 8 feet banner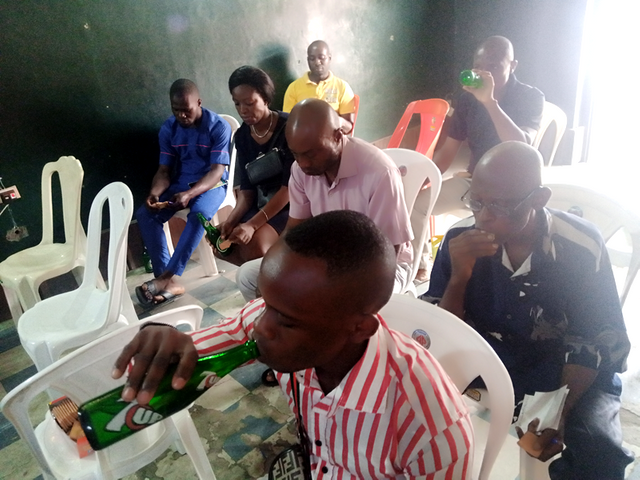 Guests enjoying snacks during a brief intermission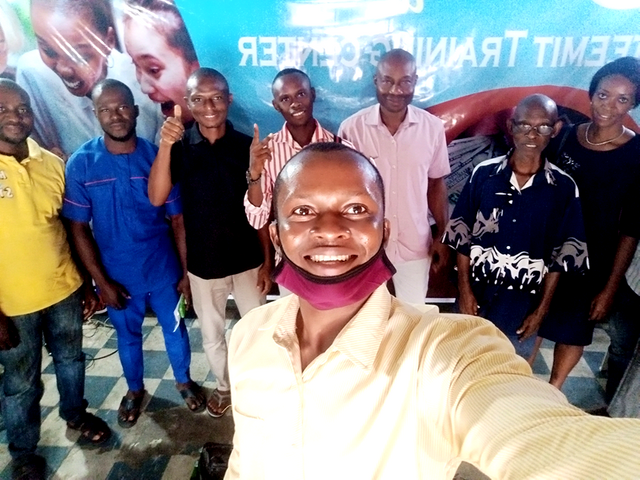 @focusnow did a selfie with guests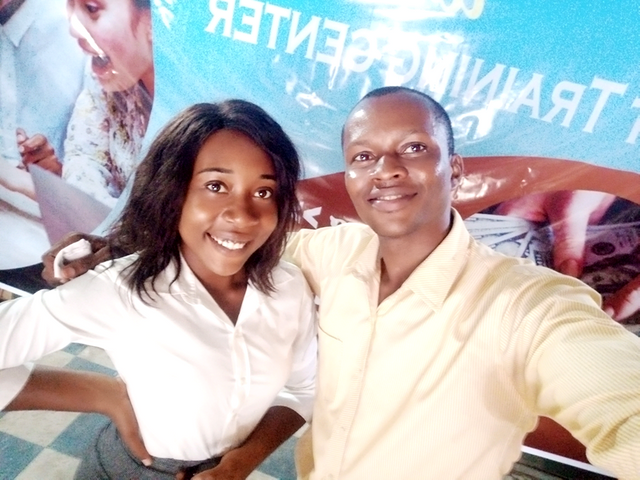 Some of the trainers: @mesonia and @focusnow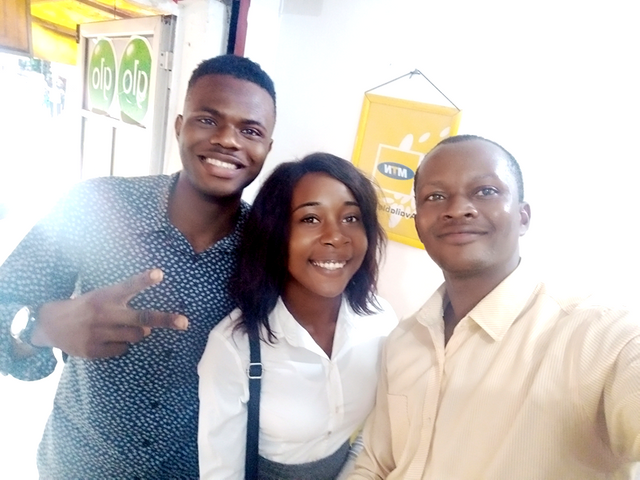 The trainers complete: @whitestallion, @mesonia and @focusnow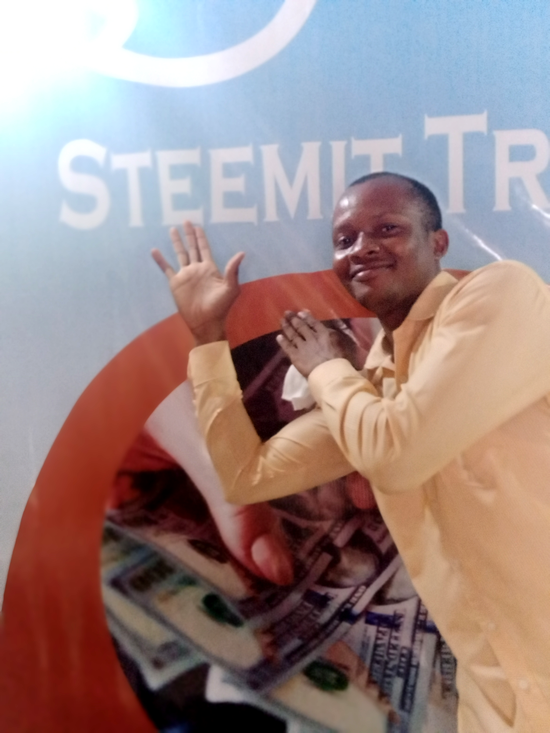 Happy project coordinator @focusnow

Conclusion
We are really thrilled by this great achievements. We are eager to campaign and promote Steemit to the best of our abilities. We are sincerely happy for the selfless efforts of SteemAlive community members like @samuel20 who together with @focusnow did the radio presentation. @mesonia and @whitestallion helped @focusnow to conduct the semiar today.
We are especially grateful to @steemitboard for their conttinued support to SteemAlive community. Together, we hope to achieve greater things and drive mass adoption of blockchain technology through steemit.
CC: @steemcurator01, @shortsegments, @stephen kendal, @cropto.piotr
Written by: @focusnow
For: @steemalive



Subscribe:::Discord.
:::Whatsapp :::join trail