Steem - And so it begins...
It hasn't even been a week and already Justin Sun is doing his thing!
Steemit.com announced they were rolling out communities, which is all well and good but none of their announcements has the reach of this guy...
One tweet by him gets seen by over 2 million followers...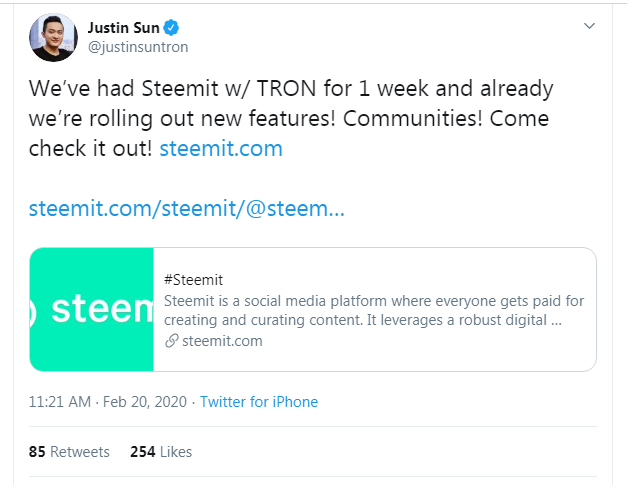 (Source: https://twitter.com/justinsuntron/status/1230558161381150724)
Yes he is taking a bit of credit he likely had very little to do with, but look beyond that for one second. Everything that steem/steemit accomplishes is going to be heard about now...
And that is why Justin Sun matters!
A familiar face came out of hiding...
We even got a Ned Scott sighting in there as well...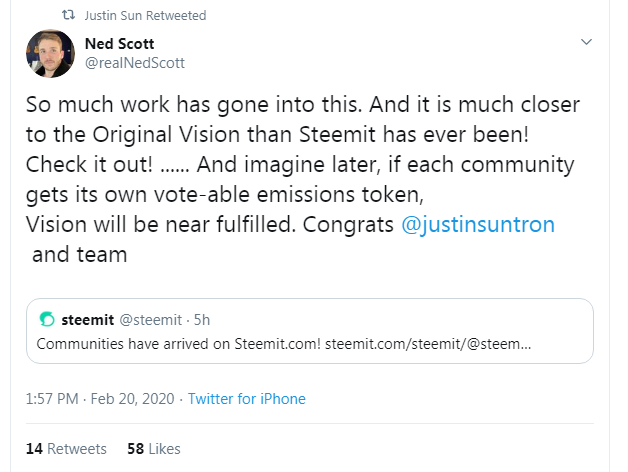 (Source: https://twitter.com/realNedScott/status/1230597458411081728)
Nice to see he is congratulating everyone there and not only Justin Sun as the team had been working on this for close to 2 years.
A monumental achievement and hopefully a turning point as we go forward...
Overall this is very big news and hopefully something we can look back on someday and say that was when steem really started to take off.
It remains unclear exactly how steem and tron are going to co-exist going forward and there is a lot to be ironed out still, but for the time being, Sun will help steem and steemit get the exposure it needs to really be successful.
And we should all be very excited about that!
Stay informed my friends.
-Doc