The SteemLeo Mission | From Tribe to Blockchain Business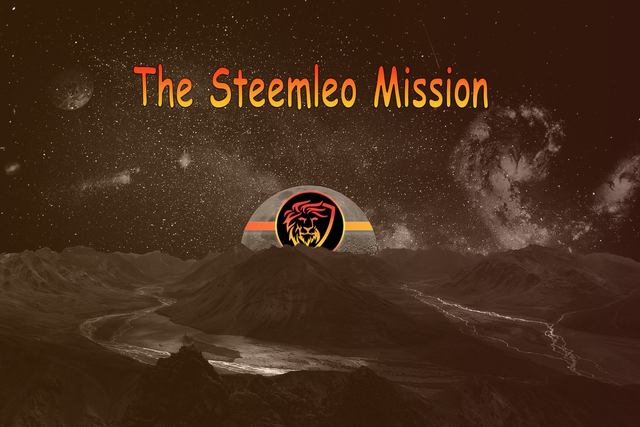 Hey everyone, it's Khal
I'm currently re-writing the SteemLeo vision page for the LeoPedia section of Steemleo. I also had a few Discord conversations that got me thinking about the short definition of what SteemLeo is. Many call it a tribe, many call it an SE token.. others call it a Steem-based community… but what exactly is it? What has it become over the past 8 months since the original launch?
The vision page that I'm putting together is much, much longer than this post. So call this the mission statement/8 month review of Steemleo, if you like. The full page will be available soon at https://Steemleo.com/vision.
SteemLeo started as a tribe on the Steem blockchain. Which means that it started with its own token (LEO), a simple condenser interface (https://steemleo.com) and a few other small features. The SteemLeo discord was started within the first week of the original launch and has grown to over 500 members in the past 8 months.
Since then, SteemLeo has made dozens of major updates to the LeoCondenser interface, added the LeoDex UI (https://dex.steemleo.com), added the LeoShop UI (https://shop.steemleo.com), started the LeoPedia initiative (https://steemleo.com/leopedia), expanded the LeoServices (https://dex.steemleo.com/services) offerings and much much more.
Our marketing is slowly expanding out on Twitter, LinkedIn and YouTube to gain extra awareness outside of the Steem blockchain. One of the most important factors (call it a KPI) is the expansion of our user base. We are still far from tapping the full potential of the Steem blockchain's current user base, but the real growth potential lies outside of Steem — with the people who have yet to hear of or create an account on the Steem blockchain.
With this focus on a growing user base comes other KPIs as well, namely, the primary sources of revenue. Similar to a business trying to generate more positive cash flow. SteemLeo's growing list of revenue sources is a testament to the progress of SteemLeo moving on the spectrum as a simple condenser clone to a blockchain-based business:
LeoCondenser (ads)
LeoDex (Listing fees, Gateway fees, Swap fees, ads)
LeoServices Portfolio of Offerings (Token airdrops, general consulting, PoD scripts, etc.)
LeoShop (1% fee on all sales)
...
The success of a "tribe token" on Steem-Engine is directly correlated to how much "revenue" that token can bring in. Why? Token sinks.
I think the word "sink" has been used so much that it may have lost its impact. A sink for a token is not a simple burning of a token. It's an ongoing source of tokens that are being burned. Not tokens being printed and then immediately burned.. tokens being bought off the exchange, earned through distribution, etc. being utilized and ultimately burned.
Whether it's an SMT or an SE token or STEEM itself, it doesn't matter. The token price is significantly determined by the value of the "underlying" business.. much like a real company.
Value investors like Warren Buffet evaluate companies with a large (almost singular) focus on cash flow.
Is the business generating cash?
Will the business reliably generate more cash in the future?
How is the business operating to improve current and future cash flow?
Does management have a clear focus on cash flow?
These same questions (in my opinion) can be applied directly to STEEM, SE, SMT tokens and any other cryptocurrency. Even BTC.
What kind of cash flow is the "business" generating. Is STEEM generating something of value? Are blog posts, 3speak videos, Splinterlands matches, etc. to warrant the inflation rate? Are the development proposals through the SPS providing as much value (and even more value) as they are receiving?
To get off this tangent that I've found myself in and get back to the original point — SteemLeo's vision is to continually evolve its portfolio of offerings as a blockchain business. To offer more services, to collect more fees, to generate more ad revenue… To add value to the Steem blockchain and bring value to the users who choose to leverage LeoCondenser, LeoDex, LeoShop and of course, LEO in their everyday lives.
The SteemLeo vision page with all sorts of details on marketing, operations, etc. will be posted soon to https://steemleo.com/vision.

all of our LEO author/curation rewards on this post are permanently burned from the token supply

Posted via Steemleo