The Steemleo Weekly Writing Contest Week #3! | Earn Upvotes From @leo.voter (730k+ Steem Power)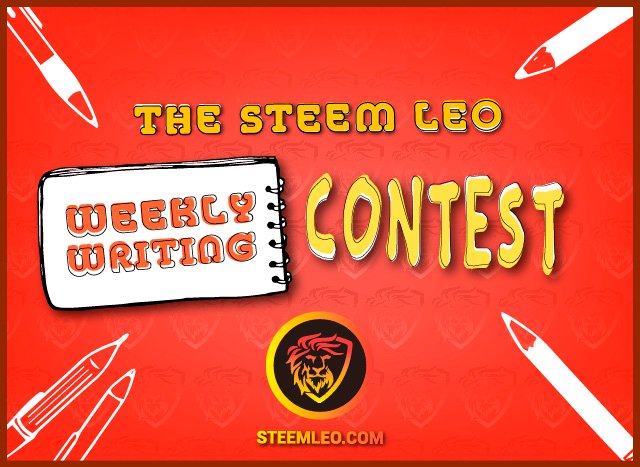 Last Week's Winners for "Predictions About Crypto in 2020"
Last week's prompt asked you to talk about your vision for crypto as we close the book on the past decade and enter 2020. Will your vision be perfect in the coming year? Let's see what happens. Here are the top picks from last week's contest:
#1 @karamyog submitted: "My predictions for crypto in 2020" You've earned 100 LEO Power and will receive a 100% upvote (roughly ~$9) from @leo.voter on a future post.
@karamyog started off by talking about the upcoming BTC halving. The bull run may not be quite as wild as 2017, but there could be a parabolic move nonetheless. Also, with Steem's coveted SMT testnet live and the launch slated for early 2020, we could see some positive action on this side of the crypto universe.
#2 @chekohler submitted: "My Pedictions for Crypto in 2020" You've earned 75 LEO Power and will receive a 75% upvote from @leo.voter on a future post.
@chekohler closes out 2019 by making predictions for the upcoming halving event, the use of crypto as a payment mechanism, an increasing amount of importance placed on Decentralized Applications and institutional money flowing into crypto as a diversification play.
#3 @culgin submitted "Crypto Predictions for 2020" You've earned 50 LEO Power and will receive a 50% upvote from @leo.voter on a future post.
Whether it's for the writing contest or not, @culgin's posts always get top marks. He manages to give a well-rounded perspective on whatever it is that he's examining while providing ample evidence to support his position. His predictions for 2020 are no different. Check out Culgin's post to see his perspective on the crypto bottom, institutional money, millenial adoption, digital ownership and more!

This Week's Contest Details:
The New Writing Prompt For This Week: "What is Your Most Heavily Weighted Investment Sector and Why?"
It's as open ended as you want it to be. In case you're stuck, here are a few (optional) talking points that you could consider:
If you're invested more into cryptocurrencies than any other "investment" class, why do you choose to invest like that?
Is diversification a part of your overall investment strategy?
What are your long-term investing objectives? What do you hope to get out of being an investor in the long-run?
Requirements:
Minimum of 300 words
Must be Posted From Our Interface: https://steemleo.com
Deadline for Submissions Exactly 7 days from when this post is published (post payout date/time). Winners will be chosen shortly after.
Tag your post with #leowritingcontest so we can find it!
(optional) share the link to your post on Twitter and earn a bonus upvote from @steem.leo
Note on Upvotes: We'll be curating each and every admissible post submitted for the writing contest with @leo.voter in addition to the normal prize pool.
Prize Pool:
First Place --> 100 LEO Power + 1x 100% upvote from @leo.voter on a future post
Second Place --> 75 LEO Power + 1x 75% upvote from @leo.voter on a future post
Third Place --> 50 LEO Power + 1x 50% upvote from @leo.voter on a future post
FAQ:
*How are the winners chosen? --> Posts are nominated by the curators in our discord channel. Nominations are tallied and the final winners are given a final round of curation and then selected.
*Can you win multiple contests back-to-back? --> yes, winners are chosen based on the quality of their submission. If you submitted a winning post last week and submit another amazing post that beats out all the competition this week, then you deserve the W.

all of our LEO author/curation rewards on this post are permanently burned from the token supply
#steemleo - A Next-Generation Community for Investors

---
Posted via Steemleo | A Decentralized Community for Investors