Crypto Analysis | Brutal Market Correction... But anticipated!
Good day Steemians!
Join me in analyzing the crypto markets!
Okay, so today is brutal in terms of market corrections! I have seen coins with up to 45% in losses... But was this unexpected? No!... We analyzed markets for the last weeks and even months and even expected such a correction. Although I didn't think it would come this suddenly.
The situation today :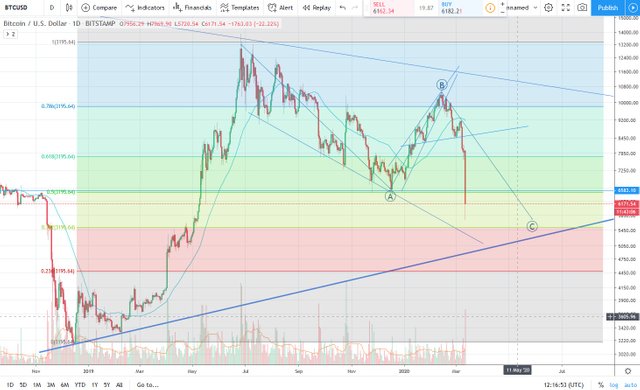 You can see that we have expected this correction for quite some time indicated with (C) in the chart. I only thought that it would come more slowly. However, the trough was at 5.700$ (I think it still might fall a bit lower). This corresponds with our predictions.
I do not expect prices to fall below 5.000$ at this point! Now it a good time to buy! :)
Also note the sharp increase in volume: this is indicative for the end of the mini bear market!
How does the current market turmoil correspond to the crypto markets?
Some months back I talked about it and so far it's just as anticipated: First we should see a strong decline with global markets, but after that I am expecting a strong impulse wave (before the stock markets rally again).
Stay tuned for more updates. And stay safe everyone! 🤞😊❤
+++++++++Update+++++++++++++
This is approxiamtely the correction pattern that I am expecting: Lows at around 5.000$-5.5000$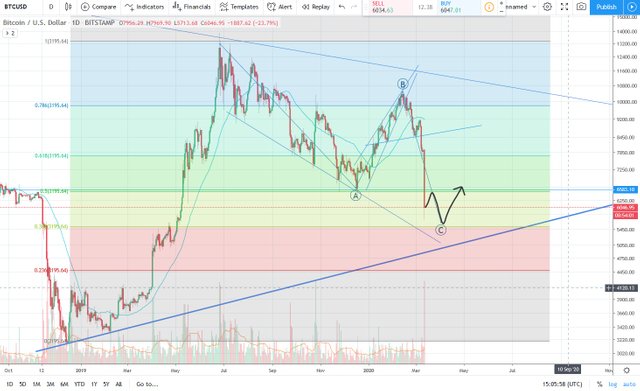 +++++++++Update+++++++++++++
---
As a general reminder: Please keep in mind that none of this is official investment advice! Crypto trading entails a great deal of risk; never spend money that you can't afford to lose!

⛅🌦🌧🌦🌧🌨☁🌩🌦⛅🌧☁🌤🌥🌪🌧🌨🌩⛅🌦☁🌤🌥🌤⛅🌤⛅🌦⛅

⛅🌦🌧🌦🌧🌨☁🌩🌦⛅🌧☁🌤🌥🌪🌧🌨🌩⛅🌦☁🌤🌥🌤⛅🌤⛅🌦⛅