So, What's Next?
I have been to maybe 30 boat shows over the years. Probably another 30 more trade shows as a visitor. Not to mention that I work in the event industry, so I have probably been to another two dozen types of trade show, with maybe 12 or 15 or so of each of those... all tolled, a few hundred or so convention floors, for events. I am not bragging, nor claiming to be the be all and end all, only that, I have developed a system for these shows.
Like everyone, I get all excited and caught up in the moment, so, I tend to grab more than I should and carry it home with me. Lots of brochures I'll never look at, maybe a few too many pens, or candy, or keychains or stress balls, WHATEVER the booth is giving away!
FIRST Thing I do, is to dump all the stuff I collect out, and look it all over! ALL business cards are collected for my desk. I'll review and deal with each as soon as this first
once over
is finished. Next, at a glance, there are clearly things I'll never look at, and these, Immediately, go into the recycle bin. All the giveaways, pens, keychains, etc, go to another bag, for dealing with later.
This leaves only the paperwork and brochures that truly mean anything to me. Essentials that I really wanted to get out of the show.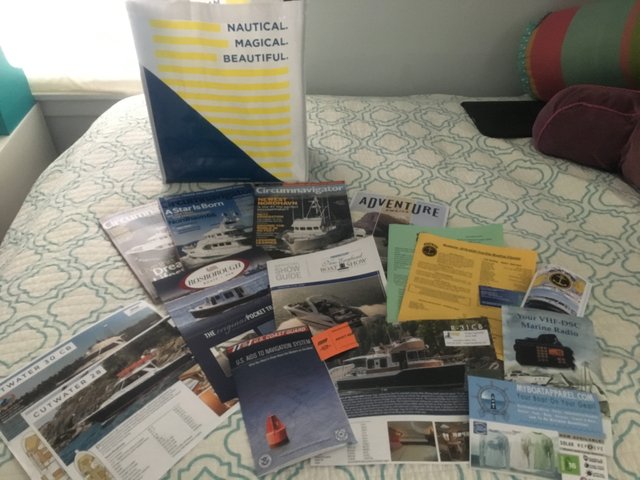 BTW, always keep the show guides, these list everyone there, and are good handy references for later use, to find a vendor, or person you talked with.
I like to review all the business cards next, as this gives me a chance to make notes on the back of who they were, and something that will help me remember them, personally.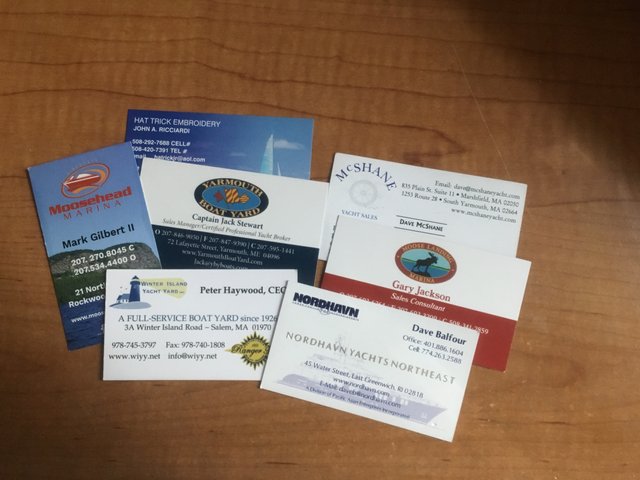 Anyone I spoke with other than a quick "hi" I'll email that night. I like to include something I spoke with them about. Usually, at trade shows, I mention some particular story, or anecdote, often the same, to all of the sales people or manufacturers reps. I will highlight that in my email, to refresh their memory of who I am and why I am emailing. At the New England Boat Show, I mentioned to each of the 6 or so vendors I was speaking with, about my plan to move from my current center console, to a bigger boat, with a cabin and galley, to allow me to begin learning cruising lifestyles, and weekends away, aboard.
Once each is reminded, I can either drift off, to sleep, or, more likely, spend a few hours online, looking at videos of boats that I was excited about from the show floor. For me, that was the past two weeks!!! A lot of video, and I am only scratching the surface! I also tend to bookmark a bunch of sites in a folder called (boat show name and year). That way, I can easily find them later.
After that first night, I begin to follow up with the other brochures collected. At boat shows, that's anything form accessories, electronics, marine gear, and apparel. Ordering new embroidered hats, or foul weather gear. Looking at and comparing new marine radios. I enjoy spending time now, bookmarking classes for the immediate future, before the new season on the water begins.
Come the time to put the boat in the water, new supplies are already not only ordered but delivered. New Electronics in place. All the little things that will make last minute planning a challenge are taking place now, with snow on the ground and ice in the water. Months of planning are best used, during the winter months and NOT last second, while the spring air is fresh and the sea calls...



That way, my winter is still filled with my thoughts and dreems of the seven seas!
Currently, my favorite choice for the next boat!


The Ranger Tug 31 Foot Command Bridge


Sleeps 6, 2 heads, galley, command bridge, diesel inboard, comfortable 1000 mile range, semi displacement hull

Always, I strive to give back

To the animals and birds around me

to put more plants in than I take out

And be a good steward for the world around me!

All Photos by Bluefin Studios.