ANOTHER Marvelous BLOG Post...by Me...
Hola, tutti... <-(That's a combination of Spanish and Italian)😕 Va bene?!?!?!?
Actually, I really don't care if someone doesn't like the humor in it, I just stuck "Va bene" in there out of habit I guess...???
In Italian, va bene means something like, 'okay' or 'okay?'. Sometimes 'bene' is used singularly, meaning 'well', or 'fine' - but, sometimes not...😎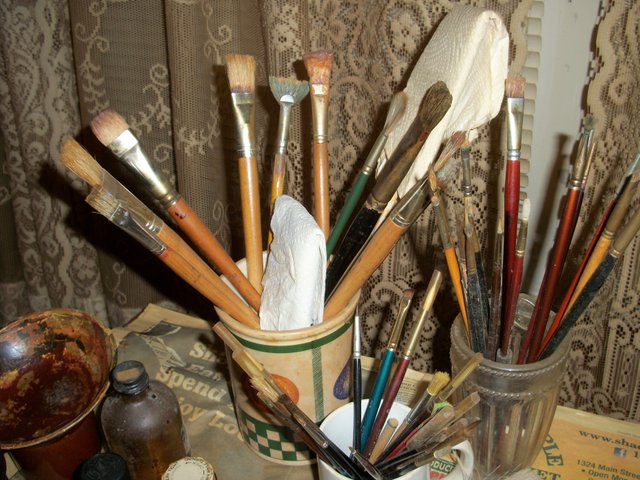 Here's a photo of my artist brushes that haven't felt my hands for a long time...
---
Now that I might have confused you enough, how the hell are you...???
As usual, I began this post with nothing particular in mind, so I apologize in advance if it gets really crazy, stupid, boring, weird, angering, insensitive, confusing, triggering, inciting or any other incorrectly accusatory way.
Maybe I should just end the damned thing HERE while I might be ahead of the game? I don't know...??? I never know what's best. That's how I often get into trouble here on Steemit😏
But, HEY... that last post of mine is doing pretty good, compared to most. It's an article about an herb called "Ashwagandha". Go back and read it if you want; it might help you live a longer and healthier existence on this planet.
It might help you to live longer and healthier on any planet, for that matter... or even the moon, which isn't a planet, because it doesn't spin. That's one of the few things I learned in Science class, between my daydreaming.
ANYWAYZzzzzzzzzz......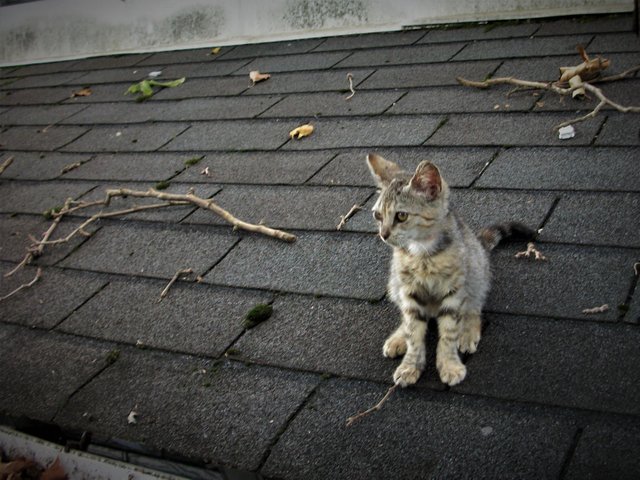 Here's a picture of a feral kitten on my porch roof, that I rescued and trained to become a house pet, then got it adopted😎
Let me check the
word count
before I decide to go on with this stupid post or not. I get frowned upon by some people for writing stuff
short
and
sweet
sometimes. They curse me out and complain on discord channels about old
@AngryMan
"cheating"
in some way...
TWENTY-SIX WORDS?!?!?!?!?!? NO WAY... Does that look like it's only 26 words up above?
Damned word counter can't count to well - can it??? Must have been daydreaming in math class, like I did in science?
I'm not going back to count all those words manually!!! My eyes are already going bonkers from staring at this screen too long.
I've better go now, my friends... I need another nap, to refresh my head and heart. I'll see y'all again soon I hope, if not, that might mean one of us has kicked the bucket...
Stay well, and keep smiling.
Ciao
---
Shared byon Steemit- May 2, 2021