Good Morning... Friends & Enemies- Alike...
Hello everyone... Well, not EVERYONE...!!! I don't think that everyone in the world will be scrambling to my Steemit.com page to anxiously click on this post and open it up! THAT would probably be foolish of me, to think otherwise.
Yet, perhaps I'm wrong? Maybe most people around the globe will read this post, then share my "Good Morning" greeting with other people in their circle of friends and family? In that way, I would have at least reached every human in existence...
That would be nice, to know that I brought a smile to every face- globally.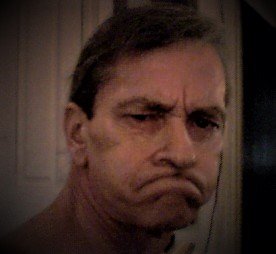 Maybe, not everyone who sees this post, or shares the message with others are going to
smile
regardless? Maybe they're in too much physical or emotional pain to have such a common greeting bring a smile to their face? Maybe they'll growl instead and curse me out?
I don't care... They can utter whatever sounds they choose, from the depth of their soul-less, rotting flesh...!!! As long as they don't pick up a garden shovel and chase me with it, I won't have to shoot them in the groin.
Aren't you happy to have come across a post here on social media, that is presented in a blatantly, honest fashion? I like honesty... I like to be legitimate... truthful... real... unpretentious and all THAT stuff...!!! There's enough fake crap going on with people and from people, pretending to be truthful. I don't care to add to that crowd.
ANYWAYzzzzzzzzzzz.........
Now that I've been perfectly candid with you, here's a claim that I probably can't fulfill, but I honestly wish I could...
For every 100% up-vote I get for this post, I'm going to donate $10,000. to everyone's household funds, who are living below poverty level- worldwide.
So, send me the address of someone you know who needs the money (They must prove they're poor) even if it's YOU... I'll be compiling the addresses till such time I have all known poor people on my list, before I start personally delivering the cash to them.
Well... That's about it for now. I'll be sitting here waiting and watching the rewards roll in over the next seven days from all the benevolent people here... The rest of you can go jump in a lake filled with nuclear waste for all I care...!!!
Have a Happy day.
Ciao
---
Another Gracious Tidbit from the Mind ofon Steemit.com - April 6, 2021
Image: My own