What Does Decentralization Mean To Me
3-13-2020
In response to theycallmedan's initiative, link to post below the image, also the image is linked back to the post.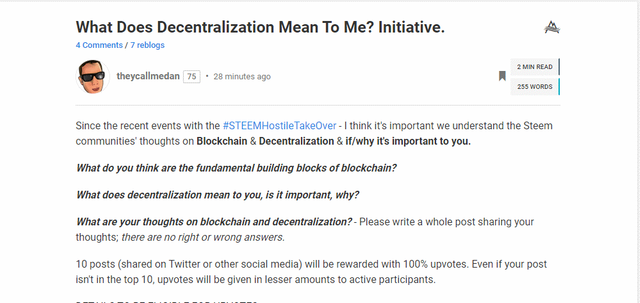 https://steempeak.com/steem/@theycallmedan/what-does-decentralization-mean-to-me-initiative
/ 1. What do you think are the fundamental building blocks of blockchain?
This I really do not understand that well, it seems that it is a method of bookkeeping at times and at other times a storage system for text and text based information. I don't have a good understanding of how satellites work, of what the engineering is to build one, but I still used to watch satellite TV. So knowledge of the building blocks to me is not something high on my need to know list.
/ 2. What does decentralization mean to you, is it important, why?
Yes it is important to me. It is what stops one person, group, or entity from dictating what can and can not be said. If I do not like the rules in one community I can go to another community or front end and still voice my opinion to those that may or may not want to read about them.
Right now it is my understanding that all Youtube post that are about the coronavirus are not being monetized, this is one company that while they get to rake in the ad fees that an individuals content brings in, the individual does not get to earn anything even though ads are being run on their coronavirus content. If someone want to provide a reward to someone else on steem they can, if people think they have been over rewarded, they can remove some of the reward.
/ 3. What are your thoughts on blockchain and decentralization?
They are complicated to the end user and layman. People that design them, run them, and promote them seem to think that everyone should understand them and be able to make them. I don't understand a lot about block chains, but then again I do not understand a lot about software programming, but I am able to still turn on, and use a computer.
Blockchain developers think they have all the answers, that they understand the code, and since they understand how it works everyone else should also. When someone ask a question they are looked down at as nothing more than a rambunctious two your old child asking Why, Are we there yet. People are going to be people, the developers, and chain owners, admins, and witnesses, need to stop all the down talking and the "You don't understand" to the users. Give a simple layman's understandable answer with out talking down to the people.
I try to ask and I try to learn, and those are some of the attitudes I have received. I know block chains are complicated.

I have tried to learn if there needs to be a centralized trust organization to code and build the hard forks, to see if any capable developer can present a Hard Fork option to the witnesses for adoption, and then how it would be implemented.
I tried to learn who would make the call as to what got presented to the witnesses for adoption,
I have learned that no one so far, can answer those questions satisfactorily to me
Conclusion:
I think blockchains are a very complicated thing, I think decentralization is a very important thing, and I think we need a centralized group that can take user ideas, witness ideas, and their own ideas, and code up and present to the people for hard forks. This group should have absolutely no ability to power-up Steem and or participate in the governance of the block chain.

I am not a super frequent poster, I do however believe in the community system, and am trying to support them as they support us. i hope more people embrace the community system and make a post every now and then in the various communities we have available.
Posted in the FreeSpeech Community (hive-168088)