The Haunting of Bly Manor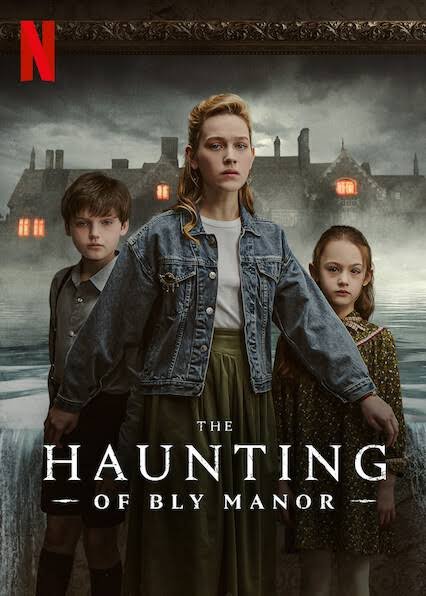 ImageSource
This is not a sequel, it doesn't tell a continuation of that story. In fact, it's based off of the work of Henry James who's most known for his Novella. So after an au pair's tragic death, Henry hires a young American nanny to care for his orphan niece and nephew, who reside at bly manor with the chef Owen groundskeeper Jaime.
Housekeeper Mrs. Ross, soon after arriving at the Bly estate. She begins to experience strange occurrences. A grim history starts to unravel.
Bly manor is yet again another amazing-looking show after the gorgeous work that they did with the production design and the cinematography.
The performances are all uniformly excellent. However, it does take some getting used to see actors from hill house play completely different roles here.
I didn't know if there was going to be any connective tissue between these two shows. So, seeing these actors not play the same character. It was slightly jarring at first but that went away fast. Victoria Pedretti takes the lead here as Danny Clayton. This nanny that's hired to watch after this niece and nephew and she begins to realize that there's some sinister happening in the hallways at night. She's good in the show, I thought her performance was completely different from Hill house.
I don't think this is as good as Hill house. I think that a lot of people could be disappointed with the show if they aren't eased in to a specific element of it. This isn't a horror show in the way the first show was. There are absolutely horror elements. There are strange things in the hallways ghostly faces odd things show up, it's got scares in it not nearly as many as Hill House and that's because Bly Manor is a romance.
This is the show that explores the lives of multiple characters, that are in some way shape, or form dealing with loving someone. Other people are suggesting that, they shouldn't love that person or maybe they're just afraid to tell that person or it's a private hidden love. There's multiple characters throughout the course of the show that deal with that in various ways.
It takes a while for the show to lean into that, for a while you're watching the show expecting a lot more scares than you're getting. Eventually, it becomes apparent that this is in many ways a gothic romance. This show definitely deals with similar tragic elements certain characters have very frightening backstories, especially our lead character who from time to time will see someone reflected in mirrors.
Even though i didn't like Bly Manor quite as much as Hill House. i still think the show has a lot to offer it's filled with great performances it looks amazing and when viewed from the angle of gothic romance. I think the show benefits a lot from knowing that going in. I think that it will also be much better on future re-watches.