Welcome to Steem Inspiration official blog.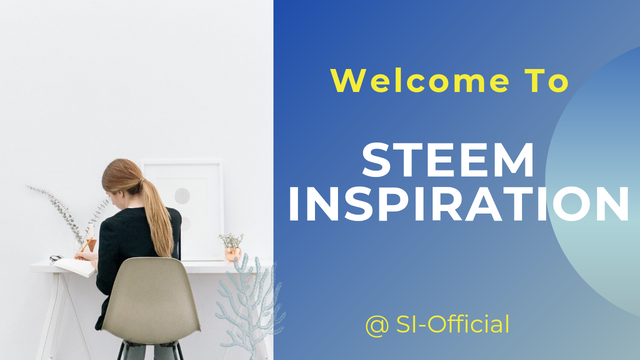 Dear friends,welcome to this great community. We are very happy to have you all here. In a bid to add value to this commuinty we came up with our official account and a well structured activity for the family.
Before I proceed I will love to appreciate the Founder/Admin of the community
@supo1
and every other team member working tirelessly for the growth and development of this commuinty. I will be explaining the structure under the following sub heading

Why we created the Community
There is a saying that goes thus **"If the purpose of a thing is not known,abuse is inevitable"** It therefore means everything that is set up should be purpose driven. The reason why this group was created is to run with the vision of this blockchain which is majorly to promote steem and contribute to it's growth by bringing in people who will love to express themselves via writing.There are so many with beautiful and the ugly experiences in life,sharing these experiences will help encourage,motivate and restore hope to many who are at the verge of giving up. This Community is your one stop platform for expressing yourself to the fullest.

The kind of post we welcome here
We welcome post such as;
Fiction.
Inspired content
True life stories.
Motivational post.
Educative post.
Crypto related Post.
Steem Related post.

Who can be part of this community
Everyone can be part of this commuinty. It therefore means we all are invited to subscribe to this commuinty. We do not promote racism here,we accept everyone both black and white. We embrace every culture and language in this group. Welcome home.

How to be an active member
It very easy to be an active member in this commuinty. All you need to do are the following;
Drop an inspirational post here daily
Drop meaningful Comments on people's post.
Take part in the community's weekly contest
Invite your friends to this community to be part of what we do here.
You can also delegate to the community as time goes on.
Note: As time goes on we will start labelling members of this communities. This will help us to spot you easily and also support you.

Our Goal
In a bid to support the steem blockchian,we will ensure we give back to the blockchain by powering up every reward and in curate members with this account so that the goodness can be felt by all. It's a win-win for all. It is pertinent to mention at this point that we will be adding other things that are relevant to this commuinty as time goes on.
I will love to appreciate Steemcurator01 for their endless support for Communities like ours that are Consistently and steadily growing against all odds. We anticipate more for rapid Community growth.

Regards:
Cc: @supo1
Cc: @steemcurator01
Written by: @lhorgic.