STEEM INSPIRATION CONTEST | An Opportunity To Right My Wrong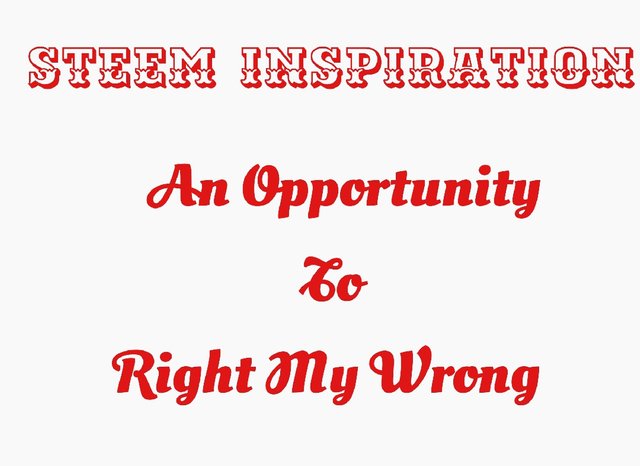 It's good to use every opportunity that to help others because no one knows tomorrow.
@vaibhavsan shared a touching story. You can read the story ( here ) which made me curious to know how the story was going to end but it ended sadly.
There was a man named Mark. Mark was born dumb and he was homeless. Even though Mark was dumb and homeless he still had an indescribable love that those that could speak and some wealthy people don't have. Mark had learned how to read and write when he was young.
Mark didn't have a job but he would go around to find a job. No one would offer him a job because was dumb. He managed to a job, someone hired him to clean his compound. He would use some of his money to feed his fellow homeless and sometimes he would give out his own food to his fellow homeless. One night, snow was falling, Mark had to off his jacket to cover a homeless old man who was freezing. Unfortunately, Mark froze to death. I wish a lot of people have this kind of love.
There are some things we did in our life that we wish we had never done or start it and some things we wish we could have done better.
For the contest:
If you are allowed to right your wrong, what is it you won't have started or done better?
PRIZES
Firsts Place: 10 Steem
Second Place: 6 Steem
Third Place: 4 Steem
CONTEST RULES:
All entries should not be less than 250 words

You must subscribe to this community

Entries must be original

Entries should be posted first on the community

Be sure to use the hashtag #contest, #mystory, and #steeminspiration as one of your first three hashtags

Be sure to comment your entry link on this post.

The entry can be posted in any language.
I invite @steemcurator01 and @steemcurator02 to support the participants and the community
Entry should be submitted before the 28, of June @hive-170327