Venezuela llega de polizonte hasta las manos de The Rolling Stone - Venezuela comes as a polizon to the hands of The Rolling Stone
Versión en Español
Corría los años 60´s y Jaime Martinez, joven campesino, amante de la música llanera quien disfruta de ejecutar las maracas con sorprendente maestría, nacido en Cunaviche, estado Apure, a sus 23 años migra a Puerto la Cruz, desde allí consigue trabajo en un muelle del cual decide embarcar en un Buque con destino a Europa, cuyo primer destino seria Londres, al ir de polizonte en el mismo, es obligado a desembarcar en el primer puerto al que atracaron, es así como llega Jaime a Londres, como era de esperar paso varios días de hambre y frió, situación que le hizo renegar de la decisión que le había conducido hasta allí, pero una noche en que el frió lesionaba su templanza con el gélido punzante de las calles Londinense, busca refugio en un ático de un teatro, ya sintiendo que se encontraba en buen refugio, que el frió era soportable, como para mitigar el hambre se acuesta y duerme.
.
De manera sorpresiva es despertado, el motivo de su perturbación, una música muy fuerte en principio la sintió estridente, se detiene a escuchar y sorprendido con algo jamas escuchado por el, decide indagar, toma sus pocos peltrechos y llega al lugar del que provenía semejante musica, era nada mas y nada menos que el ensayo del material del álbum Beggar´s Banquet, pero el tema que despertó a Jaime y lo condujo al teatro era "Simpathy for the devil" mientras ensayaba el grupo Jaime sintió euforia que lo obligaba a bailar y de su bolso saca unas maracas que llevaba siempre con sigo y las empieza a usar, sin saber que por efecto de la acústica, el sonido es escuchado por los músicos en el escenario, quienes se acercan a él, luego de tranquilizarlo Mick Jagger, le pide que las toque de nuevo, impresionado y encantado por el efecto nuevo del tema, le piden luego de un breve arreglo de interpretación que ensaye con ellos de nuevo.
.
La banda le da techo y comida a Jaime, y es llevado luego al estudio de grabación para grabar el sonido que hace único y reconocible del tema Simpathy for the devil, que se inicia con el sonido de las maracas Venezolanas que como polizontes llegaron a los estudios de grabación del icónico grupo The Rolling Stone. en el disco el grupo le integra en los créditos con el nombre James Martins, Esta historia es reconocida por el mismo Jagger quien dijo que incluso Jaime les acompaño por un mes tiempo en el aprendió a tocar las maracas de manos del mismo Jaime y a quien en agradecimiento le pagaron el pasaje de retorno a Venezuela cubriéndoles los gastos de regreso.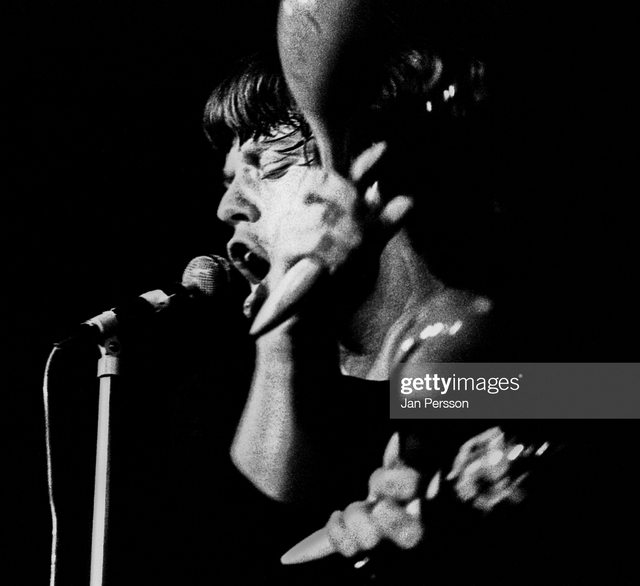 Imagen tomada de la pagina web https://www.gettyimages.dk/
Version in English
It was in the 60's and Jaime Martinez, a young farmer, a lover of folk music Venezuelan, who enjoys playing the maracas with surprising mastery, born in Cunaviche, Apure state, at 23 he migrates to Puerto la Cruz, from there he gets a job in a wharf from which, he decides to embark on a ship bound for Europe, whose first destination would be London, when he was a stowaway in it, he was forced to disembark at the first port they docked, this is how Jaime arrives in London, as it was from He waited for several days of hunger and cold, a situation that made him deny the decision that had led him there, but one night when the cold injured his temperance with the icy stabbing of the London streets, he sought refuge in an attic of a theater, already feeling that he was in good shelter, that the cold was bearable, as, if to alleviate hunger he lay down and sleeps.
.
Surprisingly he is awakened, the reason for his disturbance, a very loud music at first he felt it strident, he stops to listen and surprised with something never heard by him, decides to investigate, takes his belongings and arrives at the place from which he came music, it was nothing more and nothing less than him rehearsing the material from the album Beggar's Banquet, but the theme that woke Jaime up and led him to the theater was "Simpathy for the devil" while he was rehearsing the group Jaime felt euphoria that forced him to dance and from his bag he takes out some maracas that he always carried with him and begins to use them, without knowing that due to the acoustics, the sound is heard by the musicians on stage, who approach him, after Mick Jagger reassures him, He asks him to play them again, impressed and delighted by the new effect of the song, they ask him after a short performance arrangement to rehearse with them again.
.
The band gives Jaime shelter and food, and is then taken to the recording studio to record the sound that makes the song Simpathy for the devil unique and recognizable, which begins with the sound of the Venezuelan maracas that as polizon arrived at the recording studios of the iconic group The Rolling Stone. on the album the group integrates him in the credits with the name James Martins, This story is recognized by Jagger himself who said that even Jaime accompanied them for a month while he learned to play the maracas at the hands of Jaime himself and who in thanks, they paid the return ticket to Venezuela, covering their return expenses.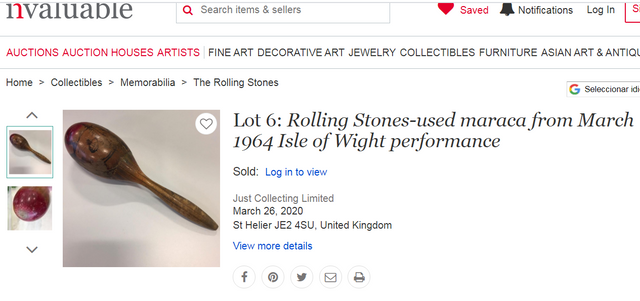 Imagen tomada de https://www.invaluable.com/
In the year 2020 the page https://www.invaluable.com/ placed the original maracas up for auction(En el año 2020 la pagina https://www.invaluable.com/ coloco en subasta las maracas originales)
.
@orii.olivier
@epirela22
@helengutier2
@samuelmarcano
@sandino89
@sweetarcher
@misel357
@mayralejandravt
@damsanz
@yuderocker
@hanselmusic
@karincastillo
@wladimir.photo
@esteban85
@pastorjosuer
@tanhunter254
@joelp36
@sergioclanrock
@adomako77
@alexarelatos
@paulbe
@miguelgarmen21
@ginworld