BIG ACHIEVEMENT!! || 800+ SUBSCRIBERS ||🎉🎆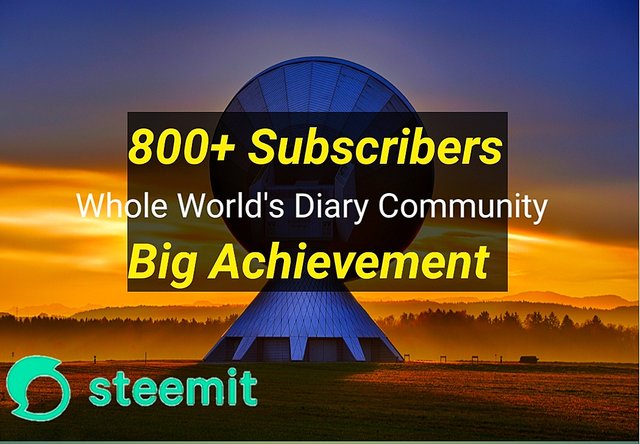 Background image source
Hello, Assalamu Alaikum, I hope everyone is well I am also well by the grace of Allah.
Huge Achivement!! we are now more than 800 subscribers
We have been working in this community since birth. My team and I are constantly working in this community. I organize a competition every week and there are a lot of people participating and gradually the number of subscribers in this community continues to grow and now we have over six hundred subscribers in this company. And I am very happy to have achieved this. I think this achievement is for everyone in the Whole world's diary community. Everyone is posting that our community is getting so rich today. For that I would like to express my gratitude and appreciation to everyone in the community.
We are going to make some new rules and changes in our community soon. We want to make our community more prosperous by using this @steemit platform and that is why we are going to make some new rules for posting and these rules will be applicable to everyone in the community soon. The rules will be published to you through community announcements.
Bangla
হ্যালো, আসসালামু আলাইকুম, আমি আশা করি সবাই ভাল আছেন আল্লাহর রহমতে আমিও ভাল আছি।
আমরা এখন ৮00 এরও বেশি গ্রাহক
আমি জন্ম থেকেই এই সম্প্রদায়টিতে কাজ করে যাচ্ছি। আমি এবং আমার দল নিয়মিত এই সম্প্রদায়ে কাজ করছি। আমি প্রতি সপ্তাহে একটি প্রতিযোগিতার আয়োজন করি এবং সেখানে প্রচুর লোক অংশ নিচ্ছে এবং ধীরে ধীরে এই সম্প্রদায়ে গ্রাহকের সংখ্যা বাড়তে থাকে এবং এখন এই সংস্থায় আমাদের ছয় শতাধিক গ্রাহক রয়েছে। এবং আমি এটি অর্জন করে খুব খুশি। আমি মনে করি এই অর্জনটি পুরো বিশ্বের ডায়েরি সম্প্রদায়ের প্রত্যেকের জন্য। প্রত্যেকে পোস্ট করছে যে আমাদের সম্প্রদায়টি আজ এত সমৃদ্ধ হচ্ছে। এজন্য আমি সম্প্রদায়ের প্রত্যেকের প্রতি কৃতজ্ঞতা ও কৃতজ্ঞতা প্রকাশ করতে চাই।
আমরা শীঘ্রই আমাদের সম্প্রদায়ের কিছু নতুন নিয়ম এবং পরিবর্তন করতে যাচ্ছি। আমরা এই ইডিটেমিট প্ল্যাটফর্মটি ব্যবহার করে আমাদের সম্প্রদায়কে আরও সমৃদ্ধ করতে চাই এবং সে কারণেই আমরা পোস্ট করার জন্য কিছু নতুন নিয়ম তৈরি করতে যাচ্ছি এবং শিগগিরই এই বিধিগুলি সম্প্রদায়ের প্রত্যেকের জন্য প্রযোজ্য হবে। সম্প্রদায় ঘোষণার মাধ্যমে নিয়মগুলি আপনার কাছে প্রকাশিত হবে।
Cc:
@steemitblog
@steemcurator01
Regarding,