From today we are in the steemit community support program. 🎉🎆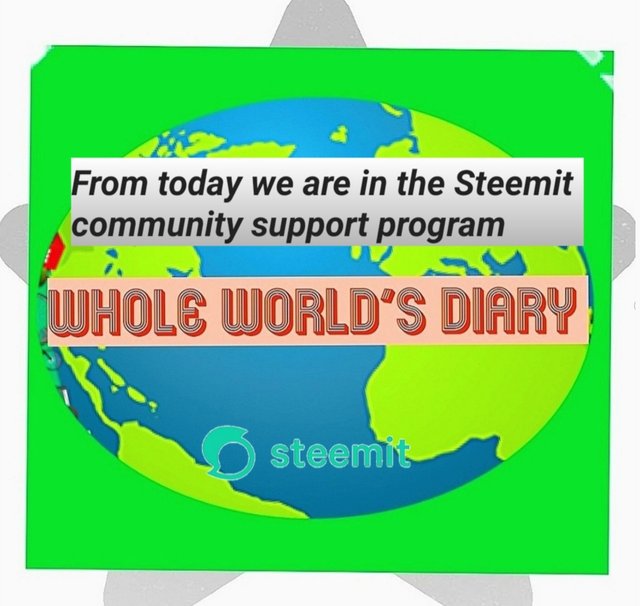 We are now in the #steemit Community Support Program and this is great news for us. We have worked hard and finally we have been able to bring this into our community . We want to make this community more prosperous.
Here is some guidelines for all the steemians of this whole world's diary community:
Authors cannot have their posts submitted more than twice a week.

The posts offered us must be #steemexclusive

Posts that have already been upvoted by @steemcurator01 or @steemcurator02 will not be eligible for additional @booming votes.

Any evidence of plagiarism or abuse will result in a community being dropped from this support program.

so be careful about the plagiarism.
Hope we will grow up this community by the most quality posts
And thank you everyone who are connected with this Wonderful ecosystem.
বাংলা
আমরা এখন # সম্মিলিত সম্প্রদায় সমর্থন কর্মসূচিতে রয়েছি এবং এটি আমাদের জন্য বড় খবর great আমরা কঠোর পরিশ্রম করেছি এবং শেষ পর্যন্ত আমরা এটিকে আমাদের সম্প্রদায়ের মধ্যে আনতে সক্ষম হয়েছি। আমরা এই সম্প্রদায়টিকে আরও সমৃদ্ধ করতে চাই।
এই পুরো বিশ্বের ডায়েরি সম্প্রদায়ের সমস্ত স্টিমিয়ানদের জন্য এখানে কিছু গাইডলাইন রয়েছে:
লেখকরা তাদের পোস্টগুলি সপ্তাহে দু'বারের বেশি জমা দিতে পারবেন না।

আমাদের দেওয়া পোস্টগুলি অবশ্যই # স্টেটিমেক্সক্লুসিভ হতে হবে

যে পোস্টগুলি ইতিমধ্যে @steemcurator01 বা @steemcurator02 দ্বারা আপলোড করা হয়েছে তারা অতিরিক্ত @ বুমিং ভোটের জন্য যোগ্য হবে না।

চৌর্যবৃত্তি বা অপব্যবহারের কোনও প্রমাণের ফলে কোনও সম্প্রদায় এই সমর্থন প্রোগ্রাম থেকে বাদ পড়বে।

সুতরাং চৌর্যবৃত্তির বিষয়ে সতর্ক থাকুন।
এবং এই ওয়ান্ডারফুল ইকোসিস্টেমের সাথে সংযুক্ত যারা সবাইকে ধন্যবাদ জানাই।
Dear,
Cc,
@steemcurator01
@steemcurator02
Sir we are looking for your support soon
And thank you so much sir