Good News Story - The Ink Well Joins @OCD'S Community Curation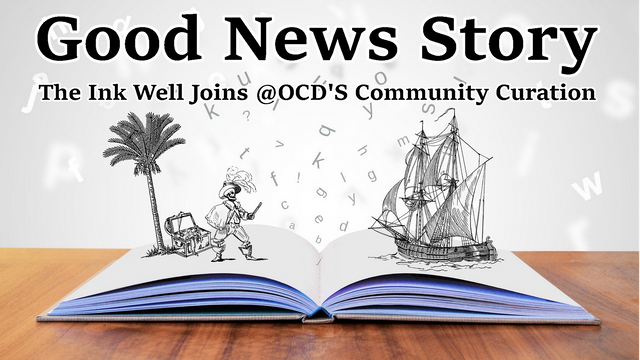 Image by Tumisu from Pixabay Modified using Photoshop
From tomorrow on the OCD Compilation posts will resume. Now divided in communities instead, showcasing the best curated posts from many different communities but also posts outside of any community.

The communities we're covering so far: TravelFeed, SteemitWorldMap, TheInkWell, OnChainArt, LightPainters and AlienArt.

Hoping to find a lot of great posts from great content creators and hopefully also many new ones! :)

Quote from acidyo's post #posh goes steempeak fully!
But back to the news that OCD are supporting The Ink Well.
What does this entail?
There is no guarantee that the posts I submit will be chosen for the ocd compilation post and receive the ocd vote. However, I am confident in my ability to assess fiction and poetry to pick winning posts. I completed a university degree in creative writing in 2007, and have worked as an editor in two different magazines. I've also been writing fiction and poetry since childhood, although probably not that well until around 2001 when I started taking it seriously.

Write your Heart Out
A big part of why I'm writing this post is that I want to encourage our subscribers to write from the heart, and tell their stories in a unique and creative way.
Don't be afraid to write until the story is told. I read a lot of fiction, both on and off steem, that falls short of the essentials that make up a story - a beginning, middle and an end. This is usually because the writer has stopped at 300 or 400 words when they should have kept going until the story had found its natural rhythm.
Most writers know deep down when they've rushed a character or have missed plot points that would have really cemented a twist, creating impact. I guess what I'm saying is, I encourage everyone not to be afraid to write longer stories, especially if the narrative and character's interactions demands it.
If inspiration isn't knocking on the door, check out our prompts to see if they spark creativity and try your best to write stories, or poems, that showcase your talent.
Hot off the press today fiction prompt - The Ink Well Fiction Writing Challenge #2 - Bad Habits

Poetry prompt, still open for entries until Thursday - Thursday's Poetry Challenge - Exploring Legend
Imaginative writing is a powerful and inspiring tool for communication. Fiction is a written format that can immerse the reader in the psyche of a character, showing how you as the writer think. Genre fiction done well can give the reader a glimpse into another world, creating myriad reflections between the possible and the fantastic.
I wish everyone the best in their inner journeys drawing on the well of creativity that builds a unique and wonderful story.
Happy writing everyone, and thanks for reading.

We also now have a curation trail set up so if you are a SteemAuto user, @theinkwell is now available as a curation trail to follow.
We would like to say a special thank you to those kind souls who have already delegated to help support The Ink Well and creative writing on steem.
@riverflows 500 Steem power delegation, thank you.
@raj808 500 steem power delegation.

Click banner to visit our community page
Find us on twitter by clicking the banner above.