The Ink Well Fiction Writing Challenge #3 - What is Your Major Malfunction?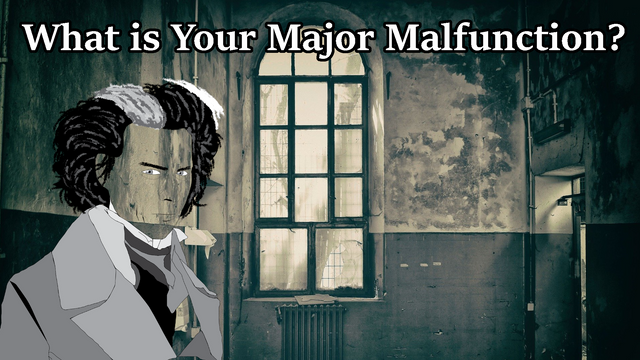 Image by Gabriele Picello from Pixabay Modified by Me Using Photoshop
Hi
@theinkwell
writers and creatives. Today, is the third in our program of weekly fiction writing challenges. We're all about encouraging creativity at the ink well and inspiring as many people as possible to post new original content.
These prompts are a weekly occurrence, with fiction on Tuesdays and poetry on Thursdays. The prompts are meant as a tool to spark an idea and can be used as a catalyst for a story, or as the impetus for the end of a story - it's all up to you and your imagination.
This fiction challenge will last for seven days. Exceptional entries will earn higher Curie rewards and will be submitted to OCD for potential inclusion in their daily community curation compilation.
We encourage everyone in the community to actively participate in commenting on other member's stories as this will build a strong community.
This week we wanted to shake it up a little with a challenge - at least for those of you who are relatively normal - that will drive you out of your mind. A dastardly exercise in character writing that will have you asking yourself... what is my major malfunction?
This prompt is brought to you by @raj808 and @stormlight24 at @theinkwell. This diabolical prompt came from a conversation and combination of both our fevered imaginations. I'm not taking all the blame for this one 😉

Fiction Prompt:
I would like you create a character who has some type of mental health or emotional issues. It could be something potentially comedic like Tourettes syndrome, or as extreme as schizophrenia, bipolar disorder or manic depression.
This character is placed in an impossible situation, forcing them to do something they know will hurt one, or more people in their lives. Possibly you could take it further and this could be a decision that will negatively effect many more people.
Part of our idea was to try and inspire the writer to show the inner struggle of the main character in making that difficult decision. Or maybe, as with a sociopath, lack of inner struggle but ultimate frustration when things don't turn out as s/he expected.
Optional twist: in a twist of fate their decision ends up benefiting not just them, but also the people around them (the other characters that populate the story).

As with all our prompts it is completely open ended. If you want to ignore parts of the suggested elements, this is entirely fine. The only part I would ask you to adhere to is that the character has some type of mental or emotional behavioral problem.
Above all enjoy letting your creativity take you down unexpected paths, building interesting characters and finding ways to express your experience through them. This is the heart of great imaginative writing, taking your own life experiences and birthing creativity through story telling.
I shall also try to join in with this fiction challenge, hopefully on Saturday or Sunday. In the mean time, shock me with your character's lunacies, actions and reactions!
I look forward to reading your entries.

I would like to invite any lovers of poetry and short stories to visit the new hive community I started with
@stormlight24
called:
We now also have a curation trail set up so if you are a SteemAuto user search for 'theinkwell' (all one word) and it is available as a community trail to follow.
If you would like to delegate to
@theinkwell
and help support creative writing on steem you can do so by clicking on any of the following links for the amount you would like to delegate:
We would like to say a special thank you to those kind souls who have already delegated to help support The Ink Well and creative writing on steem.
@riverflows 500 Steem power delegation, thank you.
@trucklife-family 200 Steem power delegation, thank you.
@raj808 500 steem power delegation.

Click banner to visit our community page
Find us on twitter by clicking the banner above.