STEEMIT EXLIBRIS COMPETITION: Home Libraries Competition - Season 2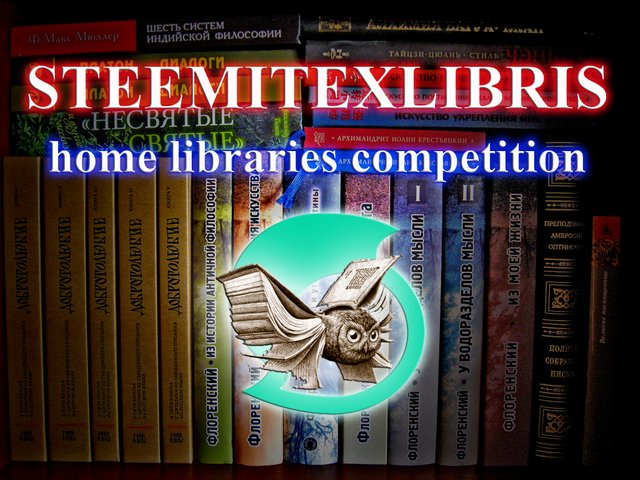 Hello, friends!
A week has passed since the HOME LIBRARIES competition (Season 1) results have been announced.
22 people from 4 countries took part in that competition: from Ukraine, Russia, Venezuela and Belarus.
Thanks to financial support from @way-out and @steemcurator01, the prize pool has been increased.
All rewards were sent to the winners:
70 steem - 1st place,
60 steem - 2nd place,
40 steem - 3rd place,
95 steem were shared among the rest of the participants.
In the comments to the final post, many have announced their desire to take part in the second season of the competition.
In the comments to the final post many authors have claimed their desire to take part in the Season 2 of the competition. This made me very happy.
Surely, a lot of you have something to tell about. Many people have wonderful books at home. Books are waiting for your gratitude.
It is very pleasant that during a break in the competition the authors continued to publish their stories on the topic I announced:
@nklm - Словарь иностранных слов, ШкафЪ на снегу, Экслибрис // the art I worship*,
@cranium - Эмоции от книги Бернар Вербер «Империя Ангелов» 2000 года.
Thank you, friends, for your support of the competition and your love to paper books!
So, I am announcing the SEASON 2 of the competition!
---
Terms & conditions:
1) post photos from your home library,
2) accompany them with a story about its creation,
3) you can write separately about the most important book / books for you,
4) add #steemitexlibris as one of the first five tags,
5) add the country tag,
6) publish a competition post in the Steem-BRU (BY-RU-UA) community,
7) the post can be written in any language,
8) to make it easier for me to find your post leave the link to it in the comments to this publication,
9) competition lasts: from 01.03.2021 (00:00) to 14.03.2021 (23:59).
---
Awards:
1st place - 50 steem,
2nd place - 40 steem,
3rd place - 30 steem.
If anyone is willing to support the competition financially, the amount of awards will be increased.
---
I invite the Steemit Team to support the contest: @steemcurator01, @steemcurator02, @steemitblog contest.
I ask for informational support of the curators of national communities:
Cameroon (@njiatanga, @saxopedia), Ghana (@njaywan, @oppongk), Nigeria (@focusnow, @bright-obias, @whitestallion), Uganda (@yohan2on), Mexico (@leveuf), Argentina (@belenguerra, @fendit), Venezuela (@adeljose, @anasuleidy, @edlili24, @mariita52, @tocho2, @albenis, @inspiracion, @wilmer1988), Bangladesh (@rex-sumon, @tarpan, @toufiq777), India (@neerajkr03, @rishabh99946, @sapwood), Indonesia (@anroja, @ernaerningsih, @nazarul, @radjasalman), Japan (@cryptokannon), Pakistan (@rashid001), Sri Lanka (@besticofinder, @randulakoralage), Italy (@girolamomarotta), Russia (@filinpaul, @knopka145), Turkey (@alikoc07), Ukraine (@antorv, @olesia) and New Zealand (@kiwiscanfly).


Let's make this contest happen!
Because a person needs not only food for bodies, but also food for souls!