Topic of the week №6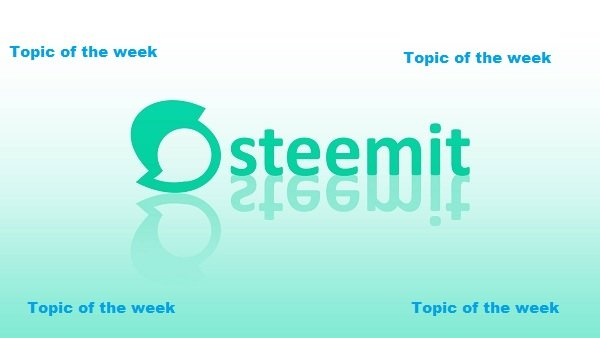 Topic of the week
ATTENTION! ATTENTION! ATTENTION!
PRIZE FUND - 10 STEEM!
ВНИМАНИЕ! ВНИМАНИЕ! ВНИМАНИЕ!
ПРИЗОВОЙ ФОНД - 10 STEEM!
The rules are simple!
Once a week, a new theme of the week is offered!
Users of the steemit blockchain, offer their version as a post!
In the post, photos, video materials are desirable ...
In other words, creativity is welcome!
The number of characters is not limited, but ...
But the post should be interesting not only for you, but also for all users of the steemit blockchain and those users to whom you will repost your work on social networks!
Правила просты!
Один раз в неделю, предлагается новая тема недели!
Пользователи блокчейна steemit, предлагают свою версию в виде поста!
В посте желательно фото, видео материалы...
Другими словами - приветствуется креатив!
Количество знаков не ограничено, но...
Но пост должен быть интересным не только вам, но и всем пользователям блокчейна steemit и тем пользователям, которым вы будете репостить в социальные сети вашу работу!
Today I am offering the next version of Theme of the Week!
This week's theme is:
"Let's come up with a poem or song for steem!"
You need to write a post, your thoughts on this ...
You will have the dates, from February 22 to February 28!
On February 28th I will make a review post and the participants will receive awards!
But I also hope that curators will support all of your great posts!
Сегодня я предлагаю следующую версию Темы Недели!
Тема этой недели такая:
А давайте придумаем стихотворение или песню для steem!
Вам нужно написать пост, ваши мысли по этому поводу...
Сроки у вас будут, с 22 февраля, по 28 февраля!
28 февраля я сделаю обзорный пост и участники получат награды!
Но также я надеюсь на то, что кураторы будут поддерживать все ваши замечательные посты!
And the most important thing is the tag!
The first tag is #topicoftheweek
И ещё самое главное - тег!
Первый тег - #topicoftheweek
Better yet, if you join the community - Steem-BRU (BY-RU-UA), and write a post there!
А ещё лучше, если вы присоединитесь в сообщество - Steem-BRU (BY-RU-UA), и напишите пост там!
Приглашаю на помощь в поддержке Темы Недели:
@steemcurator01, @steemcurator02, @steemcurator06, @steemitblog