Achievement 6 | Understanding Curation and Community | @ahsansharif
Assalam-u-Alikum!
First greeting to all steemians guys. I hope you all are well and good and enjoy a happy moments of life. I am also good Alhamdulillah. I am very glad to that my achievement 05 task 04 has been verified and now I wrote my next task Achievement 06. I hope you like my Achievement 06.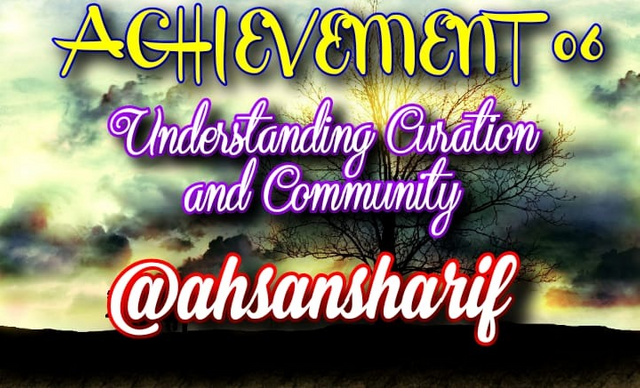 So Let's Start:
Question no 1: How voting and curation works in steemit?
Answer:
There is a finished award framework on steemit. Each vote you arrive has its own worth. Somebody's vote has more worth and somebody's worth less. The worth of a vote is dictated by its record power. In the event that I casted a ballot 1 dollar for a steemit client, when he pulls out, I will get half of it and half for the client whose post I decided in favor of. The more force you have, the more prominent the worth of your vote. What's more, there will be ability to disperse as numerous votes.
Here is an alternative of expanding your SP. just increment your SP and get more rewards. Steemit is a stage where you get awards by posting a decent substance on it. Like in the event that you post a substance in steemit and different people groups likes it so him his reaction they will give you upvote. That will be changed over to rewards. It's a straightforward and simple approach to get rewards. Make your own substance make great substance.

Question 02: What is voting power?
Answer:
Casting a ballot power is the force of your record and your vote. It shows in a bar in your profile. You can check your democratic force in your steemit profile. The more force you will give your democratic force will diminishes more. At the point when you give upvotes on somebody's post your democratic force will diminishes a bit. Its means you give rewards and votes to somebody. Your democratic force will charged consequently in 1 day.

Question 03: What happened if you vote on a post before 5 minutes marks after posting?
Answer:
Applying rewards on posts The curator of a post will get 100% curation reward if their post get upvote in 5 minutes. Details are given below.
In 1 minute the curator receives 20% and 80% remains in the rewards pool.

In 2 minutes, the curator receives 40% and 60% remains in the rewards pool.

In3 minutes, the curator receives 60% and 40% remains in the rewards pool.

In 4 minutes, the curator receives 80% and 20% remains in the rewards pool.

In5 minutes or later after posting100% of the curation reward goes to the curator.
After 5 minutes, 100% curation prizes go to the post curator. I hope you understand clearly.

Question 04: Who will vote you for steem witness and why?
Answer:
I will give my first vote to my head @cryptokraze who told me about steemit and give me full guidance about it.
And I give my second vote to @steemitpakistan. Because they have worked so hard, their team has been working for this community for a long time. I joined this community a few months ago where I felt very .comfortable working and I have an original look at all the work There is no plagiarism coming, so I joined this community and started working on it. I am a part of @steemitpakistan community.

Question 05: Which community you joined in steemit and why?
Answer:
When I joined Steemit 3 months ago, our head @cryptokraze told us in full detail what we understood and that's how our head @cryptokraze formed a community.
The name of this community is Steam Infinity Zone of which I am a member. I am in the position of IT Expert. Sir @cryptokraze helps us a lot in this.
In addition, I have joined the @promosteem community in which I work to promote steemit. And I'm promoting Steemit because I want to make everyone around me aware of it.
I am from Pakistan so i would like to join the Pakistani community that is why i have joined @steemitpakistan and i am working. In this community I am ACTIVE USER.
Also I have joined the @accountbooster community because I have seen that most of the people in it post photography so I also share my photography in it. In this community I am in position of GUNNERY SEARGENT.

I hope you like my Achievement 06 post and I understand this post very clearly.
Special Thanks:
@hassanabid
@haidermehdi
@vvarishayy
@cryptokraze