ACHIEVEMENT 1 : MY INTRODUCTION TO STEEMIT
WHAT'S UP GUYS! , I'm Alhaji Baba Junior from Ghana .I'm 23 years old and a proud African who love to talk about Africa Culture. I am happy to be part of the steemit community i will give brief introduction about myself.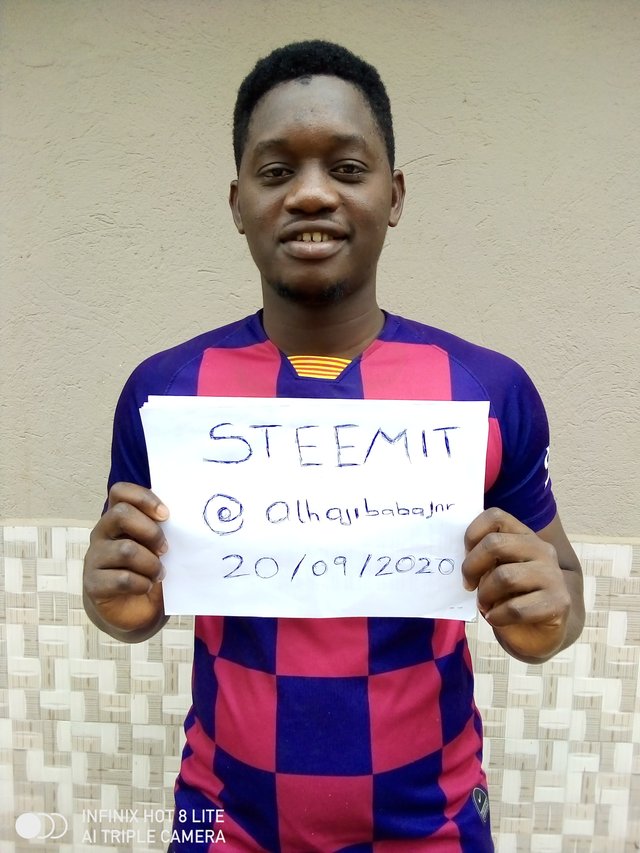 I am a student of the University for Development Studies in Tamale-Ghana, studying Applied Biology, my choice of likes seems different right? Don't worry I love talking about African Culture and I want to study life to understand nature.
I found my love of talking about African Culture during my Days in Junior high school in a small city in Ghana Called Sampa, where I used to perform on stage during culture festivals.
I am currently living in a village call Namasa where I was born, I love living here so much because everything is local in my granny's house. We eat in an earthenware bowl, we drink in calabash and I enjoy swimming in the rivers of the village. I love this place because life is simple as compare to the university.
I love talking about culture, and I am very curious about new things related to culture and Africa, I am looking forward to explore new culture, and any new info related to other continents and countries, I am having high willing to learn how cryptocurrency works and how it is going to change the world some years to come I got friends who deal with it and advised me to get involved.
I have had past experience with crypto currency, I had some few Bitcoin but ended up selling them off because I was so scared of losing my money, but I have got to understand now that it is legit with a good dealer and trusted third party.
I have never liked imposters in my life so I wish to meet genuine people here only, all fake ones should kindly back off.
Finally, I would like to say thank you to @njaywan for introducing me to steemit and for assisting me through this post. Let me also extend my thanks to @cryptokannon for the guidelines governing this task.
To the attention of @cryptokannon and @njaywan.