ACHIEVEMENT 2 @atoa STEEMIT BASIC SECURITY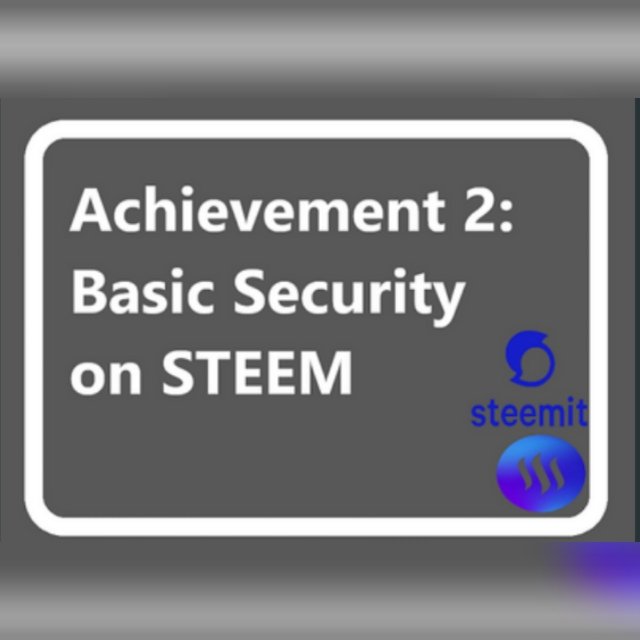 Hello members of great staff, brothers and sisiters on steemit i great you all. It has being a great pleasure gir me to be part of this big family of steemit with noth my seniors and colleagues who happened to have join steemit before me i say may God left us up and see us through.
To start with my thoughts or ideas i have concerning the understanding bases of me on the security keys that has been provided by steemit sign up system.
HAVE YOU RETRIVED ALL YOUR SECURITY KEYS IN STEEMIT.
Yes, i have all my security keys in a form of PDF file which contains all the keys in it.
DO YOU KNOW THE KEYS FUNCTIONS AND RESTRICTIONS.
Yes, i know the key function and restriction of each security keys provided by steem.
THE KEY TYPES AND FINCTIONS
There are seven key passwords provided for activities performance in steemit when sign up for steemit. These key passeords include; Tron Public key, Tron private key, private posting key, private memo key, private active key private owner key and the master key.
To explain just a few of the key passwords functions is ss follows;
PRIVATE ACTIVE KEY
This key helps to control transactions or trade and supervising the wallet relate accounts by powering the steem up and changing settings.
PRIVATE OWNER KEY
This is creater purposely for absolutely needed and it is a very powerful key because it can alter and reclaim a hacker password.
MASTER PASSWORD KEY
This key is provided to sign up and securitly kept because this key can access an account create an additional keys must not be shared with snyone.
PRIVATE MEMO KEY
The key is creater in order to keep private messages, that is to encrypt and descript memo fund through transactions.
PRIVATE POSTING KEY
This key main function as creater among the seven key passwords provided for activities performance in steemit, it gives access to an account, by logging in, posting, voting, and commenting.
HOW DO YOU KEEP THE ABOVE SECURITY KEYS SAFETY
By saving the PDF file provided in to your laptop and writing them down as well in your notebook.
HOW TO TRANSFER TOKENS
Transfering tokens from one account to another account, click on the wallet a pop menu appears,click on steem arrow and another pop menu will appear, click on transfer in the pop menu that has appear and then the transfer form is open for activity to be perform.
The pictures below shows the process

HOW TO POWER UP STEEM
Piwering up steem to steem power, you have to click on the wallet a pop up menu apear contaiming all the tokens in the balance section, then you go through to find power up and click on it then it takes you to that point.
The pictures below shows the process

HOW TO POWER DOWN STEEM
Power down steem power to steem which last four (4) weeks before it reflects on the balance, click on wallet, click on the second steem arrow, click on the power and then it opens.
The pictures below shows the process

NB: the pictures that are showed above are all screenshot by my phone in indicating the process involve on how to tranfer tokens, how to power up steem and how to power down steem.