A COMPILATION OF ACHIEVEMENT TASKS FROM 1 TO 6 BY @chuksmoses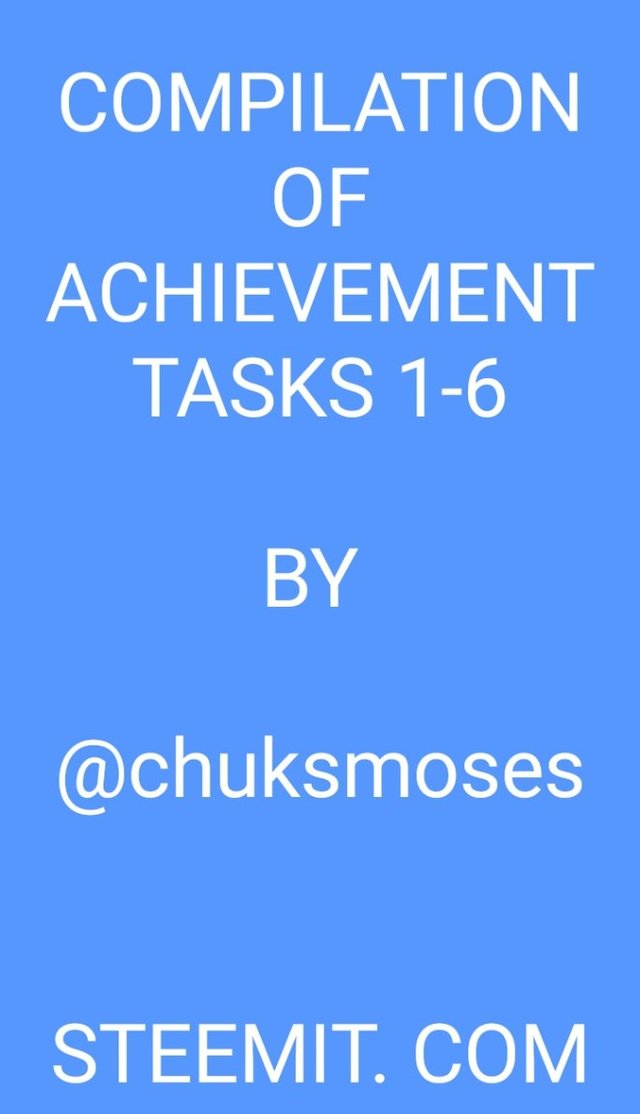 OH MY GOD!!!
My level of my joy can't be measured as i am so excited that at last I was able to get to this point in the steemit World. The journey wasn't easy at all but i thank GOD for GOD and for the awesome individuals He brought my way to help me get to this point.
I AM SO GRATEFUL
Of course,i can remember,it took me a month to complete my Achievements 1 to 6. I'll still repeat it again,the journey wasn't easy at all although not all the achievements were that tough,some were a little bit easier than others while some were tough but I'm grateful to God that irrespective of the circumstances,i pushed through.
Here is the summary of my Achievements 1 to 6;
ACHIEVEMENT 1: MY INTRODUCTION POST TO STEEMIT BY @chuksmoses..... || MENTOR BY @CRYPTOKANNON
ACHIEVEMENT 2: SECURITY ON STEEMIT BY @chuksmoses.....|| MENTOR BY @Kadosh2340
ACHIEVEMENT 3 BY @chuksmoses: MENTOR BY @Kadosh2340 || TASK : CONTENT ETIQUETTES
My Achievement 4 by @chuksmoses : Applying Markdown | (100% Powered Up)
Achievement 5 Task 1: Review Steemworld.com by @chuksmoses
Achievement 5 Task 2 by @chuksmoses: Review steemscan.com
Achievement 5 Task 3 by @chuksmoses: Review steemyy.com
Achievement 5 Task 4 by @chuksmoses: Review steemdb.io
Achievement 6 by @chuksmoses: Understanding curation and community
Finally,Bishop David Oyedepo said and i quote IF YOU ARE THOUGHTFUL,YOU WILL BE THANKFUL,i am thoughtful because i can still remember that there are people that helped me and encouraged me up to this point in the STEEMIT WORLD,so in other words,i am thankful also,therefore i want to say a big thank you to;
1). THE ALMIGHTY GOD who made it possible for me to cross paths with STEEMIT and has led me through the process of my Achievement posts.
I AM SO GRATEFUL TO GOD and my prayer is that GOD who has led me to this point on this platform shall also take me to greater heights on this platform also.
2). @Kadosh2340,it is really true that when GOD wants to bless you,He sends you a Man,i must confess that @Kadosh2340 has been a great blessing to my life,since the day i knew him even before STEEMIT,he has always come through. He is also the one whom God used to introduce me to this wonderful family,STEEMIT and since the day i joined STEEMIT,I've had no reason to regret it.
Please,for anyone who still needs guidance on STEEMIT,or on many other things like CryptoCurrency,Forex Trading,Content Creation,Building of your social media handle,Article Writing,Poetry and many other related things,i recommend you to my mentor @Kadosh2340,he is the surest plug you can ever think of,i have TESTED AND TRUSTED him and i can vouch for him with everything
Once again,thank you very much Sir @Kadosh2340, I'm forever grateful.
3). All the steemcurators, @steemcurator01, @steemcurator02, @steemcurator03,etc for your awesome support thus far,you guys are one of the people helping me actualize my dreams on this wonderful platform STEEMIT,I'm so grateful.
4). Every member of this wonderful family STEEMIT and also members of my mother community @steemalive,i must confess that you guys have been a great source of encouragement to me all this period,you all are awesome and I LOVE YOU.
THANK YOU!!!
Heartfelt greetings from me @chuksmoses