📢 Announcement : We are accepting Greeter Volunteer 🧚‍♀️🧚‍♂️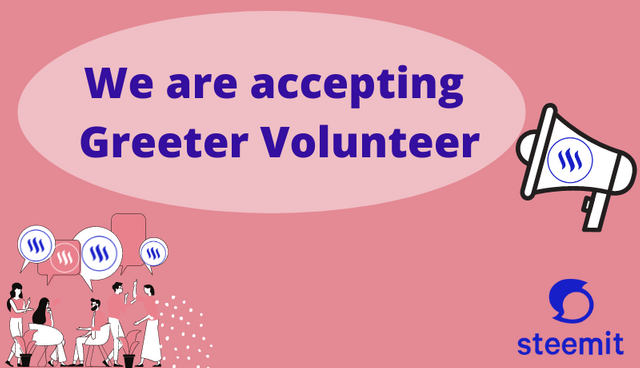 Hello everyone!
We are opening the opportunity to our graduated Pro Newcomers to come forward helping us greet and guide the newcomers at Newcomers Community on their tasks for Newcomers Achievement Program and other programs such as 500 SP Support Program that we currently running and also to Steemit Crypto Academy courses. We are taking this step as several community members have been asking if they can help in any way in Steem Greeters project.
So we are opening this opportunity for them to get involved in what we are currently doing in Steem Greeters Project.
Please note this is on a voluntary basis and do not expect or demand your work be compensated.
We will be however will put you on our priority list for any vacant roles in Steem Greeters Project if we going to have any in the future..
We are currently open for volunteers in:
Newcomers Achievement Program
to be able to help with this program, you should be a Pro Newcomer Verified and understand how the Newcomers Achievement Program Team workflow works as in this post Attention Newcomers~ Please write a post that you understand the roles of Greeter Helper as your role or tasks will be the same as Greeter Helper.
Steemit Nursery Team
you should be a Pro Newcomer Verified and will be assisting newcomers in making proper publication on Steemit. You will also be assisting them in the 500 SP Support Program, and guide them to Steemit Crypto Academy Introductory Courses. Please familiarize yourself with those forementioned programs so you know how to guide the newcomers onto those programs. For example on how to use the correct tags, how to not plagiarized, how to publish their post at the correct community, and other things that Steemit users should know.
You may write a weekly report on your volunteer activities so we may be checking them from time to time. You may publish the report at Newcomers Community with the tag #greeterfairyreport
We looking forward to working together with you and serving the Steemit Community better.
Steem Greeters Team.