The Steem Greeters Team Introduction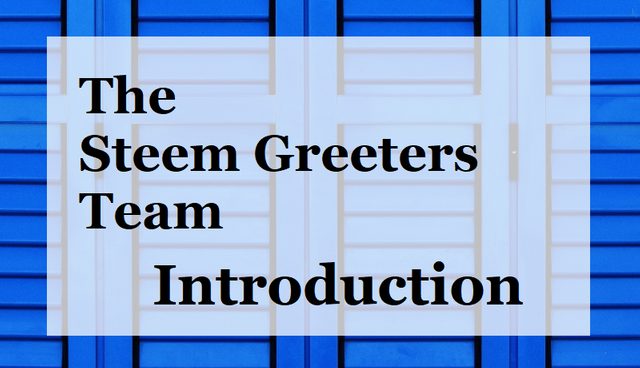 Hello Newcomers!
In this post, we would like to introduce you to the current members of The Steem Greeters Team.
The team consist of several appointed Country Representatives that have expressed their interest to help in The Steem Greeters Team project.
They will be your mentor and also the curator for the specific task in the achievement program.
If you have anything to ask or not clear about something regarding your achievement task, you may mention them in the comment section of their latest blog post, or look out for them for guidance on your achievement task.
Each of the achievement tasks will be curated and mentor by different people.
So make sure you ask the right person and also please respond to their request on any improvement or correction on your achievement task.
Achievement 1:
@fendit - for Spanish speakers and other
@tocho2 - for Venezuelan newcomers.
@randulakoralage - for Indian subcontinents and other
@tarpan - for Bangladesh newcomers.
@beautychicks - for African continents.
@njaywan - for African continents.
@radjasalman - for Indonesian newcomers.
@girolamomarotta - European, North America newcomers.
Achievement 2:
@rishabh99946
@kiwiscanfly
@leveuf
@besticofinder
@tocho2
Achievement 3
@njiatanga
@njaywan
@tocho2
@leveuf
Achievement 4:
Achievement 5:
@yohan2on
@neerajkr03
@sapwood
@leveuf
Achievement 6:
@neerajkr03
@yohan2on
@sapwood
@leveuf
The Greeter Fairy Team
They will be guiding the newcomers that is still outside of the Newcomers Community, into the Newcomers Community and also introduce you to the programs that we The Steem Greeters Team currently have for newcomers and the Steem Community.
@belenguerra
@girolamomarotta
@besticofinder
The Greeter
They will be greeting you and introduce you the programs in the Steem Community and also by The Steem Greeters Team.
@toufiq777
@edlili24
@adeljose
Curators for 500SP Minnow Support Program
We looking forward to guiding you in your journey to get to know Steem Ecosystem better.
Kind Regards,
The Steem Greeters Team.
*updated 2nd October 2020