Introducing myself to the steemit platform with my first post|| Achievement1-Steemit
Hello everyone
Hope you guys are doing good.I think I m going to have some good and supportive friends from this platfrom.So, let me introduce myself first.
My Identity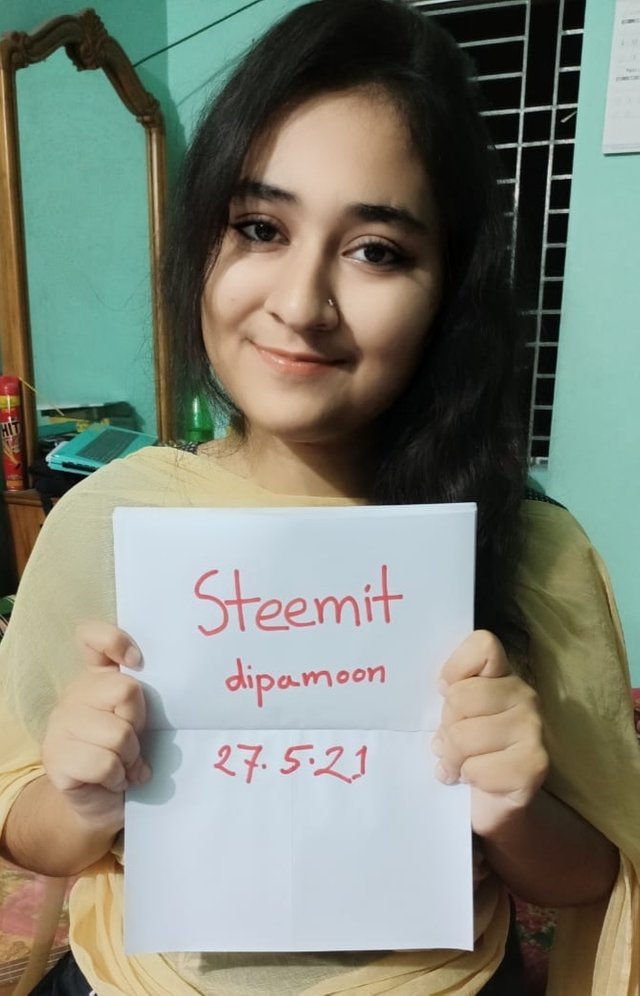 I am Dipa Roy Sarkar Moon.I am from Bangladesh.My birthplace is Chittagong.It is one of the city of our country and it has so many historical interest.Basically I am a MBBS student of Bogura Medical College, Bangladesh.I passed my HSC from Chittagong college
and SSC from Aunkur Society Girls'High School
Hobies and Interest
From my childhood i'm really interested in defferent things like music,dancing,traveling,art,cooking,gardening etc.Now a days um doing music and dancing beside my study.
As a future doctor i'm interested to serve huminity,help to needy and love to mankind.As we all know to serve people is to serve God.
The way of knowing about steemit
I don't have any knowledge about Steemit. It was totally unknown to me. One day my friend @rajib833 told me about this platform. I was too much excited from his first knock. Even when I came to know that It's an world wide platform, I also wanted to be a part of this. I would like to thanks my elder brother @tarpan and @rajib for their wonderful support.
Now from today I'm also a member of this magical platform. I'll also share my activities and extracurricular activities like the Others.
Finally, I think I'm able to express myself in this Steemit platform. Hopefully I'll make the best use of this great opportunity.
Thank you for visiting my post