Achievement 1 || @faisalniazi7 verification task 18-06-2021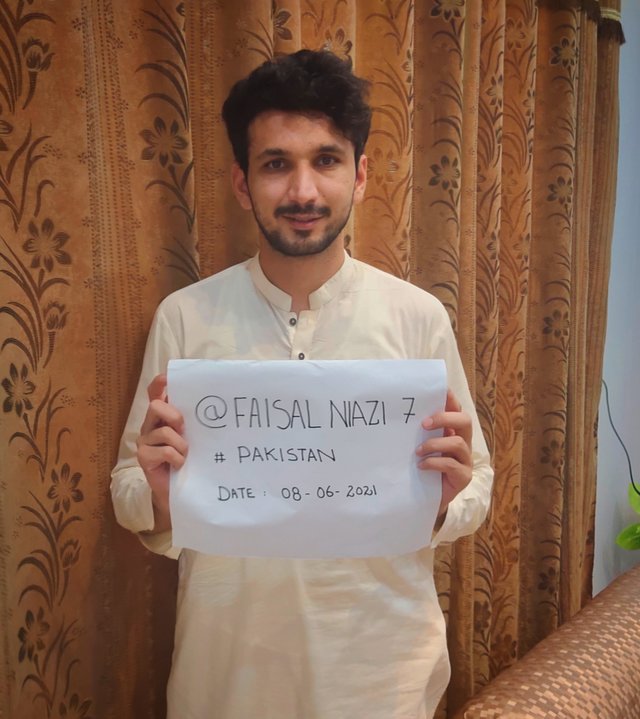 Hello! I hope you are all well. This is my first post on Steemit, so let me introduce myself briefly. My name is Faisal Iqbal Khan. My father's name is Muhammad Iqbal Khan. I belong to Niazi family. I was born in Mochh village, Distt. Mianwali but due to my studies and father's business we shifted to Muslim Colony, Mianwali in 2011.
My profession and my education:
I got my Masters in English degree in 2019. Along with that I was also very interested in sports so I also took admission in physical education and i have last semester. I tried hard to get a job but couldn't. So I keep working online. I did e-Rozgaar course in 2020. Since then I have been doing freelancing, writing articles in this field and now I have been doing video editing since last year.
My favorite games:
One of my favorite game is football and my favorite team is Germany. My favourite player is Zlatan Ibrahimovic. I love his aggressive game.
My second favourite game is cricket and my favourite team is Pakistan and my favourite player in cricket is Mitchell Starc.
Because I love playing games since I was a kid, I play both games as well as watching. I am playing football on club level and It has been 5-6 years in this game.
My favorite foods:
I like beef and chicken in meat, I like spinach, okra and pumpkin in vegetables, I also like custard and kheer in sweet dish.
Reason for coming to Steemit:
I have been working online for almost two years now and I have gained a lot of experience. After the free course of government I have interest in writing articles and wrote many and want to proceed. A friend of mine told me about Steemit. He told me that if you have so much information about writing articles then you should come to Steemit.
I just found a lot about Steemit. So without any hesitation I immediately came to Steemit. I want to thank my friend who informed me about this platform and I hope that inshaAllah I will work on it. Because I don't just want to make money on Steemit, but I also want to make a name for myself in it and write well and work hard. I hope that my seniors will also support me considering my good work.
I hope you guys liked my introduction and remember me in your prayers. Insha Allah! we will continue to work on this platform, Allah Hafiz.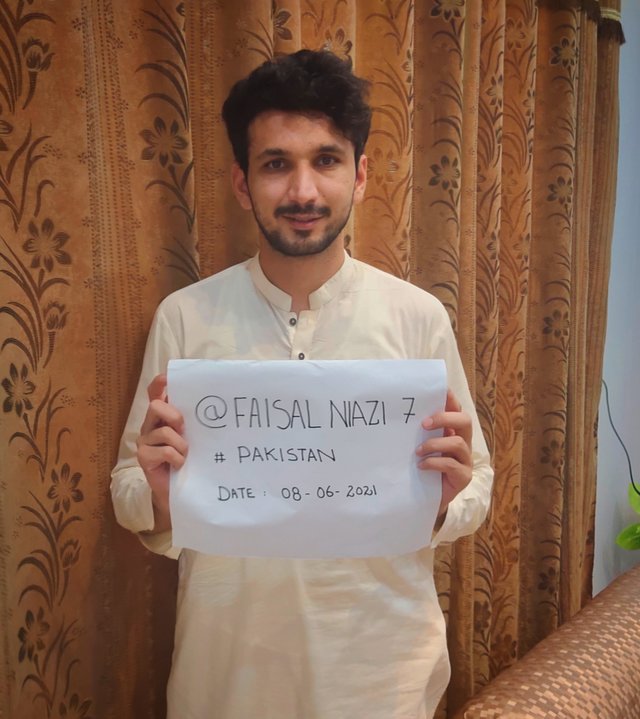 السلام علیکم! میں امید کرتا ہوں کہ آپ سب خیریت سے ہوں گے۔سٹیم اٹ پر یہ میری پہلی پوسٹ ہے اس لیےاپنا مختصر سا تعارف کرا دوں۔میرا نام فیصل اقبال خان ہے۔ میرے والد کا نام محمد اقبال خان ہے ۔میں نیازی خاندان سے تعلق رکھتا ہوں ۔میں ضلع میانوالی کے گاؤں موچھ میں پیدا ہوا لیکن پڑھاہی اور والد کے کاروبار کی وجہ سے 2011 میں مسلم کالونی،میانوالی شفٹ ھو گے۔
میرا پیشہ اور میری تعلیم :
میں نے ماسڑز ان انگلش کی ڈگری 2019 میں حاصل کی۔اس کے ساتھ مجھے کھیلوں کا بھی بہت شوق رھا اس لیے میں نے فیزیکل ایجوکںشن میں بھی داخلہ لیا جو کہ میرا آخری سمسٹر چل رھا ہے۔ میں نے نوکری حاصل کرنے کی بہت کوشش کی لیکن نہ مل سکی ۔اس لیے میں آن لائن کام کرتا رہتا ہوں۔میں نے ای-روزگار کورس 2020 میں کیا تب سے میں فری لانسنگ کرتا ھوں، اس فیلد میں آرٹیکل لکھتا رہا اور اب تو ایک سال سے ویڈیو ایڈٹنگ کا کام کرتا ھوں۔
میرے پسندیدہ کھیل :
میرے پسندیدہ کھیل میں ایک کھیل فٹبال ہے اور میری فیورٹ ٹیم جرمنی ہے میرا فیورٹ کھلاڑی زالاٹن ابراھیموچ ہے مجھے اس کی جارحانہ گیم بہت پسند ہے ۔
میرا دوسرا پسندیدہ کھیل کرکٹ ہے اور میری فیورٹ ٹیم پاکستان ہے اور کرکٹ میں میرا فیورٹ کھلاڑی مچل سٹارک ہے۔
چونکہ مجھے بچپن سے کھیل پسند ہے، دیکھنے کے ساتھ ساتھ میں یہ دونوں کھیل کھیلتا بھی ہوں۔ میں فٹبال، کلب لیول پر کھیل رہا ھوں اور اس گیم میں مجھے 5٫6 سال ھو گے ہیں۔
میرے پسندیدہ کھانے :گوشت میں مجھے بیف اور چکن پسند ھے جبکہ سبزیوں میں پالک، بھنڈی اور کدو مجھے بہت پسند ہے اس کے علاوہ میٹھے میں کسٹرڈ اور کھیر مجھے کافی پسند ہیں۔
سٹیم اٹ پہ آنے کی وجہ :
میں تقریبا دو سال سے آن لاہن کام کر رہا ہوں اور مجھے کافی سارا تجربہ ہو گیا ہے۔گورنمنٹ کے فری کورس کے بعد مجھے آرٹیکل لکھنے کا شوق ھوا اور کچھ لکھے اور اس میں آگے بڑھنا چاہتا ہوں۔سٹیم اٹ کے بارے میں میرے ایک دوست نے مجھے بتایا کہ آپ آرٹیکل لکھنے کے بارے میں اتنی معلومات رکھتے ہو تو آپکو سٹیم اٹ پہ آنا چاہیے۔
ابھی مجھےسٹیم اٹ کے بارے میں کافی کچھ پتہ چل چکا ہے ۔ اس لیے بغیر کسی سوچ بچار کے میں فورا سٹیم اٹ پر آگیا۔میں اپنے دوست کا شکریہ ادا کرنا چاہتا ہوں جس نے مجھے اس پلیٹ فارم کے بارے آگاہی دی اور میں امید کرتا ہوں کہ ان شاء اللہ تعالی میں اس پر کام کروں گا ۔کیونکہ سٹیم اٹ پر صرف پیسہ ہی کمانا نہیں چاھتا بلکہ اس میں اپنا نام بنانا اور اچھا لکھنا اور محنت کر کے آگے بھی جانا چاھتا ہوں۔ مجھے امید ہے کہ میرے اچھے کام کو دیکھتے ہوئے مجھے میرے سینئرز بھی سپورٹ کریں گے۔
میں امید کرتا ہوں کے آپ لوگوں کو میرا تعارف پسند آیا ہوگا دعاؤں میں یاد رکھیے گا، انشاء اللہ ھم اس پلیٹ فارم پر کام کرتے رہیں گے، اللہ حافظ۔
I will specially thanks to my friend @zaibniazi01 for helping and supporting me and I'll also mention and thanks to Respected
@yousafharoonkhan
@cryptokannonCc
@rashid001
@haidermehdi
@hassanabid
Waiting for your kind reply so that I may get verification and to move on new Achievement.
Regards @faisalniazi7