Achievement 5 Task 1 by @fredquantum: Review Steemworld.org
Good day, esteemed Steemians. It's my pleasure to be here at this time of the day to share another achievement, Achievement 5 Task 1 post with you. My stay on Steemit within a short time of joining has been a great and worthy one and with no doubt, Steemit is the best platform I've ever used. With no further delay, I present my Achievement 5 Task 1 to you.
MY REVIEW OF STEEMWORLD.ORG
The process of reviewing the steemworld.org starts from visiting my account on the website here!.
Steemworld was developed by @steemchiller. On the landing page of the website, the first thing to do in this case is to click on dashboard which will lead to another page with many features to be listed below;
Steemworld landing page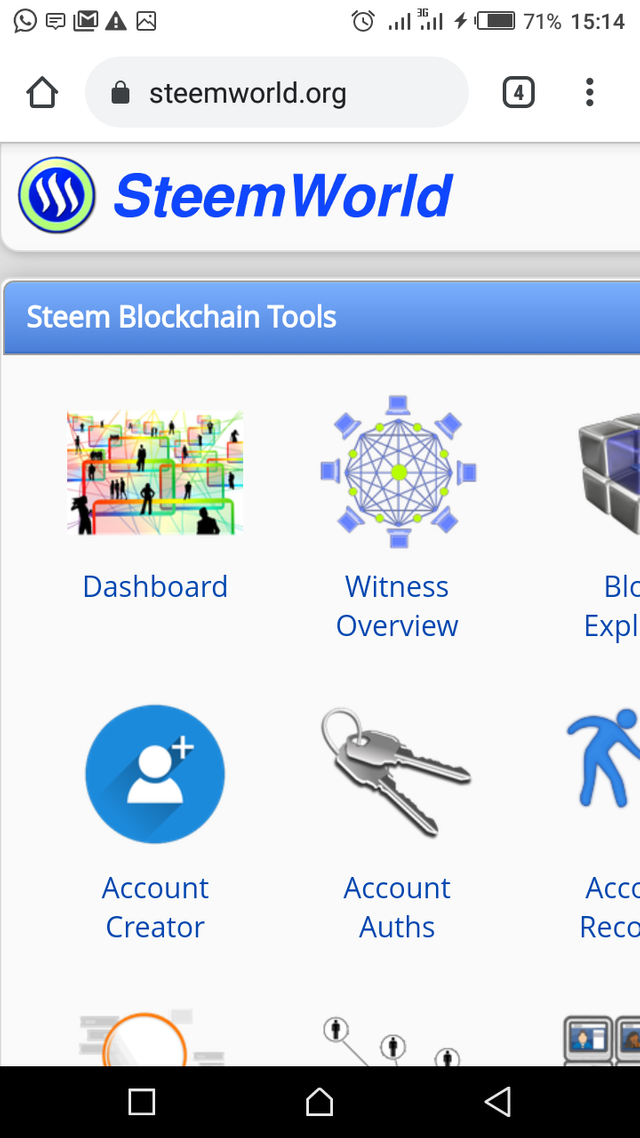 Voting Power
Stat
Balances
Account Details
Mentions
Followers
Delegations
Market info
Settings
Posts
Coming Curation Rewards
Coming Author Rewards
Tools
I will take some time to explain the above listed features one after the other to the best of my ability.
VOTING POWER
My voting power means my voting capacity in percentage and which returns as dollar in value. My voting power is found in a percentage placed in a chart representation at the top left of the page, the percentage is round off to 2 decimals. From what I found on my account, my current voting power is 97.11%. It has been established that the default my voting power is 100% and decreases by 2% anytime I upvote anyone and on the long run it would be recharged automatically. My current voting power value in percentage is seen under the chart representation and the value anyone gets if I upvote them on 100% is 0.01$ in value.
My voting power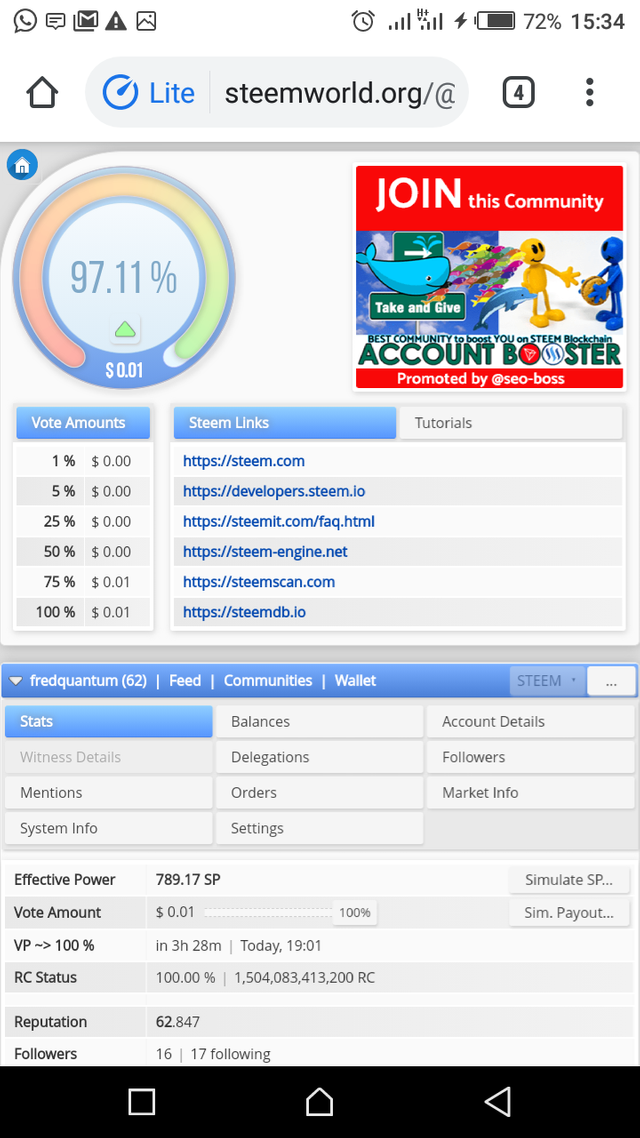 STAT
Stat contains the number of all information on my Steemit account. My Steem power, Vote power, RC status, Reputation, Vote counts, Post counts, Followers, Voting CSI and when my voting power will be recharged back to 100%.
My Stat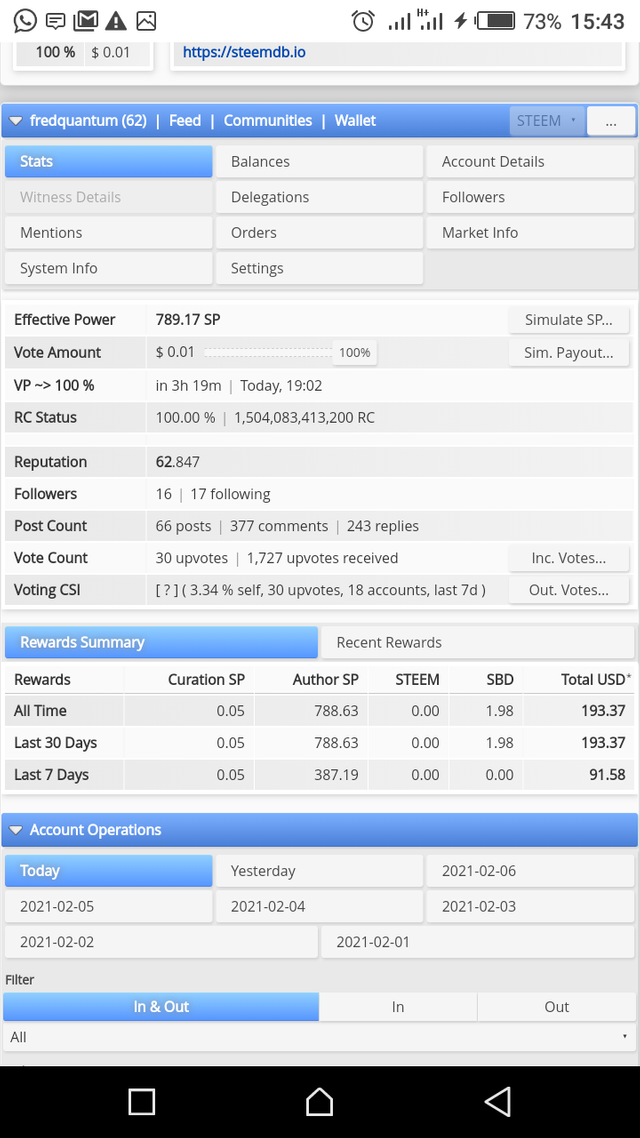 BALANCES
This shows my account value estimations. Under balances, all assets (Steem, SBD, Vesting shares and the overall worth of all assets in Dollar and Euro currency) I have in my account are shown.
My Balances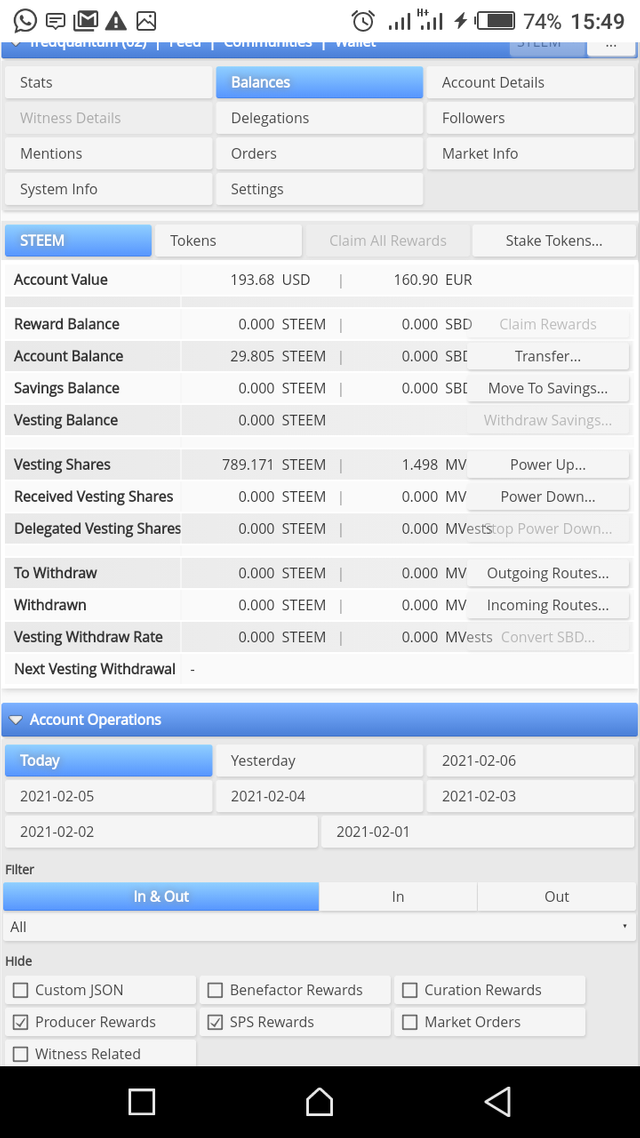 ACCOUNT DETAILS
My account details reveal information associated to my Steemit account. It shows my Id, Username, actions and operations on my Steemit account.
My Account Details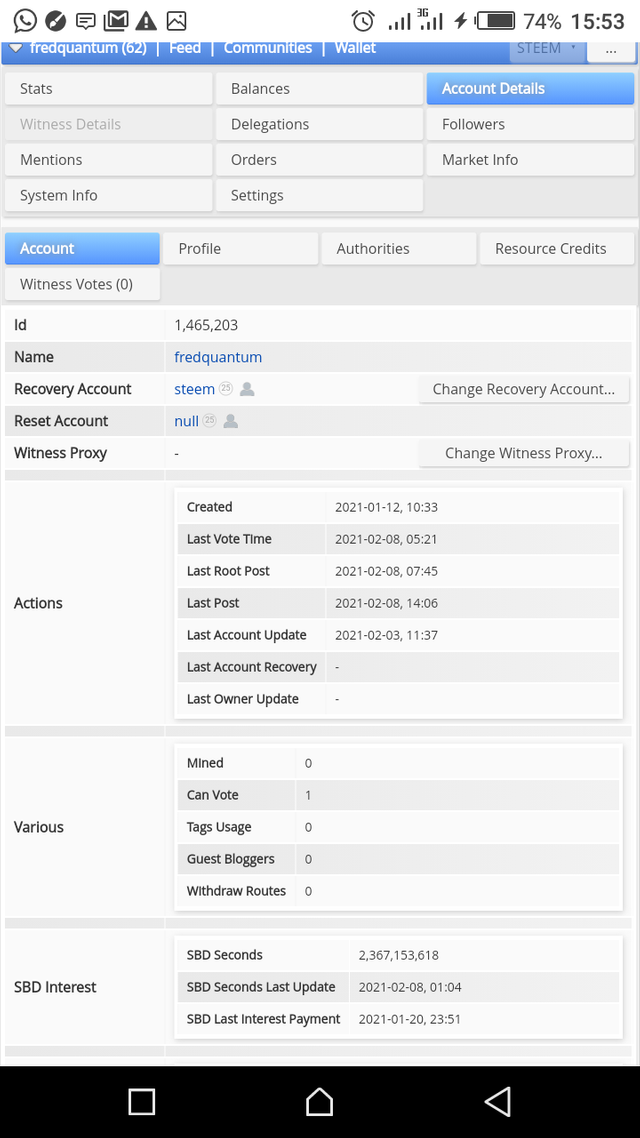 MENTIONS
Mentions on my account shows the list of users that has mentioned my username on Steemit whether on posts or comments.
Mentions on My Account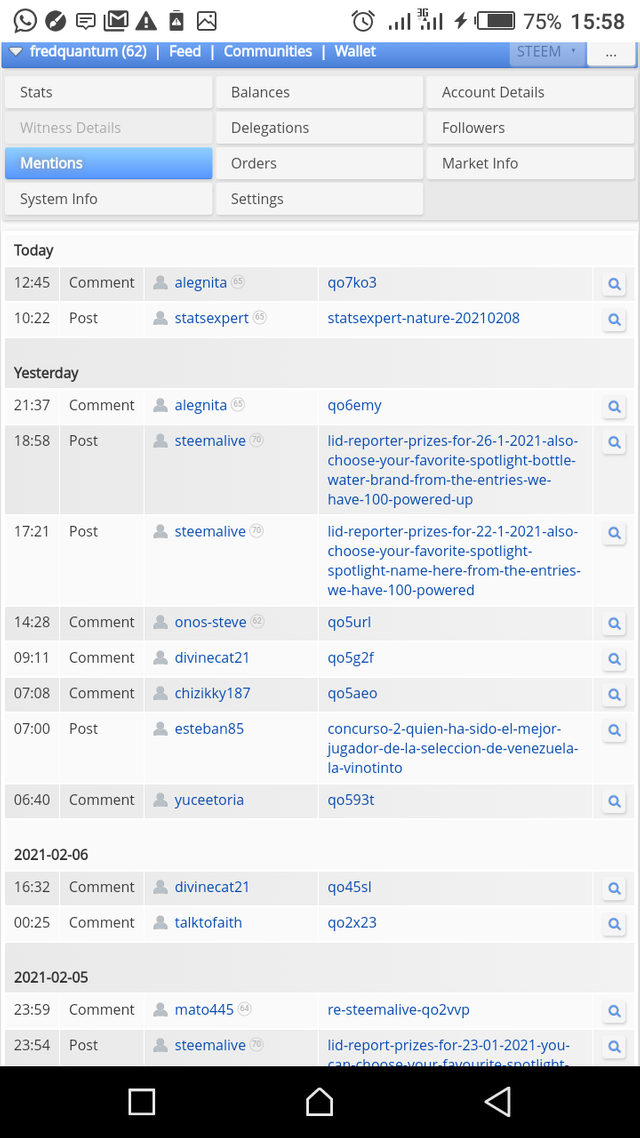 FOLLOWERS
Followers button reveals the number of Steemit users that are following my account and I can choose to select the range I wish to see.
My Account Followers

DELEGATIONS
This is where I see the Steem Power donated to me or the ones I donated to other Steemit users.
Delegations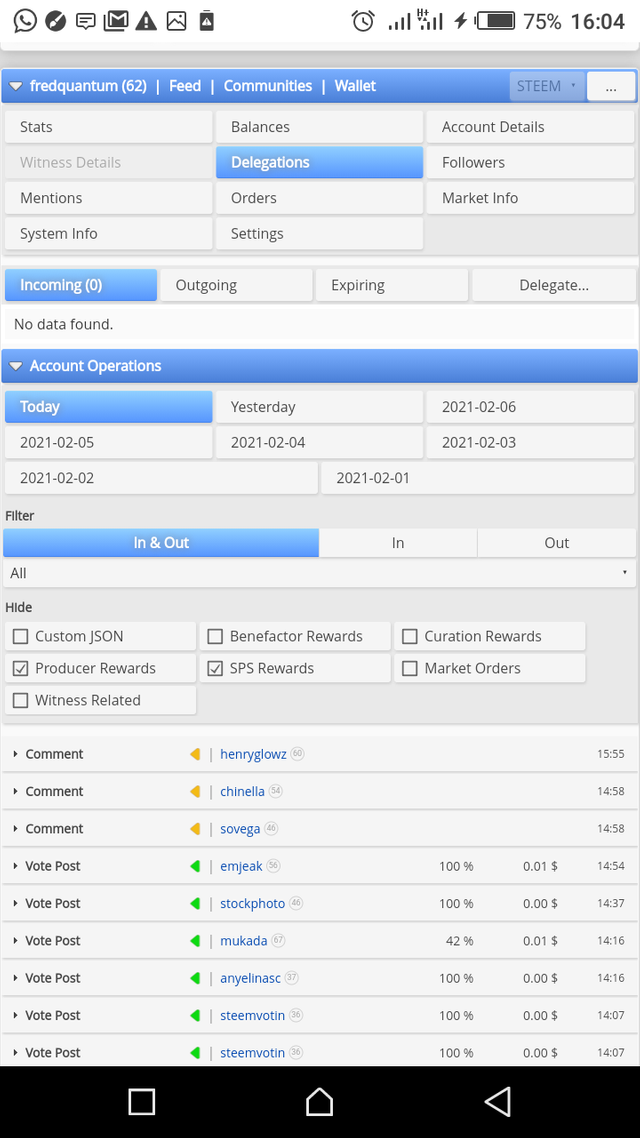 MARKET INFO
Market info is where I will see the current price of Steem and SBD (Steem Dollar), in USD and EUR.
Market Info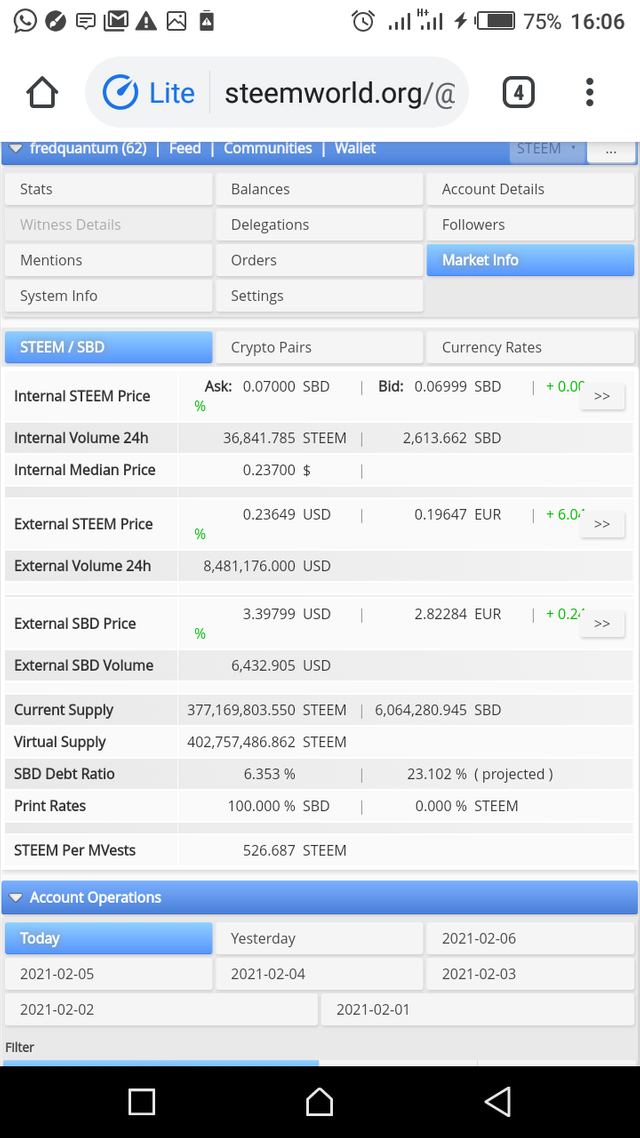 SETTINGS
Settings is where I can choose to customize my Steemit account. I can choose to change the refresh interval, language and many more.
Settings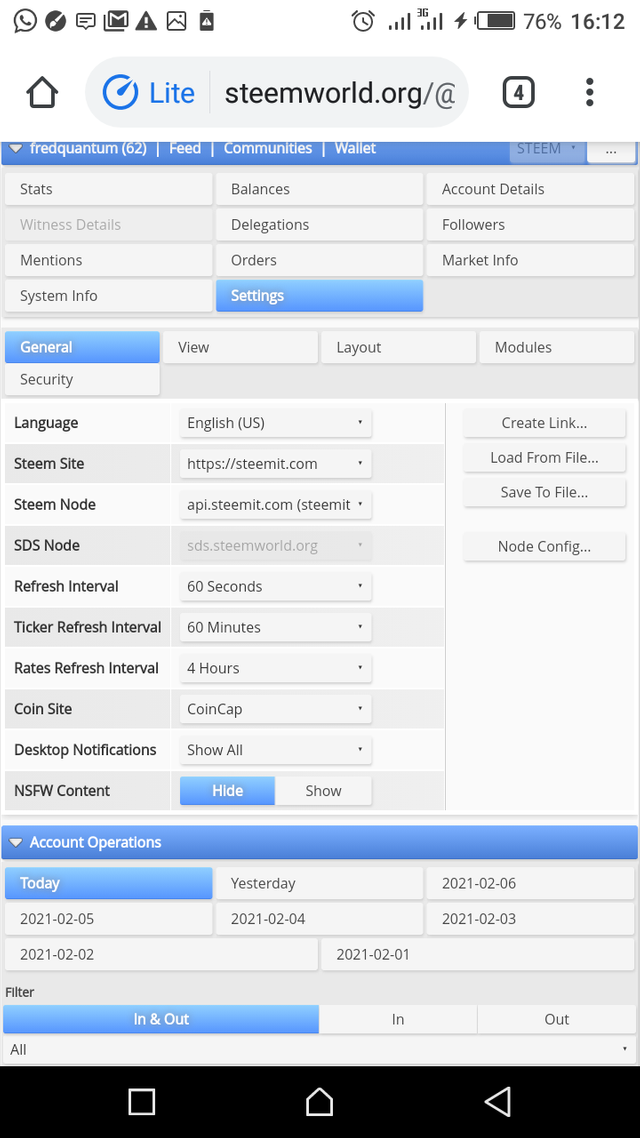 POSTS
Under posts, I will see all the posts I've made since I joined Steemit showing the most recent and I can choose to see more.
Post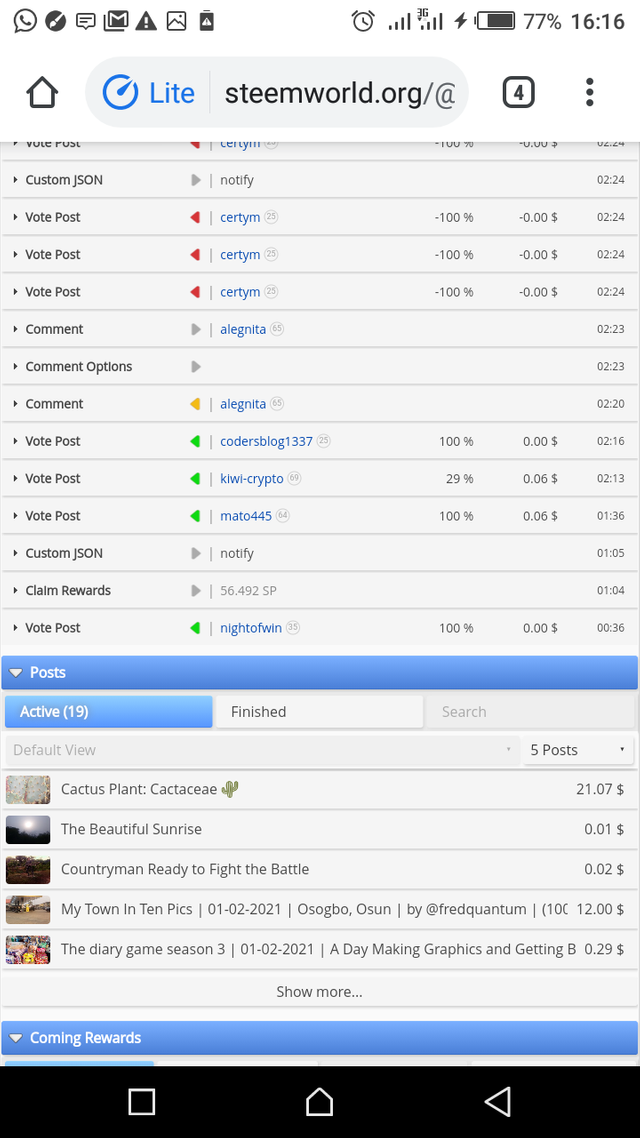 COMING CURATION REWARDS
This is where I will see my incoming curation rewards . I have to click the refresh button to see the list of the coming rewards.
My Coming Curation Rewards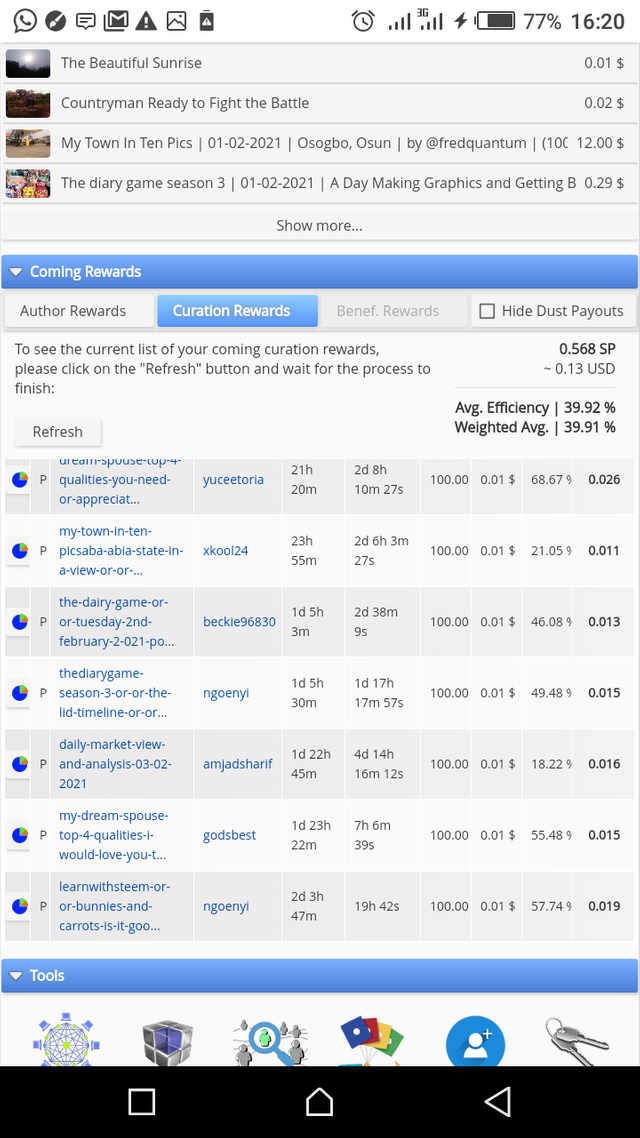 COMING AUTHOR REWARDS
This shows the list of my incoming author rewards. This means all rewards earned from my posts and it was activated and imported by clicking the refresh button.
My Coming Author Rewards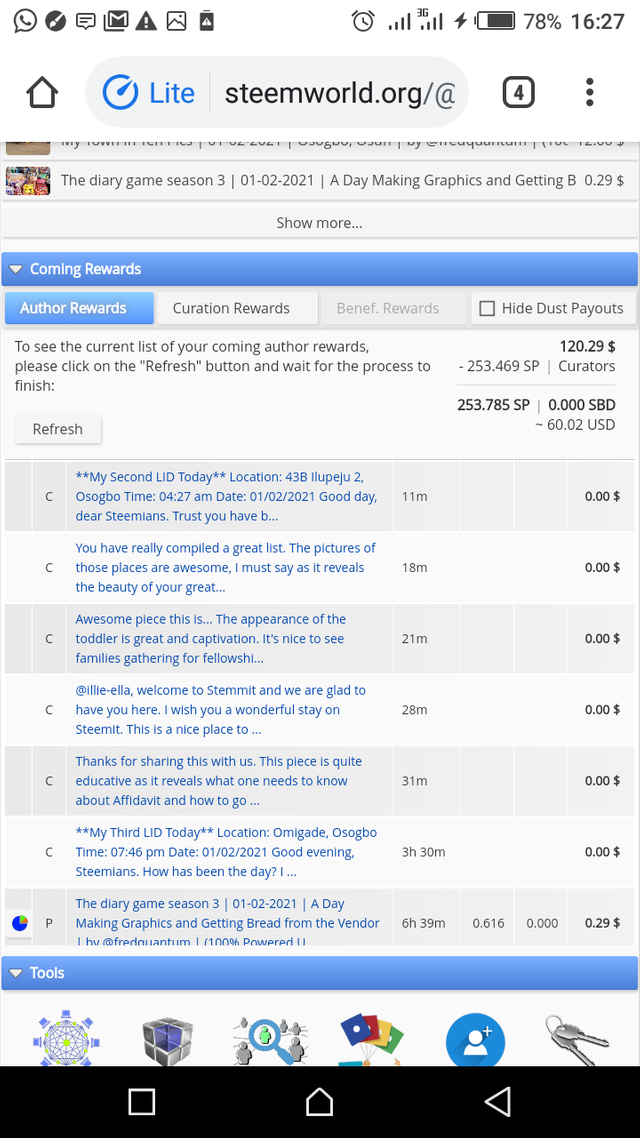 TOOLS
Tools is where I can perform a lot of operations like; Account recovery, Key generator, Transfer search, Delegation history, Proxy Info, Abuse finder and many more.
Tools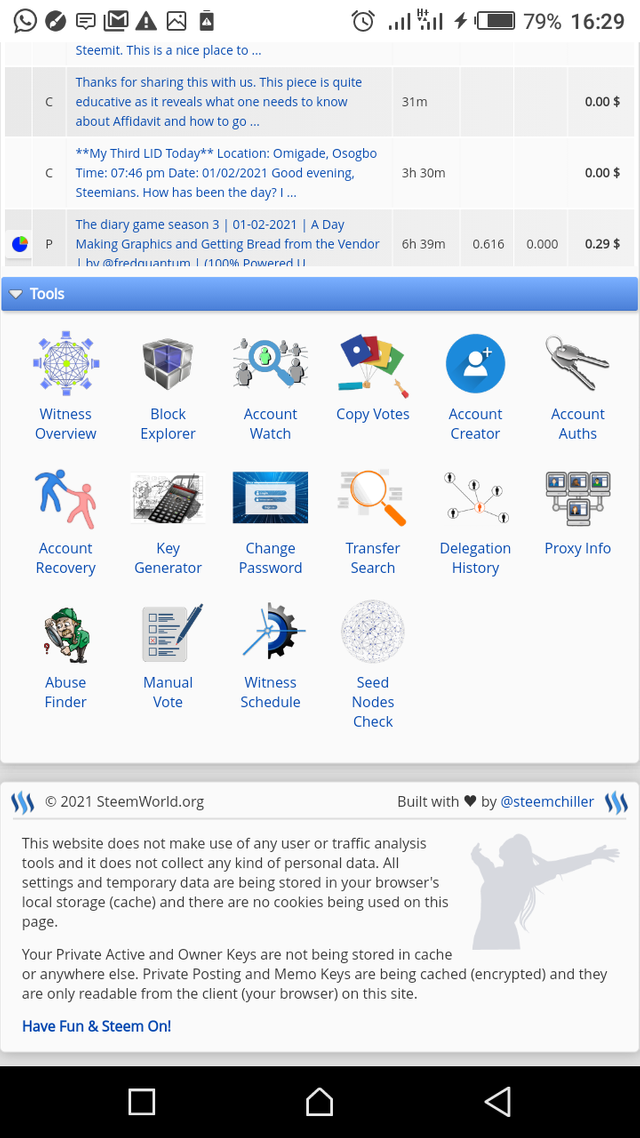 CONCLUSION
I am so happy that I've been able to come this far. I appreciate everyone that has been of help in this journey. Special regards to @cryptokannon for continual support for newcomers, thank you.
#achievement5 #nigeria #cryptokannon #steemit #steem #steemexclusive