Some Major/Important Points To Remember As a New Comer. (How to get Maximum Benefit From Achievements, Detailed Guidance)

Hello everyone ! this is your Greeter hassanabid working here to verify each and every single Pakistani's
Initially we were getting around 6-10 people weekly which was very easy for Us (Greeters) To Help and guide them but now If we see the Stats of New Comers we would see around 100-150+ Users from Pakistan every week
However thats not just about Pakistan its increasing from all over the world and obviously its not easy for greeters to answer each and every single question so to make it Clear i am making this Post To help New Comers.
Every New Comer Should go through these !
First of All the Basic steps which everyone should follow is Following the Most Important Guide and Rules of Achievements
It consists of Not only Achievement 1 Details but at the end you could see it consists of links of different Achievements which you all need to follow.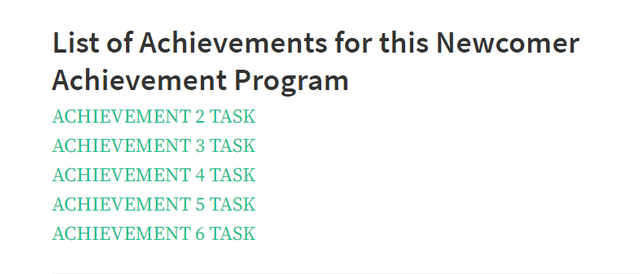 reference
Now as mostly users would feel very exhausted while seeing they are getting very low Percentage upvotes and some of the people are getting higher upvotes why is that ?
Lets get started with the Achievement 1 !
First of all for achievement 1 the biggest and important part is your Creativity , Uniqueness and Most important Your Own Quality Content/Bio )
Following are some points/mistakes which Mostly users are doing causing them to get low Percentage Upvotes.
What we really are seeing is newcomers write just 1-2 paragraphs which is not sufficient obviously to get good percentage of upvotes. I would recommend you guys to write atleast 4-5 paragraphs including every single detail you can share about yourself !

The title image / First Image of the post is not clear or No Attraction over the written paper (One must try to make it stylish and creative ).

Not following the Exact Rules Like (Brief Intro Means Brief Intro) , Invalid Tags causing mess for greeters to search (Because we can't go through 1000's post ) tags help us getting directly to the post. (No tags No disclosure), Also in tags the Country Tag is very important as we have seen many posts which got ignored because the relevant Country Greeter couldn't see that post. How are we are the Greeters going to know which post is theirs responsibility. So tag has great importance.

First Impressions are the Last Impression so you have to make it more creative,interesting and Engaging.

The more You tell us about yourself the more easily we could judge your Orignality (Due to recent abuses done by many plagiarist). We Strictly keep our eyes on plagiarists. We have also Asked @endingplagiarism to help over it !

Style Copying gives bad impression to us ! obviously if you are just copy and pasting whole sample and editing it by just changing your name father name etc makes it pretty bad and doesn't show your own workings (it makes it suspicious for us as we can consider it as a single person using multiple accounts for reward farming).

Too Many Tags Don't Tag Steemit Team eg @steemcurator01 and others on Your Achievement , Try tagging Relevant people like Greeters. Though we try to reach to every single achievements but still we are human's not bots so kindly cooperate with us !.

We have limited votes Many of new Users think that we have unlimited upvotes (Every Account should maintain around 10 upvotes in order to get it recharge the other day). You can Check the status of @steemcurator03 through Steemworld.org by @steemchiller

Lastly, Though images attracts every user but too less written work and too many images gives bad impression.
Same for other Achievements (You should make your work - Plagfree ).
I hope now you guys would Introduce your referrals with these basic points
---
Thanks to @belenguerra , @cryptokannon [Who made me Greeter of This Community]
All Country Representatives !
and All my Supporters !
Yours !