@ijebest ,this is my introductory post to steemit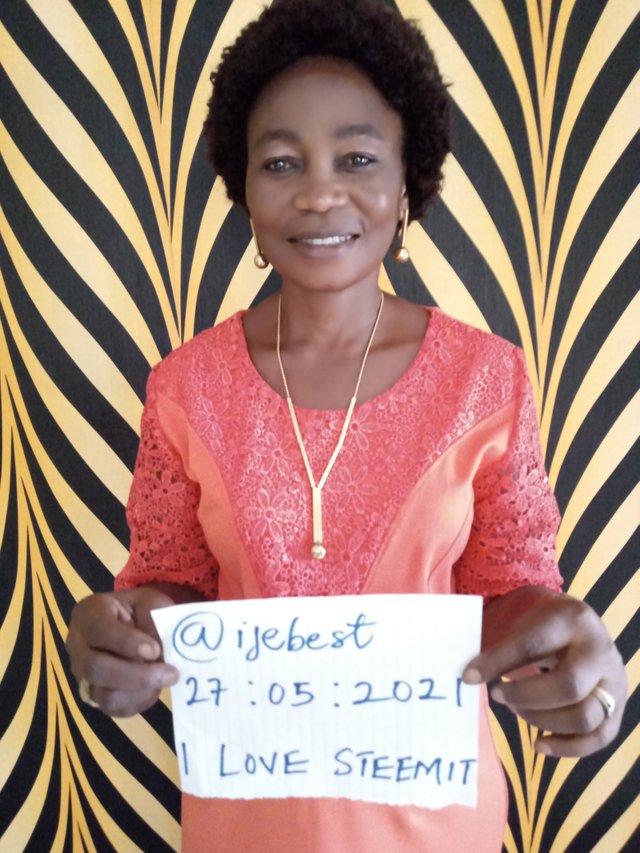 Good afternoon great people of steemit.
I appreciate being here, posting my very first note in this platform. I heard about steemit the very wonderful platform on a radio program Real Fm 99.1 in Aba, Abia State Nigeria. As our great leaders were teaching and explaining about the wonderful benefits and opportunities in steemit platform.
I picked interest and attended the seminar and was taught what the platform stand for and how they operate, I was convinced to join. I'm very interested to meet amazing and wonderful friends here and to make some connections too.
Hopefully, my stay here will be rewording exciting and enjoyable.
MY BACKGROUND
My name is Kathrine ijeoma Ndubueze, was born and raised up in Ohafia, in Ohafia local government Area of Abia State Nigeria. I'm happily married with 3 children, our children are blessed and being raised up by God on daily basis, they make I and my husband happy. We are a Christian family by practice.
Education: I obtained a BSC in human resources management from Lagos State University in Lagos State Nigeria. I was already married and nursing my son when I went to study at the University, I'm great full to my loving husband whom God used to make it possible.
ACTIVITIES
I like trading, that is buying and
selling. I sell whatever I have well and fast, and God has been faithful that is to say I'm an entrepreneur, who turns every available opportunities into a rewording benefits. So this platform is an interesting accurate and on time.
Hobbies and interests: I like listening to the news that could be from radio, tv, or from the news papers and it was in the course of doing this that I came to hear about steemit from the radio as I said earlier on. I like planting seeds in the garden, because seeing seeds germinate from the ground and the tenderness of the plants makes me happy. Around my home I planted some things. I like reading interesting articles too, could be from the net and Bible the word of God for inspiration and directions per time, I sing as well, I also like winning souls for Christ because the Bible the word of God says,"He that winneth a soul is wise;
MY CORE VALUE
Honesty is a part of me, my mother raised myself and my siblings up on Godly principles, it's part of us. I can't stand lies, cheating, negative oppressions against the innocent, I love truth and cherish peace.
I really hope to learn a lot from my new friends here also want to contribute my own quoter for joining the steemit platform. I'm already introducing some people to join, for example, I told my son and his friends who are footballers about steemit they pick interest and promised to join soon.
I am greatful to @focusnow who assisted me in my introductory post and also greatful to @ninapenda for her help.
I'm thankful for your patience to read through, God bless you as we achieve greatness together in steemit platform. Thank you, from, Kathrine ijeoma Ndubueze.