Achievement 5 Task 1 by @mubdi-technology: Review Steemworld.org
Hello Steemians! How are you all, hope you all are fine & happy. So, today I'm back with the achievement 4 task by @cryptokannon. First of all I want to thank @steemcurator03 for verifying my achievment1 Task , achievement2 Task achievement3 Task and achievement4 task.
So, today I am going to complete my achievement5 task 1. Thanks to the admins & moderators of this community.
---
---
CHECK REWARD SUMMARY:
First of all, I typed https://steemworld.org on my browser and it took to steemworld interface then I log in with my steem user name and password, after logging in successfully I saw several options such as; Dashboard, witness overview Block Explorer, Account watch, etc. so I click on Dashboard and it took me to another interface that has all the details of my account, then I click in stats and scrolling down I met my reward summary that displays all my rewards, in my own case, it shows: all the time, last 30 Days and last 7 Days. The rewards also show Curation SP, Author SP, STEEM, and SBD.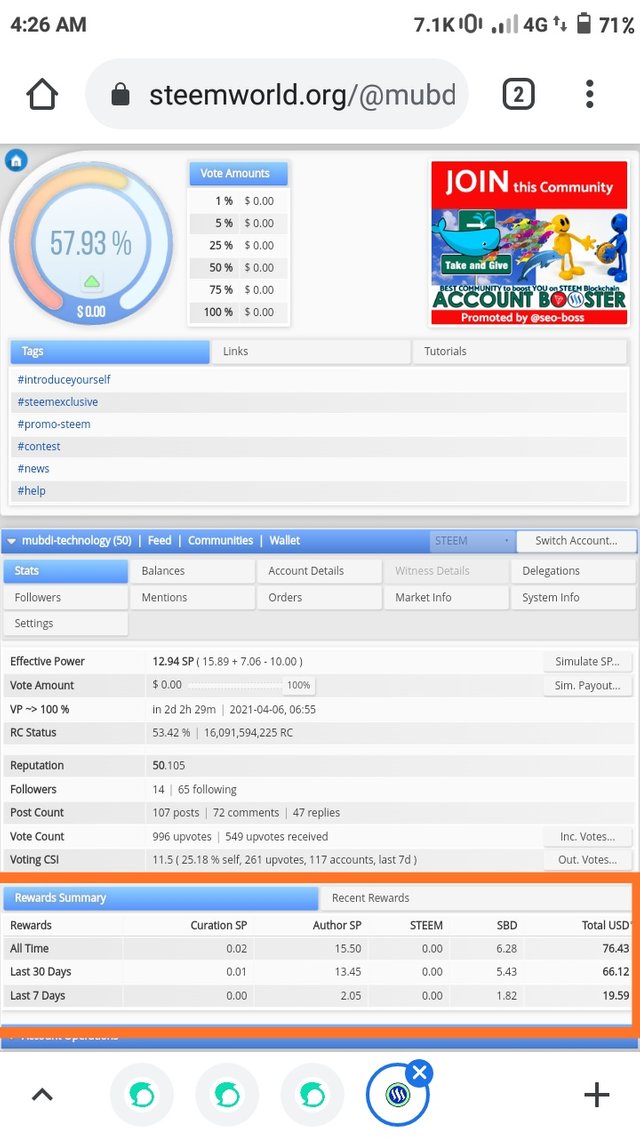 DELEGATIONS
Delegations simply means sharing your steem power (SP) to other users so that they can vote, comment, and other activities.
TYPES DELEGATIONS
There are two basic types of delegations:
Incoming Delegations;
Incoming delegations are those steem power that is shared to you by another user so as to enable you to vote, post, etc., and other activities.
Outgoing Delegations;
outgoing delegations are those ones you shared with other users.
HOW TO DELEGATE
On your dashboard ofsteemworld.org, by your left-hand side after Stats, Balances, etc. you will get to delegation tab click on it and it will display your delegation summary and towards your right-hand side you will delegate, click on it and fill in the user you are delegating to, and the amount then click ok.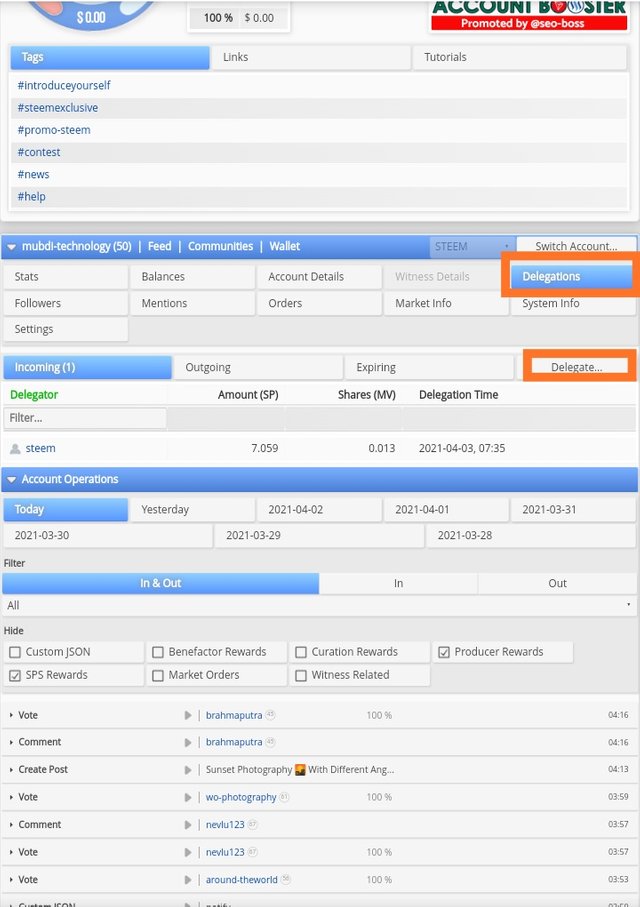 HOW TO CHECK YOUR ACCOUNT OPERATIONS FOR THE PAST 7 AND WHAT ALL DETAILS CAN BE CHECKED.
When you scroll down after logging to steemworld dashboard you will get to Account Operations, it displays the current day and the past seven days' account operations, you can filter it to display incoming and outgoing operations in your account. The account operations shows votes, vote post, comments, rewards, earnings. It shows all the operations in your accounts and the users involved.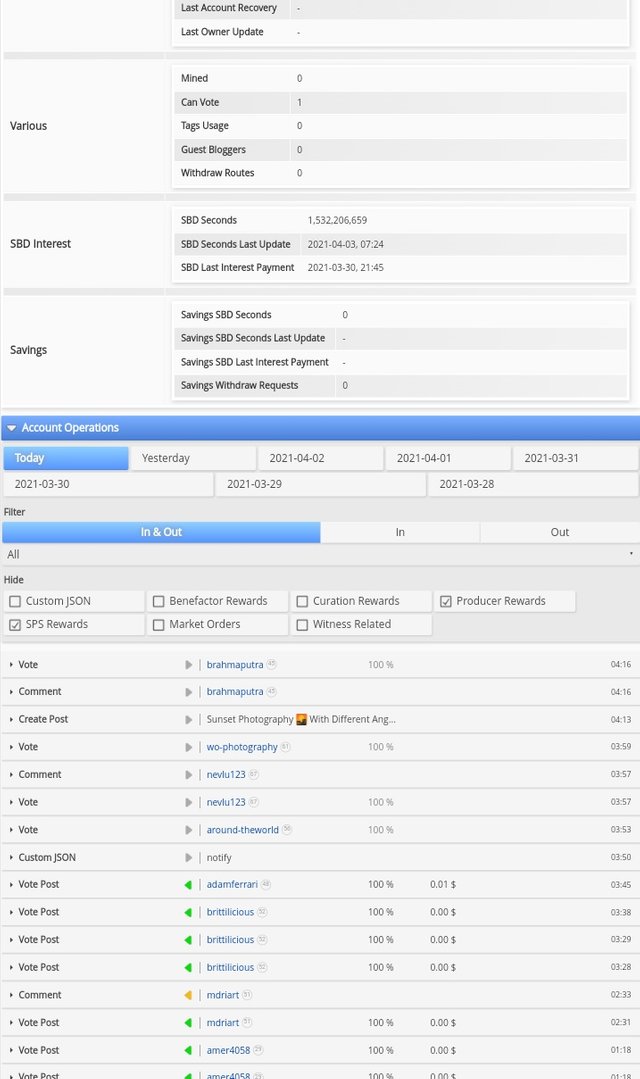 AUTHOR, CURATION, AND BENEFICIARY REWARDS.
Author Rewards;
Any user on steemit that has shared any blog post is an author, and the rewards (earnings) you get from such post or comments you made is called authors rewards.
Curation Reward;
When you value and upvotes another author's post, you gain curation rewards.
Beneficiary Reward;
This feature enables the author of the post to share the post rewards with another user. In order to actualize this, the author needs to add a certain percentage he/she wants the beneficiary to get.
For the past 7 days, the author's reward is 0.15SP while the curation reward is 0.00SP.
CHECK UPVOTE VALUE AT DIFFERENT VOTING WEIGHTS.
When I log in to steemworld dashboard, the first thing I saw was my vote amount with different percentage values. Beside it is a circular wheel slider that can further give the value of votes at different percentages. For my account, my vote value from 1% - 100% is 0.00.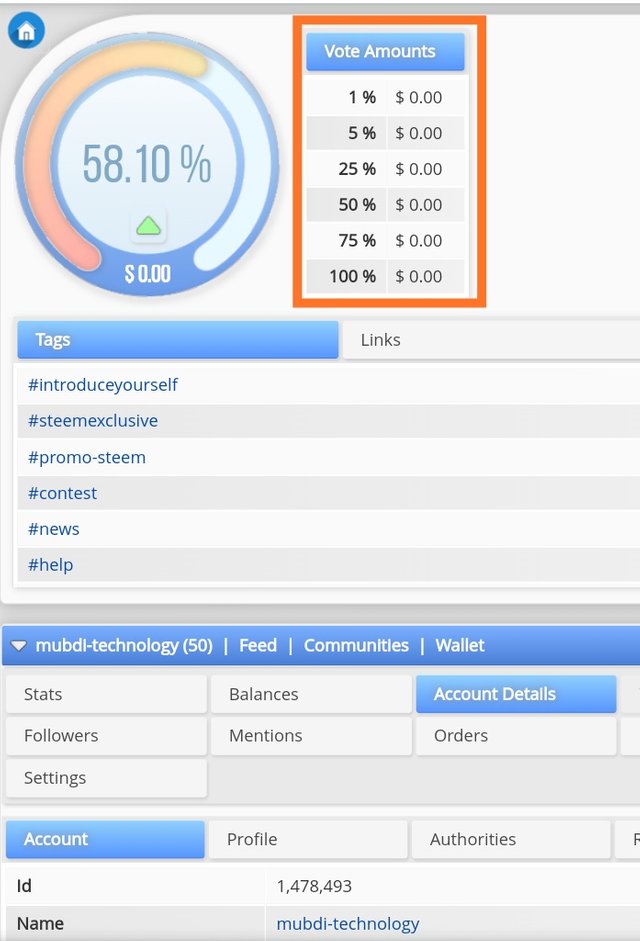 ---
Finally, I want to mention & appreciate @cryptokannon @steemcurator01 @steemcurator02 @seo-boss @steemchiller @steemcurator03 @tarpan & @rex-sumon for helping Steemit Community specially newbies in Newcomers' Community.
---
Moreover, As you all know that I'm Bangladeshi. So, I wants to mention here some Bangladeshi's as well like @tarpan @rex-sumon @toufiq777 @nevlu123 @steem-bangladesh who are helping Bangladeshi community here on Steemit.
---
---
This was achievement 4.
---
Here is the link of my Achievement1
Here is the link of my Achievement2
Here is the link of my Achievement3
Here is the link of my Achievement4
---
---
Best Regards @mubdi-technology And Special Thanks to All Friends who are supporting this Post.