##Achievement 2: Basic Security On Steem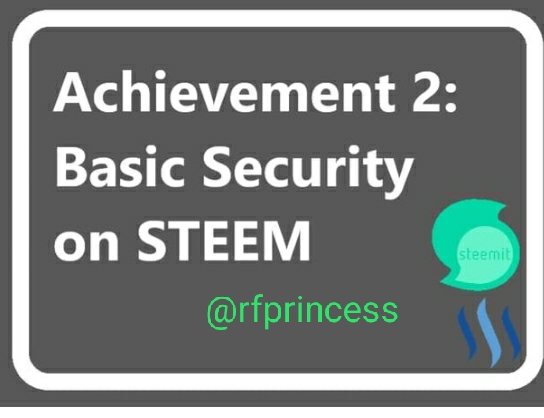 Different Types of Keys and their Functions:
Master Password:
The master password is the most important password that is given to you in the form of a PDF when you sign up which should be kept safe as it helps to generate other keys of the account and the account can be stolen. The master key may not be sent to anyone who can access your account.
Owners key:
The owner key is very strong which can be used from time to time when needed. It can also be used to terminate the compromised account.
Active Key:
The active key is used to send funds to anyone, transact up and down electricity, convert them into steem dollars, v veryote for a good post, change your profile and update information, and place market orders.
Posting Key:
The posting key is the key that allows the accounts to post, comment, edit or update other accounts, vote up and vote down, respect, and follow or mute the account.
Memo Key:
Memo keys are used to encrypt memos when transferring funds from one to another. And we use this / # sign to keep the memo secret. For confidentiality purposes.
I will keep the keys locked and I will not share them with anyone. I will keep my keys in a safe place.
I will keep my master key in my Google Drive to save and choose some safe place and create or save it as a backup.
The keys are very important every time we post, comment, and update our accounts. And I fully understand the importance of the keys and their functions in this platform the steemit.
I would like to thank all the steemians who supported me. Specially to
@ghostfacer99
@steemflower
@georgie84
Regards,
@rfprincess