CONTEST #ForestForChange - Talk About the Forest in Your Town [Prize : 50 STEEM]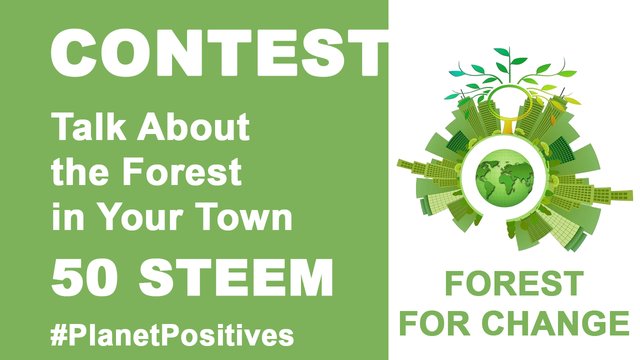 Trees are the most important part of human life. Basically scientifically, trees can support the growth of human life. Nature and the universe are elements that cannot be separated from human life.
Humans and the universe have an interaction between the two. Humans are very dependent on nature. Human survival can be supported by the existence of the universe. The universe and nature provide all human needs naturally.
Humans are very dependent on this universe. Because the only source to be able to live is part of the respiratory system that is connected to the human body's metabolism. The lungs are the part of the body that requires oxygen to breathe.
This universe provides free Oxygen that can be used by humans. Everyone wants to be able to breathe fresh and delicious air. This process is then called that humans are part of creatures that are dependent on the universe.
Fresh air will be breathable if we live in a beautiful environment and away from pollution. That's why we want to hear from you about how your city was built. We want to see how the tree population in your city area is.
Your contribution is very important to educate us all about learning the importance of trees. We'd love to hear from you about some of the forests that may be in your area. Share the stories and experiences you find.
We invite you to enter this contest, a contest themed #forestforchange. This contest is part of a form of learning to find out how forests can have an impact on human life. We want to hear and see the forests in your area.
You can share anything with us about any stories you have about forests, which might include: Downtown forests, downtown parks, tourist attractions, tree planting activities, or maybe you some types of trees in your garden for you to share. You can explain about the Global Goals and the importance of forests for human life.
Come take the role to share an inspiring story with us !
Contest Rules
Post must consist of at least 300 words
Use Title : Forest For Change Entry by @username
Post in English (you can use WEB translator) and use taq #forestforchange #betterlife #planetpositives and your country ( example : #china #indonesia #nigeria )
Posts must be completely original (no plagiarism)
Post on the Youth Club Community page
One person can only post one Entry
Tell us about forest development and governance in your area
You can share your stories and experiences when visiting urban forest centers, parks, or tourist attractions
Provide a full description of the address and name of the place (you can also link the location from Google Maps)
Describe the positive impact you got from the forest
Invite and give a positive message to invite more people to plant trees
Give your criticism and suggestions for the growth and progress of forest governance in your city
Posts do not contain elements of propaganda, violence, and racism
Include at least one selfie image that identifies yourself when you are in the center of an urban forest, park, or tourist spot
Posts must consist of at least 3 images that are yours
Share your post on Twitter by tagging #Steemit #ForestForChange #GlobalGoals and mention @ponpase
Enter your post link in the comments column and mention 2 of your friends
Schedule :
Contest will end on 20 July 2021
Assessment and Recapitulation 21 July 2021
Announcement of winners: 22 July 2021
Rating
Must cover all aspects of the rules
Form neatness and grammar
Writing Style
Markdown Styling
Prizes:
Total Prize 50 STEEM
1st place : 20
2nd place : 15
3rd place : 10
Bonus : 5 STEEM will be distributed to the first 5 contestants
Enjoy Your Challenge!
I am always open to anyone who wants to discuss, provide feedback, criticism and suggestions. All of us can do more good things for everyone in this world.
Join Contest : Prize 50 STEEM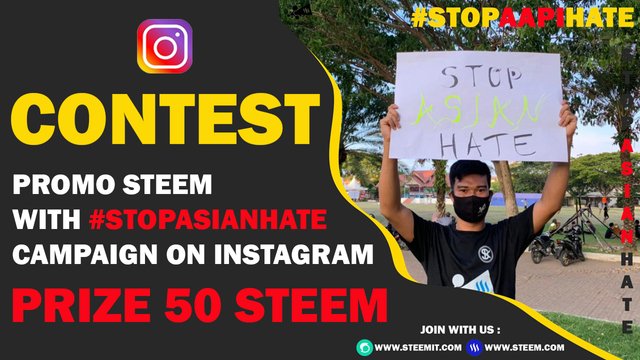 ---
Who Am I ?
I am a citizen journalist in our local area, law faculty student, actively involved in humanitarian and environmental missions, active as a volunteer, has a career trail as a coach in scouting organizations, has relationships with a number of non-governmental organizations both at local and national levels, often acts as a moderator and speakers at a number of events, at Steemit actively participate in and do #promo-steem activities, as a pro-creator Oracle-D in the past, as content creators at SevenFingers, have high hopes and enthusiasm for STEEM For SDGs. There are many great people who have also helped this program and took their roles behind the scenes during the program's launch.
Cc : @steemcurator01 , @stephenkendal, @pennsif, @kevinwong, @steemchiller, @xeldal
Inviting All Youth To Join Youth Club
Best Regard
@ponpase
Discord : ponpase#2931