I took a walk through the official steem account on the major social networks...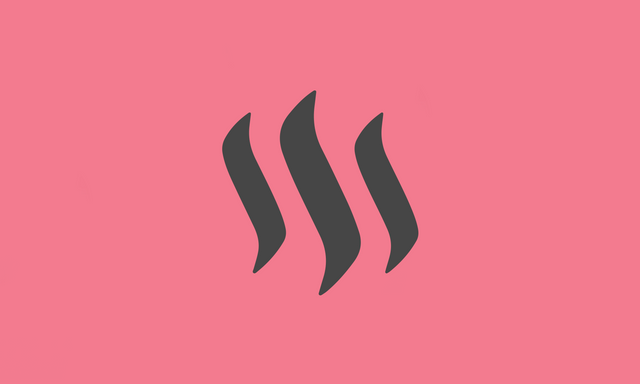 Facebook, Twitter, Instagram... all these platforms share something in common and they don't have a remote idea of what Steem is and its potential, some of them asked me if it was a kind of Bitcoin and others told me that it was just a pyramid scheme that would soon fall down, right in those comments I realized how little information we are effectively filtering from these spaces to other media and also how important it is when it comes to maintaining a platform the external opinions.
One false step positions us as one more crypt of the bunch smothered by the volume of Bitcoin and with no opportunity to grow while a strong action plan in the different media can make many investors board the ship and give a little independence to the currency of the biggest crypts.
I emphasize the goal of every effort should be this: INDEPENDENCE OF CURRENCY ON THE MARKET
!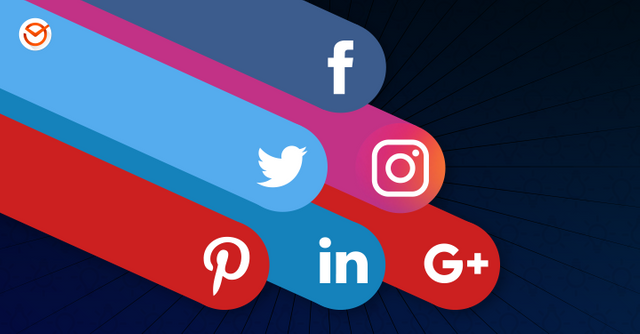 To start with, we have several "official" pages in the different social networks where Steem is talked about in a very basic way without going into details like new updates or the communities that make life in the Blockchain... let's see:
Facebook
The Steem Facebook page has about 25 thousand likes since its creation in 2015, something short considering that Steemit and steem have been working since 2015, I've also noticed that this page only publishes once every certain amount of time (and sometimes it takes months to publish a simple link) and this affects quite a bit the interaction that followers have with the page.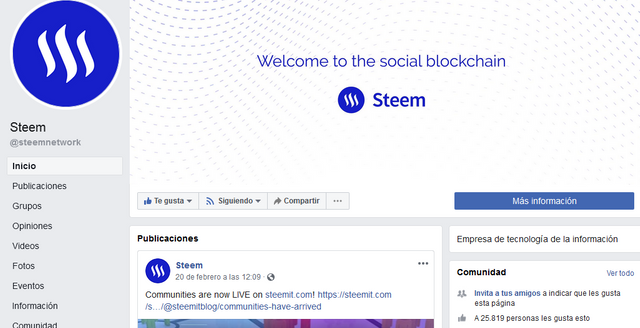 Recommendations
Concentrate efforts on creating advertising campaigns focused on enhancing the advantages of having Steem and how they differentiate it from its competitors in addition to highlighting the community that presides over it.

Promote Steem in the different groups of enterprises and crypts focusing on the previous points (currency and community)

basically hire a community manager for the account ($70 per month, which is an assertive figure if it brings us value on the platform)
Twitter
Twitter, in my words, I saw it much better although it had less reach than the Facebook fanpage, much more personality in the posts as well as more interaction from users. It definitely seems to be managed by someone who knows his work even if the followers don't benefit much from it.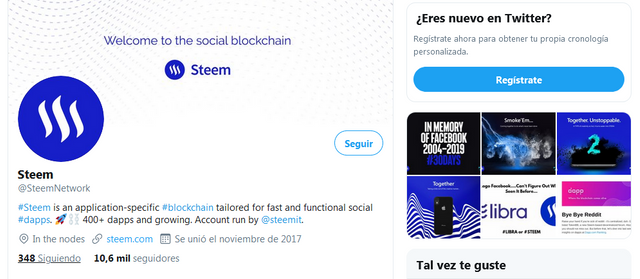 Recommendations
Conduct campaigns on Steem to encourage users to follow the site and also invite other users to follow it.
Instagram
I couldn't find any official Steem page on Instagram and this worries me a lot, in a social network of more than 100 million users we need a representation... Especially to build up popularity among young people on the social network because that's where we can get more people involved in the long run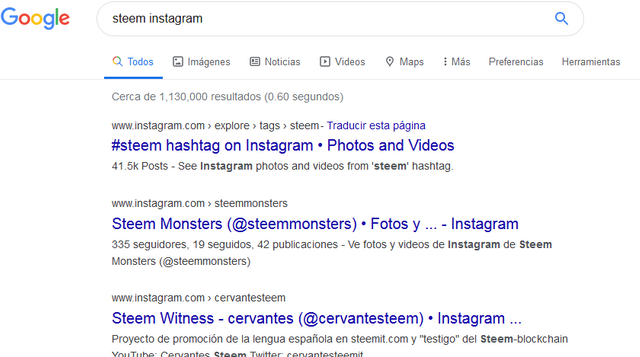 I can't recommend anything else in this section but to immediately CREATE a Steem representation on Instagram, we can post contests there as well as other activities that can benefit the community.
There is still a lot of work to be done to position Steem in the minds of average people and even more work to consolidate it, I for one am working on a crypt news page focused on Steem, having a strong presence in social networks as well as marketing experts when it comes to positioning our brand, if you want to support us as an investor you can stop by our post in fundition and support!
Without further ado I say goodbye!