Nature, curiosity, sensitivity, and healing
Nature, curiosity,
sensitivity, and healing
.
original writing and images,
plus an original poem
---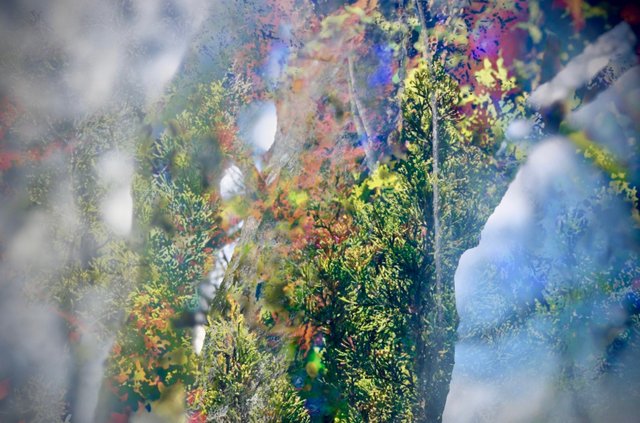 ---
Introduction
Happy Sunday everyone! This post will be a hybrid of sorts, drawn together by the thread of my experience yesterday
hiking in my local area with a group of friends.
First came a poem, and I have used the photos which I took along the trail to create some digital composite images. Then I thought I would offer some reflections in prose as a jumping-off point for discussions in the comment section, should you feel so compelled.
Please do engage as that is one of my main motivations for journal-blogging here on Steem!
May you have a wonderful start to the upcoming week.
.....

The balm of Nature
Nature's restorative power on the mind is chiefly to be found in her unpredictability. In natural settings we behold infinite variation on the subtlest levels; she is quite unconcerned with producing a particular effect. As human-doers we primarily deal with the defined and the finite in our work, even if we one of those artists seeking to convey the limitless. A flash of insight comes—spontaneous revelation—after which we are concerned with reducing this inexplicable sensation down to something comprehensible; we desire to communicate something tangible that will make us known to others in a way that pays homage to and expands our sense of self. We seek subconsciously to feel our kinship with the chaotic perfection of the natural world of which we are inextricably a part.
Curiosity's coma
Humans are obsessed with understanding the workings of things; our natural state is curiosity. This innate quality appears to be absent only when it is denigrated by mental programming that tells us to focus narrowly; we are told to be responsible and adult is to become dull, callous, and uncaring with regards to that which is supposedly unrelated to our particular field of interest. This, again, is a symptom of compartmentalization in which we arbitrarily select aspects of reality that we believe to be pertinent or impertinent to a certain topic—after the fact claiming this to be objective truth by naming categories such as biology, metallurgy, dance, nutrition, writing etc.

The state of general awe is even pathologized by inventing conditions such as "attention deficit disorder;" God forbid we might have the facility to rapidly switch from one aspect of reality to another, gleaning the interconnectedness glimpsed therein! It is necessary, we are told, to regularly take toxic compounds to stuff our consciousness back into the box out of which it naturally leaps in the course of its evolution. To be happy and successful, we must apparently define ourselves as harshly as possible and become a crosshatched blueprint for the manufacturing of some dastardly weapon or another aimed to increase the glory and dominion of the human race over the endless threats to our survival in the form of the temporal universe.
Sensitivity and self-hypnosis
It is remarkable how quickly this narrative dissolves given enough contact with the natural world. In contemplation and being quiet, away from our supposedly miraculous technology, we rapidly regain a heightened sensitivity and appreciation for the subtle that our insistence on sharp edges steals from us. It begins to be clear that aside from the basic physical needs all bodies must share, there are vastnesses of potential that await us that hinge not on what we do but rather our essential being.

In the modern world we are often inside for long periods of time in relative darkness, staring into our screens, those binary crystalline portals that promise to transport us elsewhere. Too often they take us only halfway; we become dependent on external phenomena to carry us somewhere and forget to use the wings of our spirit. We make ourselves caged birds in mute resignation. We become skilled self-hypnotists and whisper convincing untruths that paint a bleak mural over the walls of the small rooms in which we crouch, hunched into a corner, manically keeping ourselves busy to distract ourselves from the brilliance we inherently radiate which blinds our cave-adjusted eyes.
Conclusion?
Can there be said to be a conclusion to that which is beginningless and endless? What is it we seek along the adventure of the flesh upon which we have embarked? Will we have the courage and presence of mind to begin to break out of collectively manufactured containment-belief-systems in which we are self-enslaved? Will we choose to have the courage to look at that dynamic, unpredictable infinity that we have in common with the natural world—and choose to be radically honest with ourselves, regardless of the path upon which this pivotal decision sets us?
Please share your impressions
in the comment section below,
and until next time I am

Yours,
@d-pend
---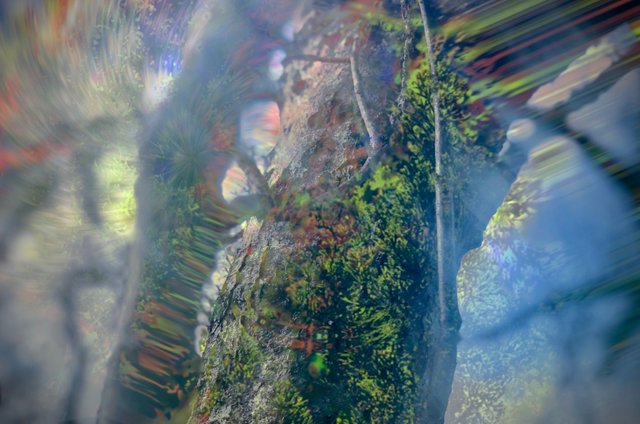 ---
A quickening, a pause
What life's blood entails
I find in trudge o'er hills;
I chase in tramp through valleys,
and padding step past rills.
I search that vig'rous vast
inexplicable—within.
She shows me wondrous vistas:
art not made by men.
By hands not, but wind-built,
by luscious breath of stone—
up fiery spine all gem-gilt
with sheen'd akashic waves;
they shimm'ring rise alone
from her deep earth-old caves.
They rise in aching curves
and fall, a mount's collapse
between the notion and the noise,
notes sung, and breathèd lapse.
Her lung-strain, her poise,
her kind-smile on joys,
her brow's soft disdain:
—her song, e'er again
finds a voice within the storm,
conducting roiling cloud-strand
as roil we, the worm
who buries 'neath her shroud
to our rain-dark delight.
Our bliss and our fright—
in motion through the veins
of that life-blood remains.
---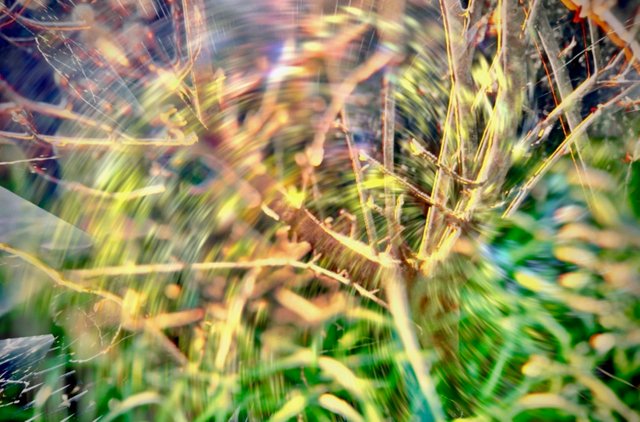 ---
....................
Original writing and images
created by Daniel J. Pendergraft
.
Published to STEEM
March 1st, 2020.
..........
---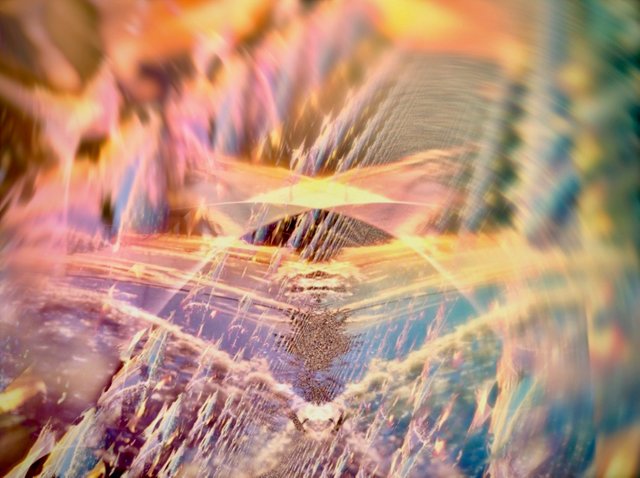 ---

---
Compartments, containments,
loosed now—aloof to them,
under consoling boughs
I float—petrific trails.
---

---