The Wolf Animal: One of the most remarkable amazing creatures in the world [ ENG-ESP ] ( EPISODE-3)
"The Wolf Animal".
"El animal lobo".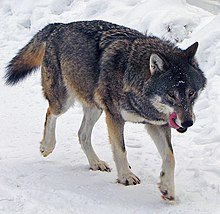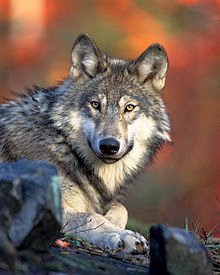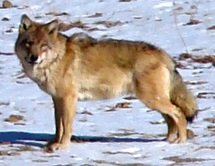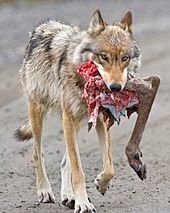 https://en.wikipedia.org/wiki/Wolf
The Wolf Animal//El animal lobo
26.09.2020
It is a kind of animal. These animals are one of the most wild animals in the world. These animals are called wolves or gray wolves. These wolves tend to look like dogs. In DNA sequencing and genetic research, scientists have found that the ancestors of these wolves and domesticated dogs are the same.
Es una especie de animal. Estos animales son uno de los animales más salvajes del mundo. Estos animales se llaman lobos o lobos grises. Estos lobos tienden a parecerse a perros. En la secuenciación del ADN y la investigación genética, los científicos han descubierto que los antepasados de estos lobos y perros domesticados son los mismos.
The favorite food of these wolves is the meat of any animal. Gray wolves are considered to be the ecological eater of all levels. These animals belong to the class of mammals. Wolves are an integral part of zoology. Various such animals are discussed in zoology books. I have a zoology book and there are writings about different animals of which this animal is one.
La comida favorita de estos lobos es la carne de cualquier animal. Se considera que los lobos grises son los devoradores ecológicos de todos los niveles. Estos animales pertenecen a la clase de mamíferos. Los lobos son una parte integral de la zoología. Varios de estos animales se tratan en los libros de zoología. Tengo un libro de zoología y hay escritos sobre diferentes animales de los cuales este animal es uno.
So today I study about this animal and learn a lot. I didn't know much about these wolves just by listening to them in public or by looking at them as a magazine, but after reading about them today, I gained some detailed knowledge. These wolves are animals that have survived the Ice Age. These are animals from the last Pleistocene or about 300,000 years ago.
Así que hoy estudio sobre este animal y aprendo mucho. No sabía mucho sobre estos lobos con solo escucharlos en público o mirarlos como una revista, pero después de leer sobre ellos hoy, obtuve un conocimiento detallado. Estos lobos son animales que han sobrevivido a la Edad del Hielo. Estos son animales del último Pleistoceno o hace unos 300.000 años.
Like other animals, wolves are one of the most beautiful animals in the forest. These animals retain the traditional beauty of the forest. However, they are often seen roaming the ice area. However, it is important to be wary of these wolves because they are one of the most ferocious animals, and they do not spare humans when they are hungry and smell blood.
Como otros animales, los lobos son uno de los animales más hermosos del bosque. Estos animales conservan la belleza tradicional del bosque. Sin embargo, a menudo se les ve deambulando por la zona de hielo. Sin embargo, es importante tener cuidado con estos lobos porque son uno de los animales más feroces, y no perdonan a los humanos cuando tienen hambre y huelen sangre.
These wolves never move alone, they always move around in groups. They eat the flesh of any animal. Wolves go out more at night and in the moonlight they become a little more powerful and fierce than they are now. Apart from forests, these wolves also live in deserts, hilly areas, tundra areas, etc. Many times they are seen living in many urban areas.
Estos lobos nunca se mueven solos, siempre se mueven en grupos. Comen la carne de cualquier animal. Los lobos salen más de noche y a la luz de la luna se vuelven un poco más poderosos y feroces de lo que son ahora. Aparte de los bosques, estos lobos también viven en desiertos, áreas montañosas, áreas de tundra, etc. Muchas veces se les ve viviendo en muchas áreas urbanas.
These wolves, which used to be seen in large numbers in the past, are now seen as very insignificant at present. Due to these reasons, these animals are going to be lost or extinct from the earth day by day. Now these animals can be seen in zoology zoos or zoos. These wolves have keen ears and eyes, as well as their noses.
Estos lobos, que solían verse en gran número en el pasado, ahora se consideran muy insignificantes en la actualidad. Por estas razones, estos animales se van a perder o extinguir de la tierra día a día. Ahora estos animales se pueden ver en zoológicos o zoológicos. Estos lobos tienen ojos y oídos agudos, además de narices.
They can smell blood from far away and can hear sounds from far away with keen ears. Their legs are moderately long which allows them to run very fast. They also often jump to catch a predator. These wolves are about 10-11 inches long and about 6-7 inches wide. These animals have large teeth and triangular ears. Their tails can be about 12-21 inches in length. The body weight of wolves is around 42 kg.
Pueden oler la sangre desde lejos y pueden escuchar sonidos desde lejos con oídos atentos. Sus patas son moderadamente largas lo que les permite correr muy rápido. También suelen saltar para atrapar a un depredador. Estos lobos miden entre 10 y 11 pulgadas de largo y entre 6 y 7 pulgadas de ancho. Estos animales tienen dientes grandes y orejas triangulares. Sus colas pueden medir entre 30 y 30 centímetros de largo. El peso corporal de los lobos ronda los 42 kg.
Below are some more notable details of this wolf creature, the greatest in the world --
A continuación se muestran algunos detalles más notables de esta criatura lobo, la más grande del mundo--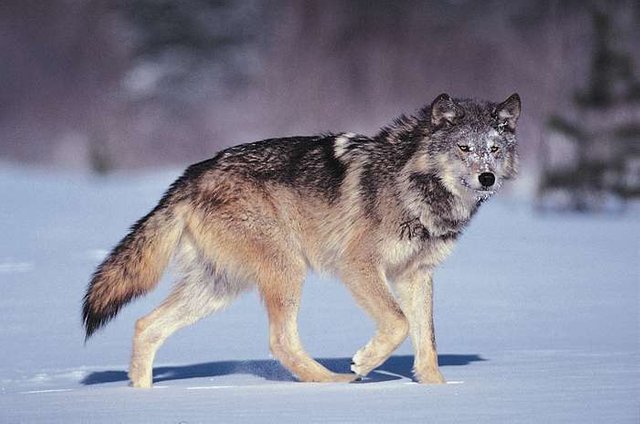 https://www.britannica.com/animal/gray-wolf
Gray wolf, (Canis lupus), also called timber wolf, largest wild member of the dog family (Canidae). It inhabits vast areas of the Northern Hemisphere. Between 5 and 24 subspecies of gray wolves are recognized in North America and 7 to 12 are recognized in Eurasia, with 1 in Africa. Wolves were domesticated several thousand years ago, and selective breeding produced dogs.
Lobo gris (Canis lupus), también llamado lobo de madera, el miembro salvaje más grande de la familia de los perros (Canidae). Habita vastas áreas del hemisferio norte. En América del Norte se reconocen entre 5 y 24 subespecies de lobos grises y en Eurasia de 7 a 12, con 1 en África. Los lobos fueron domesticados hace varios miles de años y la cría selectiva produjo perros.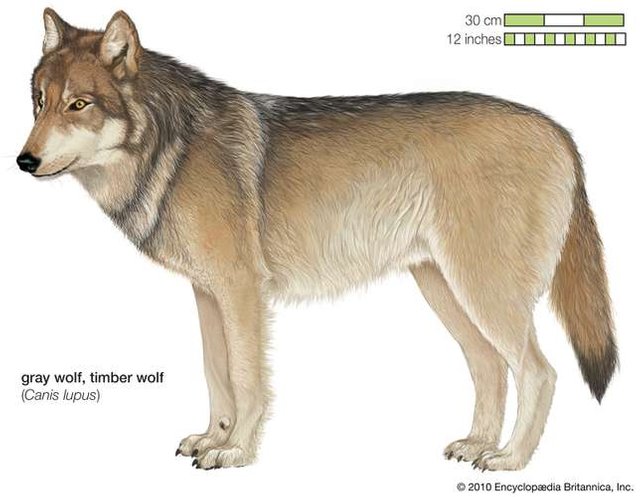 https://www.britannica.com/animal/gray-wolf
Physical description
Keen senses, large canine teeth, powerful jaws, and the ability to pursue prey at 60 km (37 miles) per hour equip the gray wolf well for a predatory way of life. A typical northern male may be about 2 metres (6.6 feet) long, including the bushy half-metre-long tail. Standing 76 cm (30 inches) tall at the shoulder, it weighs about 45 kg (100 pounds), but weight ranges from 14 to 65 kg (31 to 143 pounds), depending on the geographic area. Females average about 20 percent smaller than males. The largest wolves are found in west-central Canada, Alaska, and across northern Asia. The smallest tend to be near the southern end of their distribution (the Middle East, Arabia, and India). Fur on the upper body, though usually gray, may be brown, reddish, black, or whitish, while the underparts and legs are usually yellow-white. Light-coloured wolves are common in Arctic regions.
Descripción física
Los sentidos agudos, los grandes dientes caninos, las poderosas mandíbulas y la capacidad de perseguir presas a 60 km (37 millas) por hora equipan bien al lobo gris para un estilo de vida depredador. Un macho típico del norte puede medir unos 2 metros (6,6 pies) de largo, incluida la cola tupida de medio metro de largo. Con una altura de 76 cm (30 pulgadas) hasta el hombro, pesa alrededor de 45 kg (100 libras), pero su peso varía de 14 a 65 kg (31 a 143 libras), dependiendo del área geográfica. Las hembras son en promedio un 20 por ciento más pequeñas que los machos. Los lobos más grandes se encuentran en el centro-oeste de Canadá, Alaska y en el norte de Asia. Los más pequeños tienden a estar cerca del extremo sur de su distribución (Oriente Medio, Arabia e India). El pelaje de la parte superior del cuerpo, aunque generalmente gris, puede ser marrón, rojizo, negro o blanquecino, mientras que las partes inferiores y las patas suelen ser de color blanco amarillento. Los lobos de color claro son comunes en las regiones árticas.
https://en.wikipedia.org/wiki/Wolf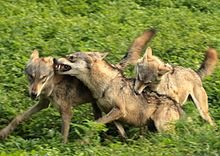 Pack behaviour
Gray wolves usually live in packs of up to two dozen individuals; packs numbering 6 to 10 are most common. A pack is basically a family group consisting of an adult breeding pair (the alpha male and alpha female) and their offspring of various ages. The ability of wolves to form strong social bonds with one another is what makes the wolf pack possible. A dominance hierarchy is established within the pack, which helps maintain order. The alpha male and alpha female continually assert themselves over their subordinates, and they guide the activities of the group. The female predominates in roles such as care and defense of pups, whereas the male predominates in foraging and food provisioning and in travels associated with those activities. Both sexes are very active in attacking and killing prey, but during the summer hunts are often conducted alone.
A pack's territory can be 80 to 3,000 square km (31 to 1,200 square miles), depending on prey abundance, and it is vigorously defended against neighbouring packs. Wolves communicate with one another by visual signaling (facial expression, body position, tail position), vocalizations, and scent marking. Howling helps the pack stay in contact and also seems to strengthen social bonds among pack members. Along with howling, marking of territory with urine and feces lets neighbouring packs know they should not intrude. Intruders are often killed by resident packs, yet in some circumstances they are accepted.
Comportamiento del paquete
Los lobos grises suelen vivir en manadas de hasta dos docenas de individuos; los paquetes de 6 a 10 son los más comunes. Una manada es básicamente un grupo familiar que consta de una pareja reproductora adulta (el macho alfa y la hembra alfa) y su descendencia de distintas edades. La capacidad de los lobos para formar fuertes lazos sociales entre sí es lo que hace posible la manada de lobos. Se establece una jerarquía de dominio dentro de la manada, lo que ayuda a mantener el orden. El macho alfa y la hembra alfa se imponen continuamente sobre sus subordinados y guían las actividades del grupo. La hembra predomina en roles como el cuidado y defensa de las crías, mientras que el macho predomina en la búsqueda de alimento y el aprovisionamiento de alimentos y en los viajes asociados a esas actividades. Ambos sexos son muy activos en el ataque y la matanza de presas, pero durante el verano las cacerías suelen realizarse solos.
El territorio de una manada puede ser de 80 a 3.000 km cuadrados (31 a 1.200 millas cuadradas), dependiendo de la abundancia de presas, y se defiende vigorosamente contra las manadas vecinas. Los lobos se comunican entre sí mediante señales visuales (expresión facial, posición del cuerpo, posición de la cola), vocalizaciones y marcas de olor. Aullar ayuda a la manada a mantenerse en contacto y también parece fortalecer los lazos sociales entre los miembros de la manada. Junto con los aullidos, marcar el territorio con orina y heces les permite a las manadas vecinas saber que no deben entrometerse. Los intrusos a menudo son asesinados por grupos de residentes, pero en algunas circunstancias son aceptados.
https://en.wikipedia.org/wiki/Wolf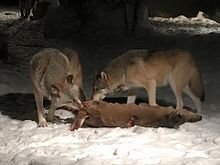 Breeding
Breeding occurs between February and April, and a litter of usually five or six pups is born in the spring after a gestation period of about two months. The young are usually born in a den consisting of a natural hole or a burrow, often in a hillside. A rock crevice, hollow log, overturned stump, or abandoned beaver lodge may be used as a den, and even a depression beneath the lower branches of a conifer will sometimes suffice. All members of the pack care solicitously for the young. After being weaned from their mother's milk at six to nine weeks, they are fed a diet of regurgitated meat. Throughout spring and summer the pups are the centre of attention as well as the geographic focus of the pack's activities. After a few weeks the pups are usually moved from the den to an aboveground "rendezvous site," where they play and sleep while adults hunt. The pups grow rapidly and are moved farther and more often as summer comes to an end. In autumn the pack starts to travel again within its territory, and the pups must keep up. Most pups are almost adult size by October or November.
After two or more years in the pack, many leave to search for a mate, establish a new territory, and possibly even start their own pack. Those who stay with the pack may eventually replace a parent to become a breeding animal (alpha). Large packs seem to result from fewer young wolves' leaving the group and from litters' being produced by more than one female. Wolves that leave their packs are known to have traveled as far as 886 km (550 miles).
Cría
La reproducción ocurre entre febrero y abril, y una camada de cinco o seis cachorros nace en la primavera después de un período de gestación de aproximadamente dos meses. Las crías generalmente nacen en una guarida que consiste en un hoyo natural o una madriguera, a menudo en una ladera. Una grieta de roca, un tronco hueco, un tocón volcado o una cabaña de castores abandonada pueden usarse como guarida, e incluso una depresión debajo de las ramas inferiores de una conífera a veces será suficiente. Todos los miembros de la manada se preocupan solícitamente por los jóvenes. Después de ser destetados de la leche materna entre las seis y nueve semanas, se les alimenta con una dieta de carne regurgitada. Durante la primavera y el verano, los cachorros son el centro de atención y el foco geográfico de las actividades de la manada. Después de algunas semanas, los cachorros suelen ser trasladados de la guarida a un "lugar de encuentro" sobre el suelo, donde juegan y duermen mientras los adultos cazan. Las crías crecen rápidamente y se mueven más y más a menudo a medida que llega el final del verano. En otoño, la manada comienza a viajar nuevamente dentro de su territorio y los cachorros deben mantenerse al día. La mayoría de los cachorros alcanzan el tamaño casi adulto en octubre o noviembre.
Después de dos o más años en la manada, muchos se marchan para buscar pareja, establecer un nuevo territorio y posiblemente incluso comenzar su propia manada. Aquellos que se quedan con la manada pueden eventualmente reemplazar a un padre para convertirse en un animal reproductor (alfa). Las manadas grandes parecen ser el resultado de menos lobos jóvenes que abandonan el grupo y de las camadas producidas por más de una hembra. Se sabe que los lobos que abandonan sus manadas han viajado hasta 886 km (550 millas).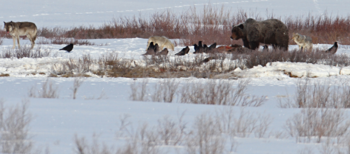 https://en.wikipedia.org/wiki/Wolf
Predators and prey
Gray wolves move and hunt mostly at night, especially in areas populated by humans and during warm weather. The main prey are large herbivores such as deer, elk, moose, bison, bighorn sheep, caribou, and musk oxen, which they chase, seize, and pull to the ground. Beavers and hares are eaten when available, and wolves in western Canada even fish for Pacific salmon. A large percentage of the animals that wolves kill are young, old, or in poor condition. After making a kill, the pack gorges (consuming some 3 to 9 kg [7 to 20 pounds] per animal) and then lingers, often reducing the carcass to hair and a few bones before moving on to look for another meal.
Biologists still disagree on the effect wolves have on the size of prey populations. Wolves may kill livestock and dogs when they have the opportunity, yet many wolves that live near livestock rarely, if ever, kill them. The number of stock killed in North America is small but increasing as wolves expand their range. By 2018, wolves were thought to be responsible for the losses of hundreds of heads of cattle and other livestock per year in the U.S. To ameliorate the concerns of livestock owners and dampen the potential backlash against wolves, several states have programs that compensate livestock owners for the losses to their herds when there is evidence of wolf attacks on their animals. During the 1990s average annual losses to wolves in Minnesota were 72 cattle, 33 sheep, and 648 turkeys, plus a few individuals of other types of livestock. Stock losses are higher in Eurasia. In some areas wolves survive only by killing livestock and eating livestock carrion and human garbage. Nonetheless, wolves usually avoid contact with humans. There have been few substantiated wolf attacks on humans in North America. Such attacks are unusual but have occurred in Eurasia and India and sometimes have resulted in death.
Wolves have few natural enemies other than human beings. They can live up to 13 years in the wild, but most die long before that age. Diseases and parasites that can affect wolves include canine parvovirus, distemper, rabies, blastomycosis, Lyme disease, lice, mange, and heartworm. In most areas of the world, humans are the leading cause of death for wolves. In areas of high wolf density and declining prey populations, the major causes of death are killing by other wolves and starvation.
Depredadores y presas
Los lobos grises se mueven y cazan principalmente de noche, especialmente en áreas pobladas por humanos y durante el clima cálido. La presa principal son los grandes herbívoros como ciervos, alces, alces, bisontes, borregos cimarrones, caribúes y bueyes almizcleros, que persiguen, agarran y tiran al suelo. Los castores y las liebres se comen cuando están disponibles, y los lobos en el oeste de Canadá incluso pescan salmón del Pacífico. Un gran porcentaje de los animales que matan los lobos son jóvenes, viejos o en malas condiciones. Después de hacer una matanza, la manada se atiborra (consumiendo de 3 a 9 kg [7 a 20 libras] por animal) y luego permanece, a menudo reduciendo la canal a pelo y algunos huesos antes de pasar a buscar otra comida.
Los biólogos aún no están de acuerdo sobre el efecto que tienen los lobos sobre el tamaño de las poblaciones de presas. Los lobos pueden matar ganado y perros cuando tienen la oportunidad, sin embargo, muchos lobos que viven cerca del ganado rara vez los matan. El número de animales muertos en América del Norte es pequeño pero aumenta a medida que los lobos amplían su rango. Para 2018, se pensaba que los lobos eran responsables de la pérdida de cientos de cabezas de ganado y otros animales por año en los EE. UU. las pérdidas de sus rebaños cuando hay evidencia de ataques de lobos a sus animales. Durante la década de 1990, las pérdidas anuales promedio de los lobos en Minnesota fueron de 72 vacas, 33 ovejas y 648 pavos, más algunos individuos de otros tipos de ganado. Las pérdidas de existencias son mayores en Eurasia. En algunas áreas, los lobos solo sobreviven matando ganado y comiendo carroña de ganado y basura humana. No obstante, los lobos suelen evitar el contacto con los humanos. Ha habido pocos ataques de lobo comprobados a humanos en América del Norte. Estos ataques son inusuales, pero han ocurrido en Eurasia e India y, en ocasiones, han provocado la muerte.
Los lobos tienen pocos enemigos naturales además de los seres humanos. Pueden vivir hasta 13 años en la naturaleza, pero la mayoría muere mucho antes de esa edad. Las enfermedades y los parásitos que pueden afectar a los lobos incluyen el parvovirus canino, el moquillo, la rabia, la blastomicosis, la enfermedad de Lyme, los piojos, la sarna y el gusano del corazón. En la mayoría de las áreas del mundo, los humanos son la principal causa de muerte de los lobos. En áreas de alta densidad de lobos y poblaciones de presas en declive, las principales causas de muerte son la matanza de otros lobos y el hambre.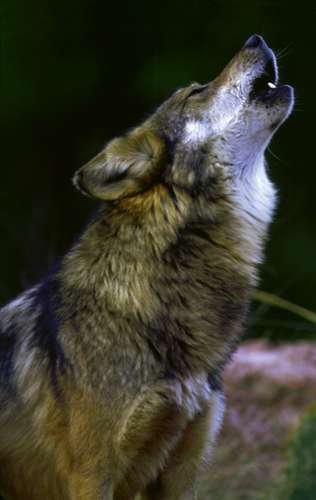 https://www.britannica.com/animal/gray-wolf
Conservation status
Pervasive in human mythology, folklore, and language, the gray wolf has had an impact on the human imagination and been the victim of levels of misunderstanding that few animals have shared. Early human societies that hunted for survival admired the wolf and tried to imitate its habits, but in recent centuries the wolf has been widely viewed as an evil creature, a danger to humans (especially in Eurasia), a competitor for big game animals, and a threat to livestock. Depredation of livestock was the primary justification for eradicating the wolf from virtually all of the United States, Mexico, and most of Europe. Wolves in the United States were killed by every method imaginable in the 19th and early 20th centuries, and by 1950 they remained only in the northeastern corner of Minnesota. In the late 20th century and early 21st century, greater tolerance, legal protection, and other factors allowed their range to expand in portions of North America and Europe.
Wolves are probably more popular with the public now than at any other time in recorded history. In 1995 wolves from Canada were reintroduced to Yellowstone National Park and Idaho, and captive-reared Mexican wolves (a subspecies) were released to their former range in eastern Arizona beginning in 1998. At the beginning of the 21st century, an estimated 65,000–78,000 wolves inhabited North America. Canada had the largest population (although the provinces of New Brunswick, Nova Scotia, and Prince Edward Island had no wolves), followed by Alaska and Minnesota. Some of the western states as well as Michigan and Wisconsin have smaller but recovering wolf populations. Canadian wolves are protected only within provincial parks, whereas all wolves in the contiguous United States receive some level of legal protection by federal and state governments; however, the wolf's protected status in Alaska and the lower 48 states continues to be a matter of much debate. Populations in southern Europe and Scandinavia are relatively small but are increasing. The Eurasian population probably exceeds 150,000 and is stable or increasing in most countries, and most afford the wolf some degree of legal protection. Worldwide, wolves still occupy about two-thirds of their former range, but they remain viable and have been classified as a species of least concern by the International Union for Conservation of Nature and Natural Resources since 1996. Although often thought of as wilderness animals, wolves can and do thrive close to people when they are not excessively persecuted and food is available.
Estado de conservación
El lobo gris, omnipresente en la mitología humana, el folclore y el lenguaje, ha tenido un impacto en la imaginación humana y ha sido víctima de niveles de malentendidos que pocos animales han compartido. Las primeras sociedades humanas que cazaban para sobrevivir admiraban al lobo y trataban de imitar sus hábitos, pero en los últimos siglos el lobo ha sido ampliamente visto como una criatura malvada, un peligro para los humanos (especialmente en Eurasia), un competidor de los animales de caza mayor, y una amenaza para el ganado. La depredación del ganado fue la principal justificación para erradicar al lobo de prácticamente todo Estados Unidos, México y la mayor parte de Europa. Los lobos en los Estados Unidos fueron asesinados por todos los métodos imaginables en el siglo XIX y principios del XX, y para 1950 solo permanecían en la esquina noreste de Minnesota. A finales del siglo XX y principios del siglo XXI, una mayor tolerancia, protección legal y otros factores permitieron que su rango se expandiera en partes de América del Norte y Europa.
Los lobos son probablemente más populares entre el público ahora que en cualquier otro momento de la historia registrada. En 1995, los lobos de Canadá fueron reintroducidos en el Parque Nacional Yellowstone e Idaho, y los lobos mexicanos criados en cautividad (una subespecie) fueron liberados a su área de distribución anterior en el este de Arizona a partir de 1998. A principios del siglo XXI, se estima que entre 65.000 y 78.000 los lobos habitaban América del Norte. Canadá tenía la población más grande (aunque las provincias de New Brunswick, Nueva Escocia y la isla del Príncipe Eduardo no tenían lobos), seguida de Alaska y Minnesota. Algunos de los estados del oeste, así como Michigan y Wisconsin, tienen poblaciones de lobos más pequeñas pero en recuperación. Los lobos canadienses están protegidos solo dentro de los parques provinciales, mientras que todos los lobos en los Estados Unidos contiguos reciben algún nivel de protección legal por parte de los gobiernos federales y estatales; sin embargo, el estado de protección del lobo en Alaska y los 48 estados más bajos sigue siendo un tema de mucho debate. Las poblaciones del sur de Europa y Escandinavia son relativamente pequeñas pero están aumentando. La población euroasiática probablemente supera los 150.000 y es estable o está aumentando en la mayoría de los países, y la mayoría proporciona al lobo algún grado de protección legal. En todo el mundo, los lobos todavía ocupan alrededor de dos tercios de su área de distribución anterior, pero siguen siendo viables y han sido clasificados como una especie de menor preocupación por la Unión Internacional para la Conservación de la Naturaleza y los Recursos Naturales desde 1996. Aunque a menudo se los considera animales silvestres, Los lobos pueden y prosperan cerca de las personas cuando no son perseguidos excesivamente y hay comida disponible.
https://www.britannica.com/animal/gray-wolf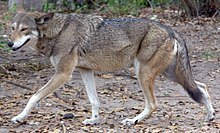 https://en.wikipedia.org/wiki/Red_wolf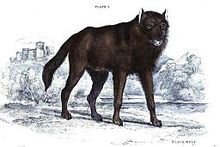 https://en.wikipedia.org/wiki/Black_wolf
Other wolves
The red wolf is tawny, reddish, or black. It grows to a length of about 105–125 cm (41–49 inches), excluding the tail, which is 33–43 cm (13–17 inches) long, and weighs about 20–37 kg (44–82 pounds). It was once considered a distinct species of wolf, but molecular studies have determined that the red wolf is a hybrid between the gray wolf and the coyote (sometimes called prairie, brush, or little wolf), with more than 75 percent of the red wolf's ancestry coming from coyotes. Some experts, however, continue to classify the red wolf as a distinct species, while others classify it as a subspecies (C. lupus rufus) of the gray wolf. The red wolf is considered to be one of the most endangered types of wolves. Its former range spanned the southeastern United States as far west as Texas. Following extinction in the wild in 1980, captive-reared red wolves were reintroduced to coastal North Carolina. A small population of fewer than 100 has become established, but the population is threatened by continued hybridization with coyotes.
The eastern wolf, native to eastern North America, bears a strong resemblance to the gray wolf in both size and coloration. Long considered a subspecies of the gray wolf with the taxonomic name C. lupus lycaeon, the eastern wolf was recognized as a unique wolf species (C. lycaeon) during the early part of the 21st century. However, as with the red wolf, molecular evidence supports the notion that eastern wolves are hybrids of gray wolves and coyotes; their ancestry has been traced to contributions made by both species in roughly equal proportions.
The critically endangered Ethiopian wolf (C. simensis) looks similar to the coyote. It lives in a few isolated areas of grassland and heath scrub at high elevations in Ethiopia. Although it lives in packs, the wolves hunt alone for rodents and other small mammals.
Genetic evidence suggests that the Falkland Islands, or Antarctic, wolf (Dusicyon australis), now extinct, diverged from North American wolves some six million years ago. Although the Isthmus of Panama, which allowed the migration of canids to South America, did not form until 2.5 million years ago, D. australis was somehow able to reach the Falkands.
The dire wolf (C. dirus) was common in western North America during the Pleistocene Epoch but is now extinct. It was the largest known wolf, being half again as large as the modern gray wolf.
For other animals that are called wolves but do not belong to the genus Canis, see maned wolf, aardwolf, and Tasmanian wolf.
Otros lobos
El lobo rojo es leonado, rojizo o negro. Crece hasta una longitud de aproximadamente 105-125 cm (41-49 pulgadas), excluyendo la cola, que mide 33-43 cm (13-17 pulgadas) de largo y pesa alrededor de 20-37 kg (44-82 libras). Alguna vez se consideró una especie distinta de lobo, pero los estudios moleculares han determinado que el lobo rojo es un híbrido entre el lobo gris y el coyote (a veces llamado pradera, matorral o lobo pequeño), con más del 75 por ciento de los lobos rojos. ascendencia procedente de coyotes. Sin embargo, algunos expertos continúan clasificando al lobo rojo como una especie distinta, mientras que otros lo clasifican como una subespecie (C. lupus rufus) del lobo gris. El lobo rojo se considera uno de los tipos de lobos más amenazados. Su rango anterior se extendía desde el sureste de los Estados Unidos hasta el oeste de Texas. Después de la extinción en la naturaleza en 1980, los lobos rojos criados en cautiverio fueron reintroducidos en la costa de Carolina del Norte. Se ha establecido una pequeña población de menos de 100, pero la población está amenazada por la hibridación continua con coyotes.
El lobo del este, originario del este de América del Norte, tiene un gran parecido con el lobo gris tanto en tamaño como en coloración. Considerado durante mucho tiempo como una subespecie del lobo gris con el nombre taxonómico C. lupus lycaeon, el lobo oriental fue reconocido como una especie de lobo única (C. lycaeon) durante la primera parte del siglo XXI. Sin embargo, al igual que con el lobo rojo, la evidencia molecular apoya la noción de que los lobos orientales son híbridos de lobos grises y coyotes; su ascendencia se ha atribuido a las contribuciones realizadas por ambas especies en proporciones aproximadamente iguales.
El lobo etíope (C. simensis), en peligro crítico de extinción, se parece al coyote. Vive en unas pocas áreas aisladas de pastizales y matorrales de brezos en elevaciones elevadas en Etiopía. Aunque vive en manadas, los lobos cazan solos roedores y otros pequeños mamíferos.
La evidencia genética sugiere que el lobo de las Islas Malvinas, o Antártico, (Dusicyon australis), ahora extinto, se separó de los lobos norteamericanos hace unos seis millones de años. Aunque el istmo de Panamá, que permitió la migración de cánidos a América del Sur, no se formó hasta hace 2,5 millones de años, D. australis de alguna manera pudo llegar a las Falkands.
El lobo terrible (C. dirus) era común en el oeste de América del Norte durante la época del Pleistoceno, pero ahora está extinto. Era el lobo más grande conocido, siendo la mitad de grande que el lobo gris moderno.
Para otros animales que se llaman lobos pero que no pertenecen al género Canis, vea lobo de crin, lobo de tierra y lobo de Tasmania.
Reference // Referencia : https://www.britannica.com/animal/wolf/Other-wolves
**THANKS**